The Minute After: Northern Illinois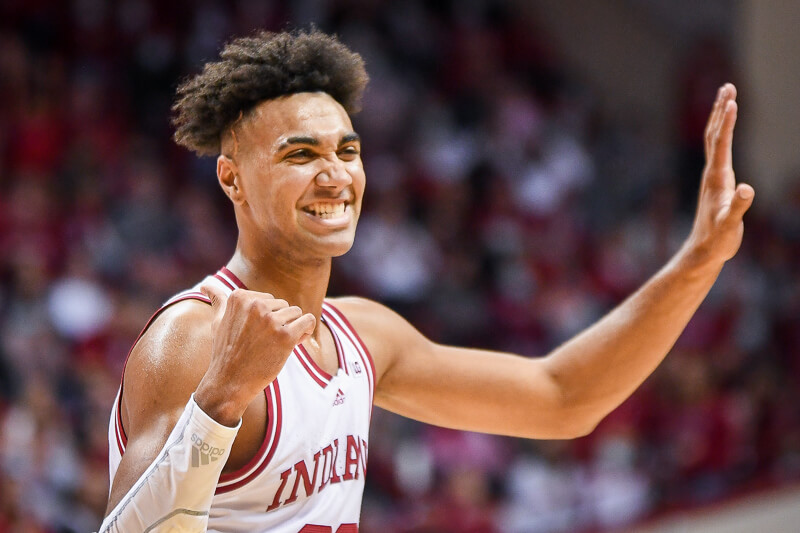 Thoughts on an 85-49 win against the Huskies:
While the Hoosiers emerged victorious on Tuesday night against Eastern Michigan, the ghost of the Archie Miller era haunted the second half. Indiana failed to put the Eagles away, as a 21-point lead whittled down to just a one-point margin late in the contest before Xavier Johnson helped close it out for the Hoosiers to move to 1-0 on the season.
Between games the Hoosiers vowed to correct it. And boy did they ever tonight. This was a legit throat-stepping, Indiana asserting itself in a big way on both sides of the ball early and never relenting. There was no backslide tonight, just constant effort and energy, enough for all scholarship players to see time, as Khristian Lander, Anthony Leal and Logan Duncomb all played after the game was in check.
Indiana's defense continues to impress, a whirling dervish performance that had the Huskies absolutely shook. The Hoosiers picked things up full-court at times to get into Northern Illinois' shorts. Michael Durr, making his debut, showed off an ability to switch ball screens and keep guards in front of him on the perimeter. A ball screen trap led to a steal and dunk for Johnson. Trayce Jackson-Davis recorded seven blocks for the evening, a career-high. The Huskies were so frustrated with his rim-protecting that after his sixth block late in the first half, Zool Kueth threw a cheap shot foul at Indiana's All-American and was ejected from the contest.
After a hot night from distance against Washington earlier in the week, the Huskies were held to just 2-of-11 from 3-point range tonight. Northern Illinois mustered only 14 made shots for the entire contest, scoring a paltry .67 points per possession.
"It was great all the way through for 40 minutes," coach Mike Woodson said after the contest. "I thought we played 28 the other night (against Eastern Michigan). … I thought tonight we just sustained it all the way through."
Indiana was able to put together a more complete offensive performance this evening as well (1.16 point per possession), even with the refs slowing things down after the break. Starters Parker Stewart and Miller Kopp shot just 1-of-9 from the field and missed all of their 3-pointers (0-of-5). But Indiana was much more respectable from the 3-point line as a whole this evening, hitting 8-of-23 for 34.8 percent. Ditto from the free throw line, where the Hoosiers improved from the Eastern Michigan game to hit 76.7 percent (23-of-30). Johnson got things going early for the Hoosiers on his way to an efficient 13 points (4-of-5 from the floor, 4-of-4 from the line). Jackson-Davis had another dominant game, leading the team in scoring with 19 points, including a 7-of-11 performance from the line. Race Thompson added a double-double with 12 points and 10 rebounds.
And unlike against Eastern Michigan when Woodson had to ride his top rotation players to close, Lander and Leal not only got time to play, but made the most of it, as each scored seven points. They both hit a 3-pointer to finish a combined 5-of-8 from the floor.
This was the kind of performance Indiana fans foresaw as Woodson laid out his vision for the program over the summer. A complete performance with a system providing more energy, freedom and fun on both ends of the floor. Tougher challenges are ahead. But for this early season night in mid-November, a new era has arrived in Bloomington.
Filed to: Northern Illinois Huskies