Five takeaways from Indiana's win over Northern Illinois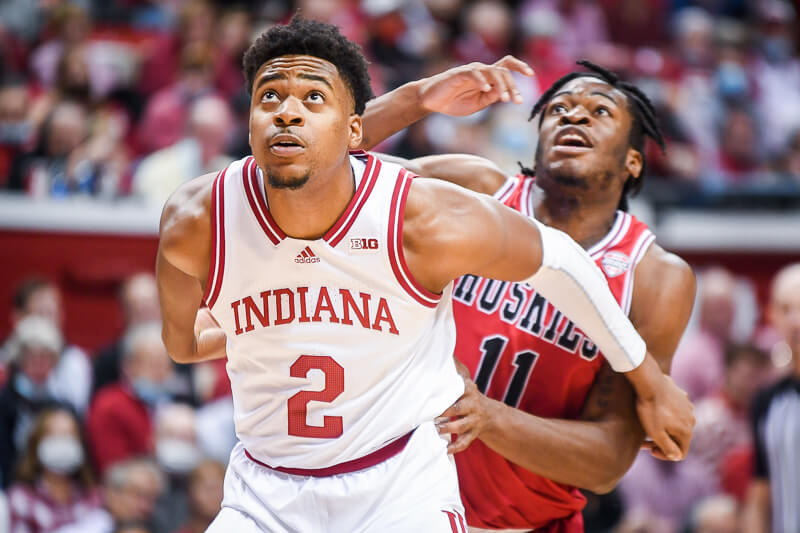 Indiana improved to 2-0 with an 85-49 blowout win over Northern Illinois on Friday night at Simon Skjodt Assembly Hall.
Here are five takeaways from the win over the Huskies:
Another dominant night for Trayce Jackson-Davis
Expectations were high for Trayce Jackson-Davis entering his third season in Bloomington. So far, he's more than lived up to them.
After going for 21 points and 14 rebounds in the season opener against Eastern Michigan, Jackson-Davis was even more dominant on Friday against Northern Illinois.
Jackson-Davis needed only 26 minutes to score 19 points, grab seven rebounds and block seven shots. It was the kind of well-rounded performance Indiana will need out of its All-American candidate often this season.
"It goes all the way back to the beginning when we sat down and he decided that he was going to stay on board," Mike Woodson said postgame. "I showed him a lot of the things that I thought he could, the areas that I thought he could be better. And he's really been working in those areas. I mean, he's improved a lot. He really has."
Through two games, Jackson-Davis is averaging 20 points, 10.5 rebounds, five blocks and two assists in 31.5 minutes per game.
Improved 3-point and free throw shooting
Indiana struggled from both the foul line and from behind the 3-point line in Tuesday's opener.
On Friday, the Hoosiers were much better in both facets of the game. Indiana hit 23-of-30 (76.7 percent) from the free throw line for 76.7 percent and made eight of its 23 3-point attempts (34.8 percent).
Overall, Woodson was more impressed with his team's offensive play on Friday than he was in the season opener, when Indiana managed just 68 points and .89 points per possession.
"It was better tonight. Again, we didn't have that moment where we just went stale," Woodson explained. "I thought the ball moved."
Early offensive struggles continue for Stewart and Kopp
It's been a quiet start through two games for a pair of Indiana's transfers, Parker Stewart and Miller Kopp.
While Stewart was a key defensively for Indiana in Friday's win, he went 0-for-5 from the field and didn't score in 23 minutes. Through two games, Stewart is shooting just 25 percent on 3s and is averaging just three points in 22 minutes per game.
Kopp scored four points on 1-of-4 shooting in Friday's win, but is shooting just 22.2 percent from the field over the first two games. Kopp is 0-for-4 from behind the 3-point arc.
Fortunately for Indiana, the early lack of production offensively from Stewart and Kopp hasn't mattered much. Indiana's three other starters – Jackson-Davis, Race Thompson and Xavier Johnson – combined for 44 points in Friday's win.
Defense continues to set the tone
Woodson was blunt in the preseason that Indiana's defense was ahead of its offense entering the season. Through two games, the numbers bear that out.
After limiting Eastern Michigan to just .82 points per possession on Tuesday, Indiana held Northern Illinois to .67 points per trip on Friday.
Northern Illinois was coming off of performance at Washington in which it made 12 3-pointers and scored .93 points per possession.
"A lot of that is the work you've got to give them credit because they've been working over these last six months that we've been together," Woodson explained. "And our defense has always been a little bit ahead of our offense, but it's just nice to see.
"I can't promise minutes to anybody but I always tell these guys whatever minutes you get you make it the most important minutes to help us win basketball games. And that's what they're doing right now."
Durr shows promise in debut
After not appearing in either of Indiana's exhibition games in the Bahamas and missing the season opener against Eastern Michigan, South Florida transfer Michael Durr logged his first minutes in an IU uniform on Friday.
Durr shot just 1-of-4 from the field and scored only two points, but was aggressive when he did get the ball. His only field goal was a dunk in the first half and he also had a nice assist to Trey Galloway that put the Hoosiers up by 13 in the first half.
"This is Mike's first game back," Woodson said. "He's probably been practicing probably now a week and a half coming back."
For Indiana, it's important to keep Durr healthy to provide depth behind Jackson-Davis and Thompson. Given that he's been dealing with a knee injury for quite some time, Indiana eased Durr into the mix last night and played him only 10 minutes.
"He's been preparing to get back and it was just great to have him back tonight," Galloway said of his teammate. "And obviously, getting back in the groove of things, he's been great."
Filed to: Michael Durr, Miller Kopp, Northern Illinois Huskies, Parker Stewart, Trayce Jackson-Davis