2021-22 ITH Season Preview: Ohio State Buckeyes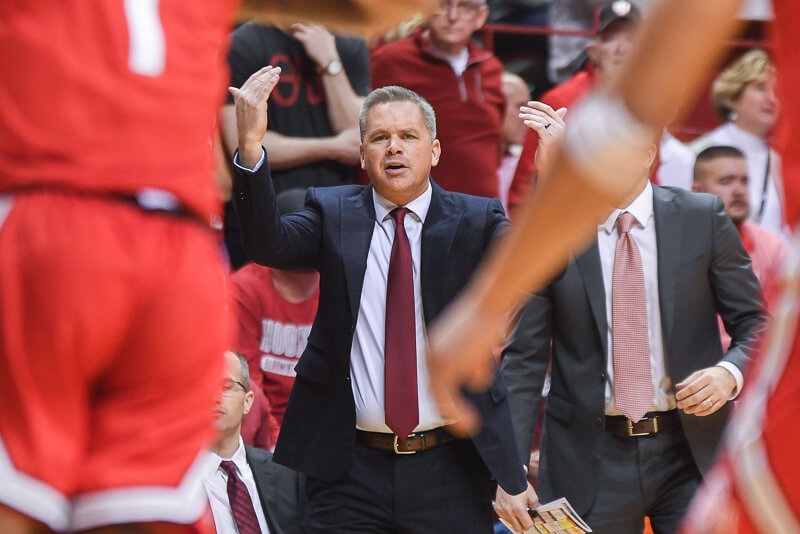 With the start of college basketball season coming in early November, we'll be taking a long look at the conference at large as well as Indiana's roster over the next month. Today, our team previews continue with a look at Ohio State.
Previously: Minnesota, Penn State, Nebraska, Northwestern, Wisconsin, Iowa, Rutgers, Michigan State, Maryland
Despite an opening round NCAA tournament loss to Oral Roberts last March, there are plenty of reasons for optimism entering the 2021-22 season for Ohio State.
The Buckeyes return one of the Big Ten's best players in E.J. Liddell. Chris Holtmann has won 20 games in each of his previous four seasons. And despite losing CJ Walker and Duane Washington, this roster appears to have depth at several positions.
Liddell is the clear headlining returnee and is a contender for Big Ten player of the year. As a sophomore, he averaged 16.2 points, 6.7 rebounds, 1.8 assists and 1.1 blocks in 29.4 minutes per game. His ability to step out and knock in perimeter shots makes him one of the league's most difficult covers coupled with his midrange game and ability to finish plays at the rim. Liddell was ninth in the league in block percentage and 10th in defensive rebounding percentage.
He'll likely be joined in the frontcourt by redshirt seniors Justice Sueing and Kyle Young. Sueing averaged 10.7 points per game last season after transferring from Cal. His efficiency rose last season as he shot a career-best 36.1 percent from behind the 3-point arc. He ranked in the top 25 in both offensive and defensive rebounding percentage in conference play and was eighth in the league in free throw rate.
Young missed the NCAA tournament loss to Oral Roberts due to a concussion. He averaged 8.6 points and 5.5 rebounds per game last season while shooting 54.3 percent from the field.
Indiana transfer Joey Brunk, who didn't play last season due to injury, should provide some frontcourt depth along with Seth Towns and Zed Key. Brunk is 6-foot-11 and gives Holtmann a big with legitimate size to throw at other Big Ten centers. Towns has struggled with injuries but averaged 3.8 points and 2.2 rebounds per game last season in limited minutes. And Key, despite being just 6-foot-8, can carve out space in the paint and finish at the rim (61.6 percent on 2s).
The backcourt will be led by Penn State transfer Jamari Wheeler, Louisiana transfer Cedric Russell, senior Justin Ahrens and freshman Malaki Branham.
Wheeler was a starter for the Nittany Lions who is a plus defender with a limited offensive game. The Buckeyes will need him to limit turnovers and act as a facilitator. He has the potential to be disruptive defensively and his previous Big Ten experience will be helpful as he adjusts to his new school.
"Jamari is one of these kids that is an everyday guy," Holtmann said at Big Ten media day. "You want him next to you any time you're competing and doing anything. He's really helped us. He brings a lot of juice to practice every day. He's been really good for us."
Russell averaged 17.2 points per game and shot better than 40 percent on 3s last season in the Sun Belt. He was a late roster addition after Washington decided to stay in the NBA draft.
"Cedric I think is finding his way," Holtmann said recently. "Any time you jump up a level, it takes you time to find your way. He's in the process of doing that."
Ahrens is a shooter with size at 6-foot-6. He made 42.5 percent of his 3s last season and is the program's best catch and shoot threat. Branham was a top 40 player in the 2021 class from St. Vincent-St. Mary's in Akron. The 6-foot-4 guard is a capable ball-handler who can get into the lane and also knock down perimeter shots. He should be in the rotation immediately and could even win the starting job over Russell.
Bottom Line: Ohio State is being picked by most to finish in the top four of the league. Given Holtmann's track record in Columbus, it is completely justified. Despite a lack of NCAA tournament success, Holtmann has finished in the top five of the league standings in three of his first four seasons. Liddell is one of the best players in the country and the supporting cast is deep and talented enough to be successful.
Quotable: "I think you want those every year. You want to go in with the level of anticipation. We've been ranked every year we've been there, our four years, been in the top 20, top 10 two of the years. We've been a part of the tournament every year we've been there. Unfortunately experienced an upset last year, but advanced the prior years.
"You just want to continue to build. As you know, the focus really has to be on the day-to-day. I think when you get outside of that, whether you're thinking individually, expectations, we have young men that are really good players that have some individual expectations. That weight can be pretty heavy if you think about it too much.
"I think the challenge really is to stay in the moment, enjoy each day and see where that takes us. I'm excited about this group, but we're not going to get outside of anything other than the day-to-day process." – Holtmann at Big Ten media day on expectations entering his fifth year in Columbus.
Filed to: 2021-2022 Big Ten preview, Ohio State Buckeyes