2021-22 ITH Season Preview: Michigan State Spartans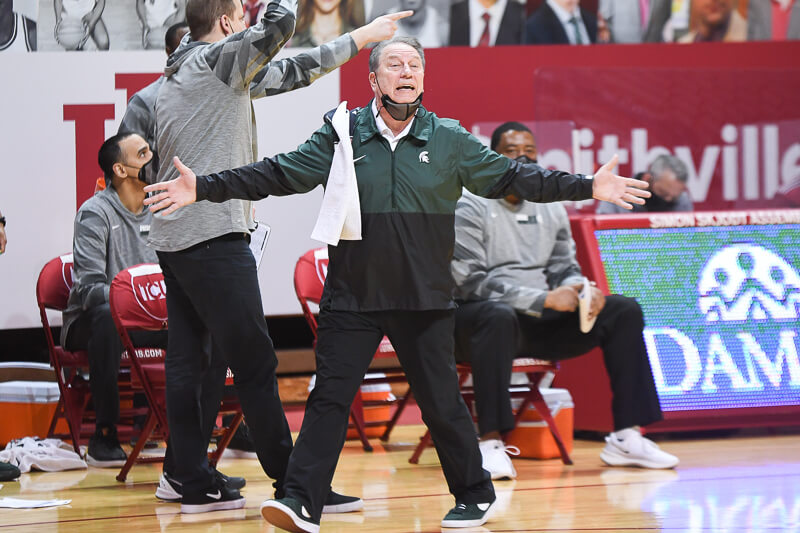 With the start of college basketball season coming in early November, we'll be taking a long look at the conference at large as well as Indiana's roster over the next month. Today, our team previews continue with a look at Michigan State.
Previously: Minnesota, Penn State, Nebraska, Northwestern, Wisconsin, Iowa, Rutgers
By Michigan State standards, last season was a disappointment in East Lansing. The Spartans finished just 15-13 overall and outside of the top 50 in the KenPom ratings for the first time ever.
Still, Michigan State surged late and made the NCAA tournament for the 23rd straight time under Tom Izzo. The Spartans fell to eventual Final Four participant UCLA in a First Four game in West Lafayette.
This season's Spartans will aim for more consistency despite losing Aaron Henry, who left early to pursue a professional career. Michigan State doesn't return a double-figure scorer, but this is a roster that has solid depth at multiple positions.
Northeastern transfer Tyson Walker figures to get the first crack at the starting point guard position. The 6-foot guard averaged 18.8 points, 4.8 assists and 2.4 steals last season and was named the top defender in the Colonial Athletic Association.  Sophomore A.J. Hoggard started eight games last season and will provide depth behind Walker. Freshman Jaden Akins could also challenge for backup minutes at the point. Akins is a better athlete than Hoggard and was a top 55 recruit nationally in the 2021 class.
Freshman McDonald's All-American Max Christie should make an immediate impact as a scorer in the backcourt. The 6-foot-6 freshman could be in the conversation for the league's top newcomer. Christie will be joined on the wing by 6-foot-8 junior Gabe Brown, who shot a stellar 42 percent last season from distance. Brown started just five games last season, but should be in the lineup this year following Henry's departure.
Joey Hauser was a disappointment last season after transferring from Marquette. Hauser shot over 42 percent on 3s as a freshman at Marquette, but just 34 percent last season for the Spartans. He was also a liability defensively. Michigan State will be looking for a bounceback season out of Hauser, whose primary value is as a stretch four.
Malik Hall will be in the rotation either as a starter or the first man off the bench. The 6-foot-7 forward was one of the best offensive rebounders in the Big Ten last season. He also shot 53 percent on 2s last season and is one of the most physical players on the roster.
Marcus Bingham, a 6-foot-11 senior, should be the starter at the five with Julius Marble and Mady Sissoko challenging for backup minutes. Bingham is a very good shot-blocker who offers little offensively. Izzo noted at Big Ten media day that Bingham has improved his strength. That'll be important in a Big Ten that is full of dominant frontcourt scorers. Both Sissoko and Marble, who is only 6-foot-8, should offer physicality in the paint.
Bottom Line: Michigan State is being picked in the middle of the league, which feels like a fair starting point after last season. Christie and Walker have the potential to form a very good backcourt, but the Spartans need Hauser to be much better in his second Big Ten season. Hall and Brown are two of the league's most underrated players. Michigan State has solid depth at the five, but its bigs are a tier behind the league's best centers. This should be a tournament team for a 24th straight season, but the Spartans will need several role players to successfully step into more prominent roles to finish in the top tier of a competitive Big Ten.
Quotable: "It's worked out very well. Right now we feel we have eight, nine, ten players deep. We'll have to make those decisions. Unlike football, where you kind of get one quarterback, that's it, in basketball you definitely can play two guys. The way Tyson shoots it, I think these guys can play together some, too. I think you'll see some of that.
"You still usually win championships with guards. Guards have to be good. I think you'll see them playing together some. I think we're 32 days away from our first game, so these decisions between Tyson, A.J. will be made. They're both from the same neck of the country, Philadelphia, New Jersey area, New York. They're very good friends. It's been seamless so far." – Izzo at Big Ten media day on the rotation and point guard position.
Filed to: 2021-2022 Big Ten preview, Michigan State Spartans