2021-22 ITH Season Preview: Rutgers Scarlet Knights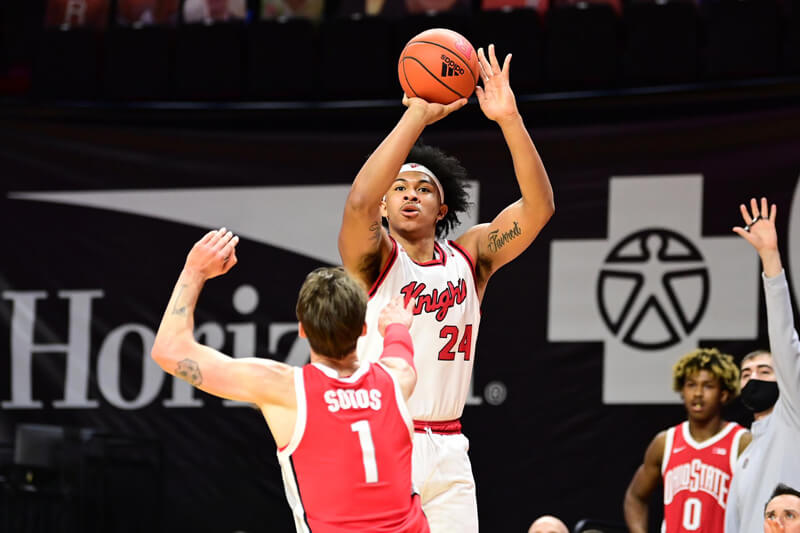 With the start of college basketball season coming in early November, we'll be taking a long look at the conference at large as well as Indiana's roster over the next month. Today, our team previews continue with a look at Rutgers.
Previously: Minnesota, Penn State, Nebraska, Northwestern, Wisconsin, Iowa
In 2020, Steve Pikiell had Rutgers on the verge of its first NCAA tournament berth since 1991 when the season abruptly ended due to the COVID-19 pandemic.
Last season, he got the Scarlet Knights over the hump and into the tournament. Rutgers beat Clemson in the round of 64 before falling to Houston, which advanced to the Final Four.
Now entering his sixth season in Piscataway, Pikiell has turned Rutgers from a laughing stock to a legitimate Big Ten program. This year's Rutgers team should again be in the mix for the NCAA tournament.
Rutgers returns two of the Big Ten's best guards in Geo Baker and Ron Harper Jr., who both tested the NBA draft process last spring.
The 6-foot-4 Baker averaged 10.2 points, 3.2 assists and 3.1 rebounds per game last season. He shot just 40.9 percent from the field, but is known for making difficult shots. With Jacob Young's transfer to Oregon, Baker could be more of a distributor in his fifth season. His assist rate of 19.1 percent last season was his lowest since his freshman season.
Harper Jr., who is 6-foot-6, is a matchup problem for most Big Ten guards. He's too big for smaller defenders and his ability to step out to the perimeter makes him a difficult cover for frontcourt players.
As a junior, Harper Jr. averaged 14.9 points, 5.9 rebounds and 1.6 assists per game. He shot 52.4 percent on 2s in Big Ten play. His 3-point shooting fell from 35.2 percent as a sophomore to 31 percent last season, but he still had six games where he made four or more 3-point attempts.
That duo will likely be joined in the starting lineup by Paul Mulcahy and Caleb McConnell. The 6-foot-6 Mulcahy shot close to 40 percent on 3s last season. He should continue to get open looks with opposing defenses keying on Baker and Harper Jr. The 6-foot-7 McConnell isn't much of an offensive threat, but led the Big Ten in steal percentage last season.
With the transfer of Myles Johnson to UCLA, Cliff Omoruyi is likely to take over at the five spot. At 6-foot-11, Omoruyi has the potential to become a disruptive defender in the paint. A former top 50 recruit, Omoruyi is more versatile offensively than Johnson, who strictly played in the paint with his back to the basket.
"I'm really excited about the development of Cliff," Pikiell said last week at Big Ten media day. "He's a special player, first and foremost, special person. As good a worker as I've had in the program, and I've had some really good workers."
A pair of transfers – Aundre Hyatt and Ralph Agee – should both compete for rotation minutes.
The 6-foot-5 Hyatt arrives from LSU, where he started 15 games last season. He has a reported 7-foot-5 wingspan and averaged 4.2 and 3.1 rebounds last season for the Tigers. Hyatt should be able to play multiple positions. Agee arrives from San Jose State where he averaged 11.1 points and 5.2 rebounds last season. The 6-foot-8 forward shot close to 57 percent from the field.
Others who could compete for minutes include freshman point guard Jalen Miller, who could the starter in the future. He was rated the No. 28 point guard in the 2021 class by 247Sports. Jaden Jones, a 6-foot-8 sophomore forward, joined the program halfway through last season and was a four-star recruit out of high school. And 6-foot-7 Australia native Mawot Mag has a lot of defensive potential. The sophomore appeared in 12 games last season and could be in the mix for minutes if Pikiell goes with a deeper rotation than last season.
Bottom Line: Despite a successful 2020-21 season, Rutgers is back to being picked to finish in the bottom half of the league. The losses of Young and Johnson are impactful, but there's enough left for Pikiell to reach the NCAA tournament again. Rutgers has an experienced backcourt that can defend and execute its style of play. The key is Omoruyi, who needs to stay healthy and provide a shot-blocking presence at the rim.
Quotable: "I love our backcourt. It's by far been the most cohesive backcourt that I've had. Geo Baker being a fifth-year guy that can make and take big shots. Paul Mulcahy is as improved a guy in the league as we've had, played a ton of minutes. Caleb McConnell has been a guy from day one that brings terrific energy in a multi-position kind of guy, thinking he has a chance to be an all-defensive team player in our conference. I love their experience." – Pikiell on his guards at Big Ten media day.
Filed to: 2021-2022 Big Ten preview, Rutgers Scarlet Knights