2021-22 ITH Season Preview: Minnesota Golden Gophers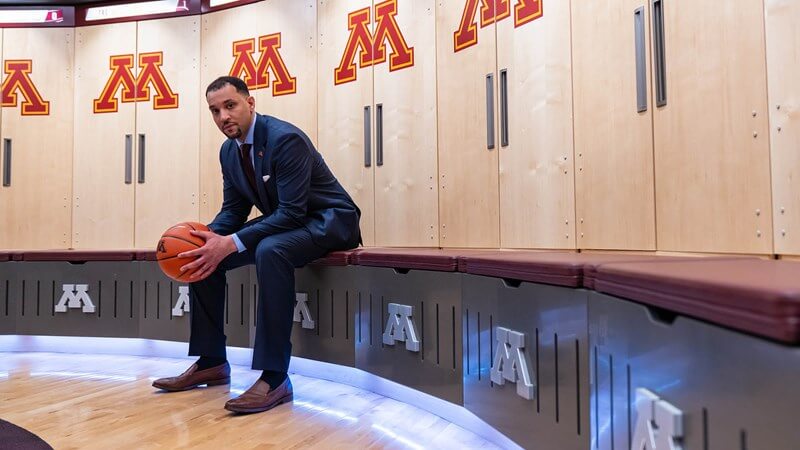 With the start of college basketball season coming in early November, we'll be taking a long look at the conference at large as well as Indiana's roster over the next month. Today, our team previews begin with a look at Minnesota.
In a move that was expected for months, Minnesota parted ways with Richard Pitino on March 15, 2021.
Over eight seasons in Minneapolis, Pitino compiled a 141-123 record and reached the NCAA tournament twice.
"We have one of the best practice facilities in the nation, a historic competition venue, and a state that produces top-caliber talent," Minnesota athletic director Mark Coyle said in his release announcing Pitino's dismissal. "This is an extremely attractive job, and we will immediately start a nationwide search for our next head coach."
One week later, Coyle landed on Xavier assistant coach Ben Johnson to replace Pitino. Johnson, 40, played at Northwestern and Minnesota. The Minneapolis native served as an assistant coach under Pitino from 2013-2018.
In his first season as a head coach, Johnson will face the task of building a program from scratch. Only two scholarship players from last season's roster – Isaiah Ihnen and Eric Curry – opted to return this season. And Ihnen is out for the season with a torn ACL.
Marcus Carr, the program's star guard last season, transferred to Texas. Productive center Liam Robbins transferred to Vanderbilt. Wing scorer Gabe Kalscheur landed at Iowa State.
So what does Johnson have to work with this winter? A roster built with freshmen and transfers from Division I, Division II, Division III and junior college programs.
George Washington transfer Jamison Battle is the most notable addition to the roster. The 6-foot-7 forward averaged 17.3 points and 5.2 rebounds last season for the Colonials. Battle shot an impressive 38.9 percent on 3s in conference play.
"I love Jamison," Johnson said recently. "He's a worker, done a great job with his body, got himself in really good shape, moving great and he's a guy who lives in the gym. I have a ton of confidence in him. Not just with him shooting the basketball, but he knows how to play."
Curry, who has spent a large part of his career injured, will have a chance to compete for major minutes in the frontcourt. Over 78 career games, the 6-foot-9 forward has averaged 4.6 points and four rebounds per game.
Freshman center Treyton Thompson is the tallest player on the roster and committed to the program under Pitino. The 6-foot-11 center was rated the No. 182 player in the country according to the 247Composite. If he's ready physically, he'll have the opportunity to earn early minutes at the five.
Charlie Daniels, a 6-foot-9 transfer from Stephen F. Austin, averaged 4.6 points and 3.5 rebounds last season in the Southland Conference and should be in the mix for the frontcourt rotation. Danny Ogele averaged 10.5 points last season at Division II Mercyhurst and at 6-foot-7, could play multiple positions for Johnson.
In the backcourt, the Gophers will rely on transfers Peyton Willis, Luke Loewe, E.J. Stephens and Sean Sutherlin.
The 6-foot-4 Willis began his career at Vanderbilt, transferred to Minnesota and then played last season at Charleston. He's back with the Gophers this winter and shot 41.9 percent on 3s last season.
Loewe arrives from William & Mary, where he averaged 16.2 points, 3.4 rebounds and 3.2 assists per game, but shot under 30 percent from behind the 3-point arc.
Stephens, a transfer from Lafayette, was a second-team All-Patriot League selection last season. He averaged 16.4 points and 4.7 rebounds per game for the Leopards.
And Sutherlin, who sat out last season due to injury, arrives from New Hampshire where he averaged 12.8 points and 9.3 rebounds back in the 2019-20 season.
Bottom Line: Minnesota is being picked at the bottom of the league by many and for good reason given the roster turnover. The Big Ten is a league that rewards experienced teams with high level talent and Minnesota has neither. The Gophers were an awful road team last year (0-10) and things won't get any easier this season with a roster pieced together hastily last spring. Time will tell on whether Johnson ends up being an upgrade over Pitino, but the first few seasons are going to be rough.
Quotable: "If you really peel it back, I've got two guys that have played high-major basketball. The good part is that I've got a lot of guys who are trying to prove themselves… that they're more than capable, which I believe, of playing at this level. It's different when you play high major two or three times a year versus now you get into league play and it's every single game. That's a different grind. But I know they'll rise to the challenge. For us, whether it's cliche or not, it's just every day we want to get better." – Johnson on the challenge his roster will face this season.
(Photo credit: GopherSports.com)
Filed to: 2021-2022 Big Ten preview, Minnesota Golden Gophers