2021-22 ITH Season Preview: Wisconsin Badgers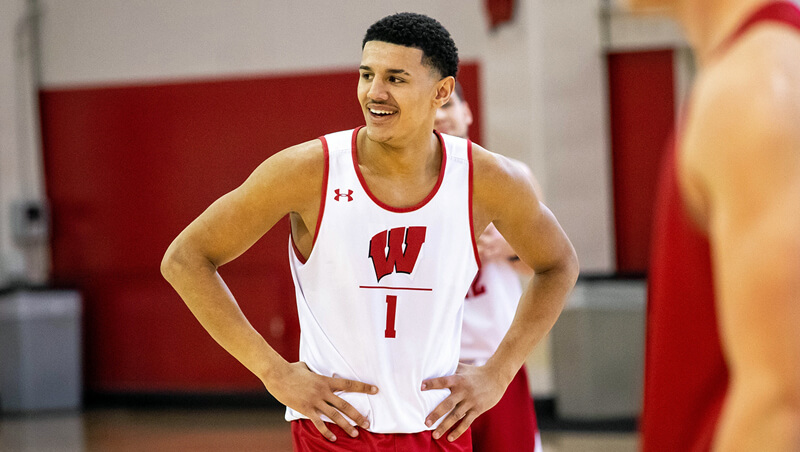 With the start of college basketball season coming in early November, we'll be taking a long look at the conference at large as well as Indiana's roster over the next month. Today, our team previews continue with a look at Wisconsin.
Previously: Minnesota, Penn State, Nebraska, Northwestern
Wisconsin was the Big Ten's most experienced team a season ago. This winter, the Badgers will be one of the league's least experienced teams.
A disappointing 18-13 record last season coupled with a controversy involving the program's seniors and Greg Gard left Wisconsin in a precarious spot. The Badgers were supposed to be one of the league's best teams last season. Instead, they were a major disappointment. And an offseason audio leak featuring Gard and the program's seniors only raised more questions about the program's future.
Gard, however, will look to silence those questioning his ability to lead the Wisconsin program with a new-look team. Only three Badgers who averaged double-figure minutes are back in Madison. Just one of those players, Brad Davison, averaged double figures in scoring.
Davison, who is engaged to former Indiana women's standout Tyra Buss, averaged 10 points per game last season. He shot 38.9 percent on 3s, 86.8 percent from the free-throw line and will be one of the most experienced players in the league.
Help for Davison on the wing will come from sophomore Jonathan Davis and junior Tyler Wahl. As a freshman, the 6-foot-5 Davis shot close to 39 percent on 3s and the 6-foot-5 guard possesses the slashing ability to get by defenders from the perimeter. His length and athleticism also made him one of the league's better defenders last season.
Wahl is a 6-foot-9 forward who averaged 5.2 and 4.3 rebounds last season, but struggled with his perimeter shot. Wahl shot just 27.8 percent on 3s and is now just a 25 percent 3-point shooter over his first two seasons.
Freshman Matthew Mors could see some backup minutes at the four after a highly successful prep career in South Dakota. The state's Gatorade player of the year three times, the 6-foot-7 Mors racked up 2,707 points in high school. Freshman Markus Ilver, a top 150 recruit, could also challenge for minutes on the wing. The Estonia native has reportedly impressed thus far in practice.
Cincinnati transfer Chris Vogt could get the first shot as the team's starting center. Back in the 2019-20 season, Vogt averaged 11 points and 5.9 rebounds for the Bearcats. His numbers last season, however, fell off and his minutes decreased. The 7-footer averaged just five points and 3.5 rebounds for Cincinnati before he announced his transfer. Vogt is a solid shot-blocker that gives Gard some legitimate size to throw at other centers in the league.
Sophomores Steven Crowl and Ben Carlson should also get plenty of reps in the frontcourt. A former top 100 recruit, the 6-foot-9 Carlson showed early promise before a back injury sidelined him for a majority of the season. Crowl is a 7-footer who was stuck behind Nate Reuvers and Micah Potter in last season's rotation. He appeared in just 12 games last season as a true freshman.
The biggest question on the Wisconsin roster is the point guard position. D'Mitrik Trice is gone, which means the three options are true freshman Chuck Hepburn, Wake Forest transfer Jahcobi Neath and redshirt freshman Lorne Bowman II.
Hepburn was rated the No. 124 player in the 247Composite and seems to be gathering the most buzz as the successor to Trice. The Gatorade player of the year in Nebraska last season, Hepburn was an all-state player three times and led his high school program to a pair of state championship game appearances.
Neath averaged more turnovers than assists last season at Wake Forest and shot just 35.7 percent from the field. Bowman II took a leave of absence last season and has yet to appear in a game for the program.
Bottom Line: Wisconsin will take a step back this season, but just how far will the Badgers fall in the league standings? The program has serious questions at the point guard and center positions. Relying on a true freshman at point guard is not ideal for a program that values experience. And the center position very much looks like it could be a "by committee" situation with Vogt, Crowl and Carlson all in the mix. Outside of Davison, the rest of the roster is full of question marks. Davis looks poised to have a breakout season as a sophomore, but Gard is going to need a lot of things to break favorably to finish higher than ninth or 10th in the league.
Quotable: "I've liked the approach of this group from the beginning from when we even started last spring and then added all the newcomers through the summer for eight weeks. And then picked up where we left off when we started school back up about a month ago.
"Really excited to see how they can come together. A group that I think has a lot of very good, individual pieces, but obviously, new faces that haven't spent a lot of time in a Badger uniform and looking forward to seeing how everything comes together. But we're very obviously very early in that process and the stage of coming together to be the best team we can be." – Gard to reporters last week.
Filed to: 2021-2022 Big Ten preview, Wisconsin Badgers