2021-22 ITH Season Preview: Penn State Nittany Lions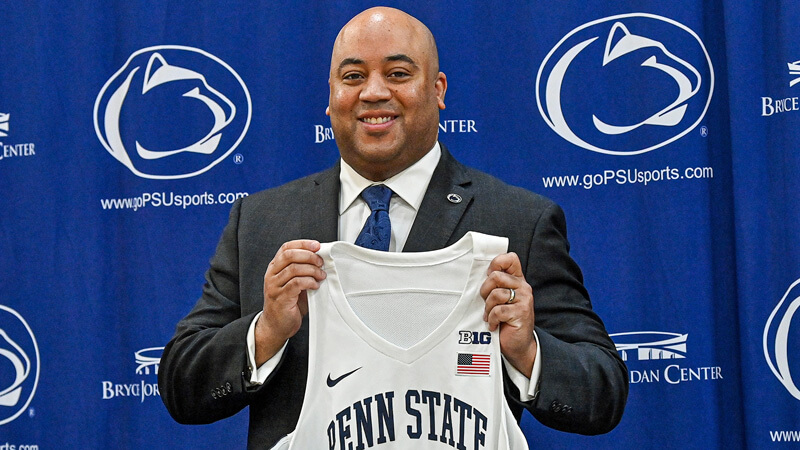 With the start of college basketball season coming in early November, we'll be taking a long look at the conference at large as well as Indiana's roster over the next month. Today, our team previews continue with a look at Penn State.
Previously: Minnesota
The COVID-19 pandemic robbed Penn State of an NCAA tournament appearance in 2020 and the Nittany Lions followed it up with a tumultuous 2020-21 campaign.
Amid accusations of mistreating players, Pat Chambers resigned after nine seasons in the fall of 2020. The timing forced the Nittany Lions to settle on assistant coach Jim Ferry to take over on an interim basis. Penn State battled a lengthy COVID-19 pause last season and ultimately finished 11-14 overall and 7-12 in league play.
Penn State announced the hiring of Indianapolis native Micah Shrewsberry on March 15, 2021. Shrewsberry, 45, worked as an assistant under Brad Stevens in both the NBA and college and also worked for Matt Painter at Purdue. The move was viewed as one of the top hires in college basketball.
Shrewsberry isn't inheriting a situation as dire as the one Ben Johnson has a Minnesota, but the Nittany Lions were hit hard by the transfer portal.
Myreon Jones, the program's best perimeter threat, transferred to Florida. Guards Izaiah Brockington (Iowa State) and Jamari Wheeler (Ohio State) also left State College. All three guards played significant minutes last season.
Despite those losses, Shrewsberry will have several key returnees to rely on. The headliner is forward John Harrar, the Big Ten's best offensive rebounder last season. Over 13 games in January and February, Harrar averaged 10.1 points and 10 rebounds per game. Harrar, who led the league in free throw rate, is a blue-collar player who lacks flash but is ultra-productive. He would have had many options in the transfer portal, but Harrar said it was important for him to see things through at Penn State in his fifth and final season.
"My big thing is to win," Harrar said in early August. "I want to win and I want to win at Penn State."
Senior Myles Dread returns on the wing and started eight of the team's final nine games last season. Dread shot 34.6 percent on 3s last season and averaged 7.3 points per game.
Junior Seth Lundy is the team's leading returning scorer. The Paulsboro, New Jersey native averaged 10.1 points and 4.2 rebounds last season and is a career 34.9 percent 3-point shooter. Guard Sam Sessoms also returns after averaging 8.2 points off the bench last season. Sessoms was a high usage, low-efficiency player last season with a usage rate of 24.5 percent and an effective field goal percentage of just 45.
A pair of transfer guards will likely start in the backcourt in Shrewsberry's first season. Siena transfer Jalen Pickett was the player of the year in the MAAC in 2019-20 and averaged 12.9 points, 6.3 rebounds, and 4.3 assists last season. Pickett shot 35.9 percent on 3s last season.
Jaheam Cornwall arrives from Gardner-Webb where he averaged 14.1 points, 3.8 assists, and 3.2 rebounds last season while shooting 40.8 percent on 3s. Cornwall is a career 42.2 percent 3-point shooter, so he should give Shrewsberry a reliable perimeter threat to rely on.
Another key transfer for the Nittany Lions is 6-foot-9 forward Greg Lee, who averaged 13 points and 7.2 rebounds last season at Western Michigan. Lee played his first three seasons at Cal St. Bakersfield and should help provide depth in a frontcourt that is otherwise thin behind Harrar.
6-foot-9 forward Jalanni White transferred from Canisius in late July and owns career averages of 5.1 points and 2.6 rebounds per game.
Despite all of the roster turnover, Penn State does return three players who have started regularly in Harrar, Dread, and Lundy, which should provide Shrewsberry a solid foundation to build a competitive team in his debut season.
Bottom Line: Penn State will be picked to finish in the bottom four of the league, but the Nittany Lions should be competitive in Shrewsberry's first season. Harrar is one of the Big Ten's best forwards, which is a key position given the other talent around the league. Pickett and Cornwall are up-transfers who will be counted on to play significant minutes in the backcourt. The key to the season could be Dread and Lundy. Both players were productive at times last season, but will need to be more consistent and provide floor spacing to take some of the pressure off of Harrar.
Quotable: "It's a delicate balance in terms of what you're looking for when you bring guys in (as transfers). We looked for a specific player, maybe a specific talent, but what we weren't going to bring in were one-year renegades… guys that were just coming in just to get their stats and build their status. Winning was a big part of it. If winning wasn't important to you, then you probably weren't going to fit with me." – Shrewsberry this summer when asked about the types of players he targeted in the transfer portal.
(Photo credit: Penn State Athletics)
Filed to: 2021-2022 Big Ten preview, Penn State Nittany Lions