2021-22 ITH Season Preview: Northwestern Wildcats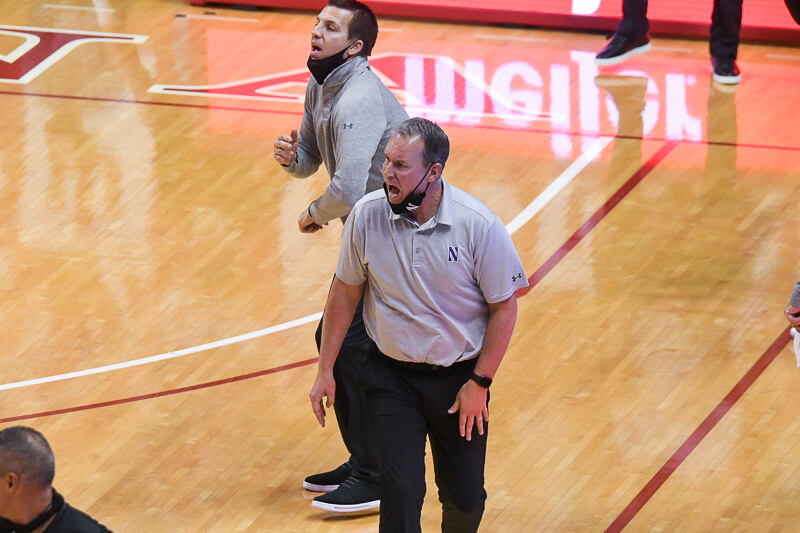 With the start of college basketball season coming in early November, we'll be taking a long look at the conference at large as well as Indiana's roster over the next month. Today, our team previews continue with a look at Northwestern.
Previously: Minnesota, Penn State, Nebraska
It took Chris Collins four seasons to take Northwestern to its first NCAA tournament appearance in 2017. That moment looked like a turning point in Evanston as the Wildcats pushed Gonzaga to the brink in the tournament's round of 32.
But in retrospect, that season looks like an anomaly.
Over its last four seasons, Northwestern hasn't reached the postseason. The Wildcats have posted four straight losing records. Collins is only 19-58 in Big Ten games over that time span. At any other Big Ten program, this record would likely lead to a dismissal.
Collins, however, has remained at the helm. He enters yet another season where his team is being picked in the bottom four of the league. Whether that materializes will largely depend on Northwestern's returning cast, which has a lot of experience but hasn't found much success.
Other than Miller Kopp, who transferred to Indiana, Northwestern returns every notable contributor from last season's team.
The key returnees are guards Boo Buie and Chase Audige and forward Pete Nance.
Nance, who averaged 11.1 points and 6.8 rebounds last season, has breakout potential. He shot 36.4 percent last season on 3s, which is unique for a 6-foot-10 player. The key for Nance will be more consistent production. Over the season's final seven games, he scored in double figures only three times.
Audige, who played his freshman season at William & Mary, found success at times in his first Big Ten season. A solid defender, he averaged 12.3 points per game and he scored the final 11 points in a Northwestern win at Indiana in December. But his free throw shooting (54.4 percent) and 3-point shooting (33.9 percent) both need work.
Buie averaged 10.3 points, four assists, and 2.3 rebounds last season and might have the highest upside on the roster. In late-season wins over Minnesota, Maryland, and Nebraska, Buie averaged 17 points and shot 8-of-18 on 3s. He also ranked fourth in the league in assist rate at 28.2 percent.
Stretch forward Robbie Beran is a career 37.1 percent 3-point shooter and will play a lot of minutes at the four. He could be pushed for minutes by Elyjah Williams, who transferred from Farleigh Dickinson. Williams is 6-foot-6 and averaged 13.9 points and 7.6 rebounds per game. While his shot volume was low, he did make 42 percent of his 3s last season.
Center Ryan Young gives Collins a big body in the post to throw at some of the league's dominant bigs. Young is 6-foot-10, 245 pounds, and made 58.5 percent of his 2s last season in league play.
In the backcourt, guards Ryan Greer and Ty Berry return to provide depth behind Buie and Audige. Berry was the No. 153 player in the 2020 class and will likely take over for Buie in future seasons. Greer is a steady senior presence who averaged 2.7 points per game last season.
Newcomers Casey Simmons, Julian Roper II, and Brooks Barnhizer were all ranked in the top 151 of the final 247Composite rankings in the 2021 class. Given the wealth of experience that Collins returns, he'll have a chance to bring all three along slowly early in hopes they'll be viable contributors down the stretch of the season.
Bottom Line: Northwestern has been a consistent disappointment in recent seasons and the Wildcats are once again picked near the bottom of the league. This team could certainly be better than last year's group, but it's difficult to move up in a league where the teams above also return a lot of experience. Northwestern is going to need Nance, Buie and Audige to be consistent most nights to improve on last season's six-win mark in league play. Nance has the talent to land on one of the all-Big Ten teams. Buie and Audige led Northwestern to some big wins last season but struggled to perform consistently. Another ho-hum season in Evanston could put Collins, who is in his ninth season, firmly on the hot seat.
Quotable: "It's really hard to win incredibly young in the Big 10. And we took some lumps for that, especially last year. We stayed with that group this year, and we got better. I mean, there was a marked improvement. And I truly believe that I think playing the schedule we did is only going to make us better.
"And it's really hard to expect a team to go from three wins to like 11 or 12. I mean, that doesn't happen a lot. You know, it's usually a steady progression. And that's kind of how we built it last time. They won four or five, then they won eight, then they won 10. That's kind of how it goes. You get better, you learn, you grow. And that's what I see with this group. And that's what I'm excited to keep building with these guys." – Collins reflecting on the state of the program after last season's Big Ten tournament loss to Minnesota.
Filed to: 2021-2022 Big Ten preview, Northwestern Wildcats