Q & A: Class of 2023 guard Gabe Cupps recaps his official visit to Indiana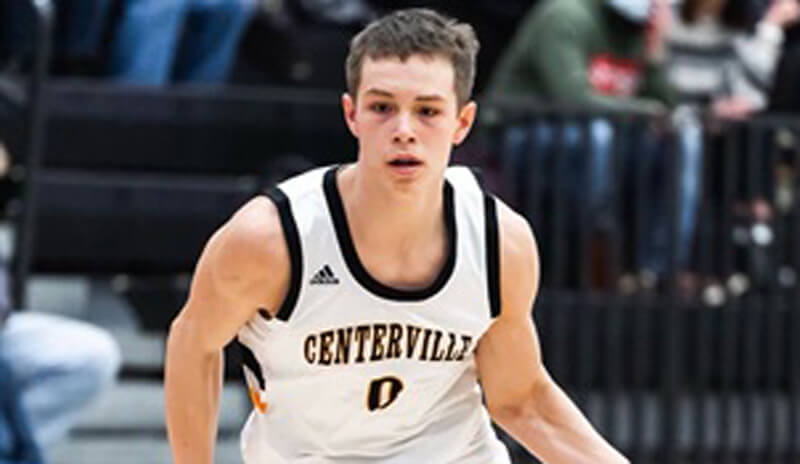 Class of 2023 Centerville (Ohio) guard Gabe Cupps wrapped up his junior year official visit to Indiana earlier this week.
Cupps, ranked the No. 131 player nationally according to the 247Composite, holds scholarship offers from Indiana, Michigan, Ohio State and several others.
Inside the Hall spoke with Cupps about his experience in Bloomington, his recruitment and much more. Our full conversation is available below:
What's piqued your interest in Indiana? 
"I think coach (Mike) Woodson and the staff has is one of the best in the country. I think his purpose of bringing Indiana basketball back on top is one of a kind. It can't be replicated anywhere else in the country. I just think that's super intriguing to me."
What has Indiana done to build such a strong relationship with you?
"They've just stayed in contact with me consistently. I think that's the biggest thing. They've always been really good to me. Anytime I've wanted to come watch practice, they encourage that and were excited that I wanted to come and watch them. They've shown and expressed that they truly want me. They're not just trying to recruit me because of who I am. They want me."
In terms of taking the junior year official visit, what were you looking to learn and what were some of your takeaways from the visit?
"Mostly just getting to know some of the staff and the players a little bit more. I hadn't spent a super extended amount of time with them. The visits when I went there before, it was just two or three hours with them. It was usually just watching them coach. So I thought it was really good to sit down with them. Even just eating meals with them, that just builds a relationship. That's what I wanted to get out of it and I did get that out of it."
What did you think of the players and who did you spend most of your time with?
"Anthony Leal was the player that I spent the most time with. He grew up like 10 minutes from IU, so just being around that area, he had a pretty cool insight into what Indiana basketball meant to him. He talked about how coach Woodson has already built such a strong relationship with him in the short time he's been there. I think that speaks volume to how important those relationships are to coach Woodson and his entire staff, really."
How important is it to you to see Indiana play a game this season when you are evaluating what the program will look like under the new coaching staff?
"I think it would help to see a game. But a lot of people that my dad knows and that I know have said that they really do think that Woodson is going to get Indiana back on top. I have a belief in him that he's going to get it done no matter what and no matter what it takes. I've seen what he's talked to me about and what the whole staff has talked to me about… I've seen that reflected a lot in practice. Practice is super important, but just putting that all together into a game would be cool to see."
What have they said in terms of how they would utilize you if you were to come to Indiana?
"They really have just talked about needing multiple ball handlers to come off of ball screens and make plays. They want guys that can do everything… shoot, pass, dribble and get guys open shots. So that's kind of what they've expressed with what they see me doing."
You also took a visit to Ohio State recently. They seem to be another school that has built a good relationship with you. What did you learn from that visit and what do you think of Ohio State at this point?
"Basically the same thing. I hadn't been to Ohio State nearly as much as Indiana. But spending time with those coaches and those players was really big for me just because I value those relationships. I know I'm going to build some of the strongest relationships I'll have in my life while I'm in college with those coaches and those players that I surround myself with. I really like Ohio State. I like how they do things. They're very organized and they know what their vision is and they do everything according to that. I really like that about them."
Have you visited any other schools this fall? Are there any other schools that you are scheduled to visit?
"I took an official visit to Michigan earlier. I have a scheduled official visit to Stanford in like two weeks I think. I've had a couple of unofficials, too. Clemson, Xavier, Cincinnati, Dayton, Virginia, Liberty. I took quite a few unofficials. Michigan, Indiana, Ohio State and Stanford, those are going to be my officials."
What did you think of the visit to Michigan?
"I thought it was really good. I really like Juwan (Howard). And coach (Phil) Martelli I think is a really big piece there that they have to offer. They have a very good mix (on staff) of having different guys being willing and able to do different things. I think they go together really well. I think that's a reason why they've been so good. I knew Zeb Jackson before just from like AAU. It was good to spend time with him and I really liked spending time with those players."
What are you looking to learn on your Stanford visit?
"I think it'll be a cool visit. I don't really know much about them or many details about them. But I know that Ziaire Williams went there. So they've had some good players that have gone through Stanford. I think it will be a really cool environment just with how high caliber the players and students are that are walking around campus. Everybody is in the top tier of people."
Do you have any plans to cut down a list? Are you thinking about what you want to do in terms of a decision yet?
"I think I'll probably narrow my schools towards the end of the month. And then, I've always said and my parents have always said, when I know where I want to go, that's when I'll commit. I'm not going to know where I want to go and sit on it. I don't think there's like a set date, but I think I'll start to narrow down the schools after I take my Stanford official and start getting serious about really looking where I want to go."
What are you looking forward to most about your high school season?
"Just going through it all with my guys that I've been with for a long time. The seniors this year, I've grown up with them basically. I want to win for those guys so that they can have a good last high school season. I'm just going to work as hard as I can to get those guys a really good last high school season, whatever that may be."
Filed to: Gabe Cupps