2021-22 ITH Season Preview: Maryland Terrapins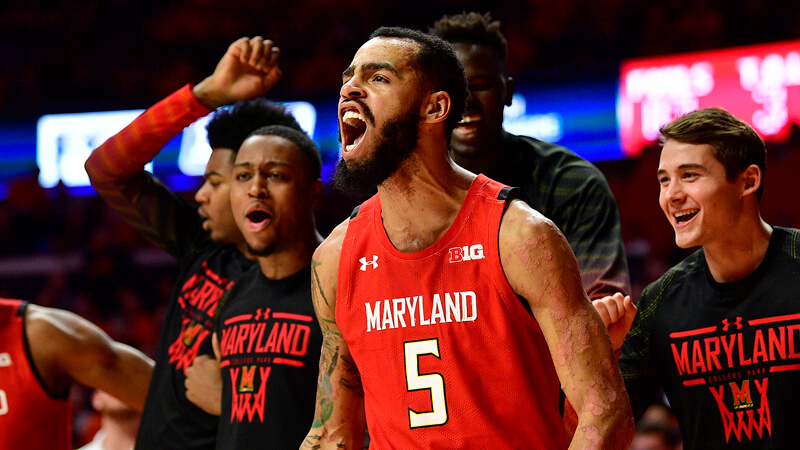 With the start of college basketball season coming in early November, we'll be taking a long look at the conference at large as well as Indiana's roster over the next month. Today, our team previews continue with a look at Maryland.
Previously: Minnesota, Penn State, Nebraska, Northwestern, Wisconsin, Iowa, Rutgers, Michigan State
Maryland's up-and-down 2020-21 season ended with a second-round NCAA tournament loss to Alabama. With solid pieces returning and some key newcomers, the Terps will look to get to the tournament's second weekend for only the second time under Mark Turgeon.
The backcourt in College Park will look much different after Aaron Wiggins went pro and Darryl Morsell transferred. Wiggins was the 55th pick in the 2021 NBA draft and is on a two-way contract with the Oklahoma City Thunder. Morsell, last season's Big Ten defensive player of the year, followed assistant coach DeAndre Haynes from Maryland to Marquette.
Those departures leave Eric Ayala as Maryland's best returning player. Ayala's sturdy frame and physicality make him one of the toughest guards to cover in the league. He averaged 15.1 points last season and shot 55 percent on 2s. He also posted a free throw rate (FTA/FGA) of close to 40 percent.
He'll likely be joined in the backcourt by Rhode Island transfer Fatts Russell. The Philadelphia native averaged 14.7 points, 4.5 rebounds and 4.5 assists for the Rams, but shot just 33.7 percent from the field. Russell should have less pressure to score playing alongside Ayala.
"He can make an impact on both ends," Turgeon said of Russell at Big Ten media day. "Some kids can just make an impact on one end. He gets shots, his team wins every scrimmage it seems like. Then he gets two or three steals a practice just because he's so fast and anticipates well."
Junior Hakim Hart should start on the wing and shot close to 58 percent last season on 2s. His 3-point percentage, however, needs work. Hart is just a career 27.9 percent 3-point shooter on 111 attempts.
Marcus Dockery will likely be the backup at point guard with Utah transfer Ian Martinez, freshman Ike Cornish and Old Dominion transfer Xavier Green challenging for minutes off the bench. Green was a solid defender at Old Dominion and Martinez scored 18 points in his final game for Utah last season.
Up front, Donta Scott will be able to shift to the four with Georgetown transfer Qudus Wahab taking over at the five.
Scott was a mismatch problem last season because of his ability to step outside and make 3-pointers. He shot 42 percent on 3s in league play, which ranked eighth in the conference. Scott was also 13th in the league in defensive rebounding percentage, 16th in block percentage and 17th in free throw rate.
As a sophomore for the Hoyas, Wahab averaged 12.7 points, 8.2 rebounds and 1.6 blocks per game. He shot a solid 59.1 percent from the field and averaged 27.7 minutes per game.
Maryland's frontcourt depth will likely consist of James Graham III, freshman Julian Reese and Arizona State transfer Pavlo Dziuba.
Graham enrolled midseason last winter and should be able to provide minutes at the three or the four. Reese was a top 60 recruit in the final 247Composite, is 6-foot-9 and could develop into a shot blocker. Dziuba, a native of Ukraine, only played sparingly last season for the Sun Devils. But with solid depth ahead of him, Maryland will have the luxury of bringing him along slowly.
"We kept trying to add pieces," Turgeon said. "We got great depth. We're probably as big and athletic as we've been in a while."
Bottom Line: Maryland has a solid mix of returners and newcomers that should put Turgeon on the path to another NCAA tournament berth. Ayala is one of the league's best guards and the addition of Russell will allow him to move off the ball more often. The addition of Wahab will allow Scott to shift to his more natural position at the four, where he can play inside or out based on matchups. While there are some questions at the three and off the bench, there's enough talent here to compete for a top-four finish and a double-bye in the Big Ten tournament.
Quotable: "Excited about my team. Added a lot of new players, got some good veteran guys coming back. We've had a great summer, we've had a great fall. The guys have worked hard. Probably the best thing we have going for our team right now is the chemistry. The guys really get along and they're fun to coach." – Turgeon at Big Ten media day in Indianapolis.
Photo credit: Maryland Athletics
Filed to: 2021-2022 Big Ten preview, Maryland Terrapins