6-Banner Sunday: Coaching search rolls on, IU women reach Elite Eight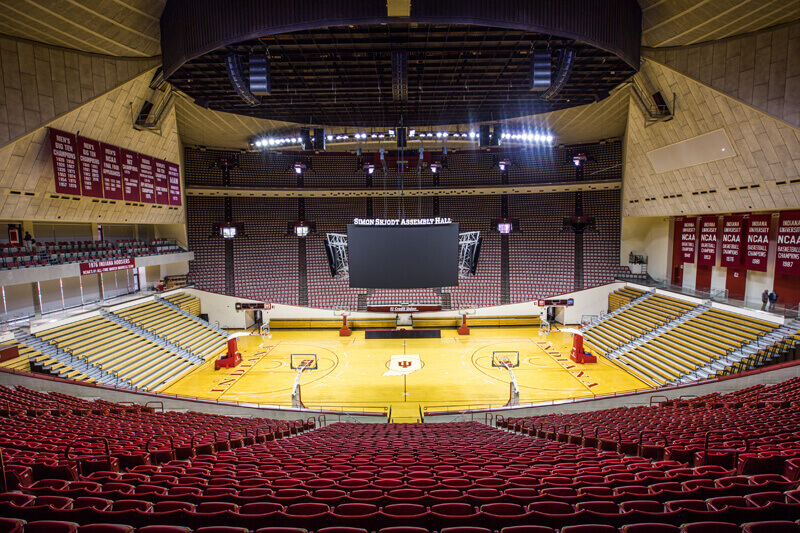 6-Banner Sunday is Inside the Hall's weekly newsletter in partnership with The Assembly Call. More than 7,500 Indiana fans receive the newsletter each week. In addition to appearing each week on the site, you can also opt to receive 6-Banner Sunday by email. A form to subscribe via email is available at the bottom of this week's 6-Banner Sunday.
Welcome to another edition of 6-Banner Sunday, a joint production between The Assembly Call and Inside the Hall where we highlight the five most essential IU basketball stories of the past week, plus take a look at how the other IU sports programs are doing.
It's been almost two weeks since Archie Miller was fired and the search for Indiana's next head coach has continued. Brad Stevens, who would've been a home run hire, previously shut down rumors that he may come to Bloomington after speculation swirled on social media.
There are many other names that are still out there for the job. It was reported last week that former IU star Calbert Cheaney interviewed for the position.
Meanwhile, five IU players entered the transfer portal this week, contributing to the nation-wide exodus. The NCAA ruled that transfers would be immediately eligible after changing schools, rather than having to sit out a season like in the past. The decision has resulted in an influx of movement across the college landscape.
Entering the portal doesn't mean that players are definitely leaving, however, it allows them to be in contact with other schools and gauge interest. One of the first big moves of Indiana's new head coach will be re-recruiting all of IU's players to stay in Bloomington.
On the women's side of things, the Hoosiers are off to the Elite 8 for the first time ever.
You can listen to this week's Podcast on the Brink here. You can also check out the newest episode of Assembly Call Radio here.
• Indiana's coaching search continues
• Armaan Franklin, Race Thompson enter transfer portal
• Jordan Geronimo, Khristian Lander, Parker Stewart enter transfer portal
• CJ Gunn remains committed to Indiana while focusing on state playoffs
• Former IU star Victor Oladipo traded to Miami Heat
• IU women make first Elite Eight
Banner #1
Indiana's coaching search continues
Inside the Hall has continued to profile potential coaching candidates as IU Athletic Director Scott Dolson's search continues. According to recent betting odds, former Hoosiers Mike Woodson is the favorite for the job.
Woodson played for Indiana from 1976-80 under Bob Knight and went on to be selected No. 12 in the 1980 NBA draft by the New York Knicks. He's served stints at the helm of the New York Knicks and Atlanta Hawks, but doesn't have experience coaching at the collegiate level.
Other names to know are Michael Lewis, Porter Moser, Dane Fife, Dana Altman and Thad Matta.
According to the betting odds, Matta has the second-best chance of being hired. Matta won five Big Ten regular-season championships and four Big Ten tournament championships over 13 seasons at Ohio State, but was forced to retire in 2017 due to his declining health.
Banner #2
Armaan Franklin, Race Thompson enter transfer portal
Sophomore guard Armaan Franklin entered the transfer portal with a possibility of returning to Indiana, a source close to Franklin confirmed to Inside the Hall Tuesday.
"Once IU hires a coach, he'll still talk to the new coaches," India Franklin, Armaan's mother, told Inside the Hall. "Basically make sure that Armaan is a good fit for the new coach and the new coach is a good fit for him. In the meantime, he's fostering other relationships and making sure that whoever's coaching him next is a good fit for him."
On Thursday, Indiana forward Race Thompson also announced that he was entering the transfer portal.
Thompson and Franklin were arguably Indiana's most improved duo last season. Thompson started all 27 games for the Hoosiers averaging 9.1 points, 6.2 rebounds and 1.4 assists per game. Franklin, who was hampered with an ankle injury throughout the year, averaged 11.4 points, 4.1 rebounds, 2.1 assists and 1.2 steals last season.
Both players figured to be key pieces next season, but now it's uncertain if they will return.
Banner #3
Jordan Geronimo, Khristian Lander, Parker Stewart enter transfer portal
Freshmen Jordan Geronimo and Khristian Lander, along with junior Parker Stewart were the other three Indiana players to enter the transfer portal this week. All three said they're still considering returning to Indiana next season after a new coach is hired.
Lander, who arrived as a five-star point guard, averaged just over two points per game and 1.2 assists per game. Lander got off to a slow start, but his steady development was apparent throughout the season.
Stewart transferred from UT-Martin mid-season after his father Anthony, who was the head coach at UT-Martin, unexpectedly passed away. Stewart didn't appear in any games last season as he got acclimated to Bloomington.
Stewart, who figured to be an important perimeter edition next season, averaged 19.2 points, 4.6 rebounds, 3.8 assists and shot 34 percent from 3-point range at UT-Martin.
Geronimo appeared in 22 games as a freshman and averaged 2.2 points and 1.8 rebounds in 8.1 minutes per game. He often provided energy off of the bench.
"First, I want to thank Indiana Basketball for contributing to my growth as a basketball player and person," Geronimo wrote on social media Thursday. "However after some deep thought and long conversations, I will be entering my name in the transfer portal with the possibility of returning."
Banner #4
CJ Gunn remains committed to Indiana while focusing on state playoffs
Class of 2022 four-star shooting guard CJ Gunn remains committed to Indiana and hasn't had time to reconsider his options as he focuses on Lawrence North's state playoff run, his father Christopher Gunn told Inside the Hall last week.
"Nothing has changed in our decision," Christopher Gunn said. "We haven't gotten to the point where we have made any kind of decision or any kind of movement."
Gunn, who originally committed to IU in February, is set to play in the State Championship against Carmel High School on April 3.
"We also try to look for the blessings, even in change," Christopher said. "There's always a blessing in there, a silver lining, so for us it's we're still affiliated with what we believe is a great IU program. At the same time, he has the benefit of having the relationships that he built with coach Archie and coach Ostrom and Armaan (Franklin) and some of the other players. In a lot of ways, he's in a position where he's in the best of both worlds. He's had the benefit of existing with the prior coaching staff and the exposure to the IU program and the history behind it."
Banner #5
Former IU star Victor Oladipo traded to Miami Heat
Victor Oladipo is headed to South Beach, Miami after being traded to the Heat in a trade deadline deal.
Earlier this season, Oladipo was dealt from the Indiana Pacers to the Houston Rockets. Oladipo was a two-time All-Star in his stint spanning across four years with the Pacers. Throughout his nine-year career, Oladipo has spent time with the Orlando Magic, Oklahoma City Thunder, Pacers, Rockets and now Heat.
At Indiana, Oladipo was a consensus All-American in his junior season. In his three seasons in Bloomington, Oladipo averaged 10.7 points 5.2 rebounds and 1.7 assists per game.
Banner #6
IU Women make first Elite 8
While I usually dedicate my banner to all of IU's sports besides men's basketball, this section today will focus mostly on the historic run by IU women's basketball.
The Hoosiers, who have been building for several years under head coach Teri Moren have seen the ultimate culmination this year. After a school-record 16 Big Ten wins and their first top ten ranking in program history, the NCAA Tournament has been another success story.
After victories over VCU and Belmont, IU found itself in its second Sweet 16. No one would of blamed the Hoosiers if they had fallen to top-seeded NC State, but instead the Cream and Crimson got a thrilling victory to make the program's inaugural Elite 8. They will take on three seed Arizona at 9 p.m. ET Monday on ESPN with a Final Four spot on the line.
In other IU sports news, baseball beat Purdue last Sunday in Bloomington and Michigan State twice in East Lansing this weekend to maintain their Big Ten lead.
Meanwhile, soccer maintained their Big Ten lead as well with wins over Northwestern and Michigan, while Swimming and Diving finished sixth at the NCAA Championships.
Thanks for your continued support for The Assembly Call. We'll be back next weekend with a new roundup.
Now go enjoy yourself a 6-banner Sunday.
Tyler Tachman – Student Intern The Assembly Call
Filed to: