Coaching Search Profile: Porter Moser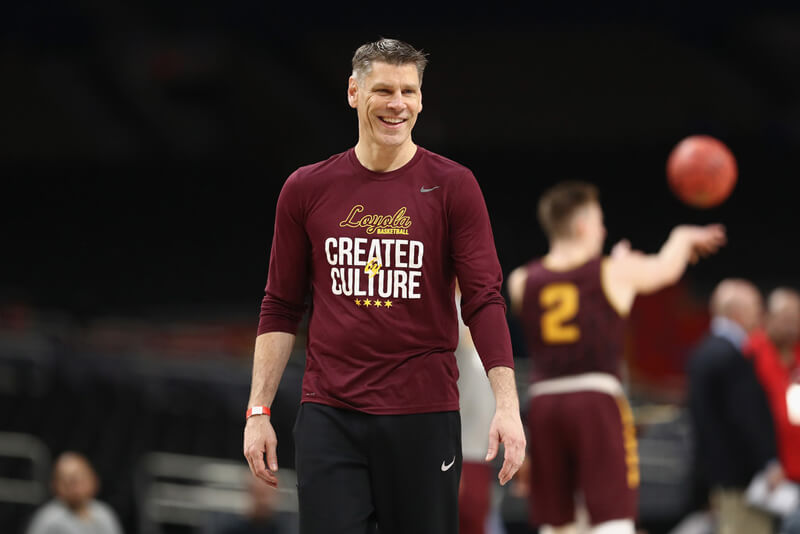 After four seasons in Bloomington, Archie Miller is out as Indiana's head coach and Scott Dolson's search for a new leader for the program is underway.
Inside the Hall will profile many of the candidates being discussed for the job over the coming days. Our eighth profile takes a look at Porter Moser.
A Final Four run in 2018 and a victory over No. 1 seed Illinois in this year's NCAA tournament have thrust Loyola Chicago coach Porter Moser into the discussion as a potential candidate at various job openings across the country.
The 52-year old native of Naperville, Illinois played collegiately at Creighton from 1986-90 where he averaged 4.6 points over 102 career games. A 6-foot-2 guard, Moser was a career 37.5 percent 3-point shooter but played sparingly until his final two seasons in Omaha. Over his final two collegiate seasons, Moser started 27 games and averaged more than 20 minutes per game.
Moser began his coaching career as a graduate assistant at Creighton under Tony Barone (whom he played for) and then followed Barone to Texas A&M as a full-time assistant from 1991-95. Moser spent a season at Milwaukee before returning to Texas A&M for two more seasons under Barone.
His final stop as an assistant coach came at Arkansas-Little Rock from 1998-2000 and in 2000, Moser landed his first head coaching job at Little Rock. In his first season at Little Rock, the Trojans went 18-11 and over three seasons, he went 54-34 overall and 25-19 in Sun Belt games.
Moser moved back to the midwest in 2003 as the head coach at Illinois State in the Missouri Valley Conference. Over four seasons at Illinois State, Moser went just 51-67 and he was dismissed from his position in March of 2007. He wasn't out of work long, however, as the late Rick Majerus added him to his staff at Saint Louis where he became the associate head coach after spending one season as an assistant.
In 2011, Moser was hired at Loyola, which was a member of the Horizon League at the time. Over two seasons in the Horizon League, Moser and the Ramblers finished just 22-39 and just 6-28 in league play.
Loyola Chicago joined the Missouri Valley Conference beginning with the 2013-14 season and in their second season in the MVC, the Ramblers finished 24-13 and won the College Basketball Invitational postseason tournament. Three seasons later in 2017-18, Loyola went on an improbable NCAA tournament run to the Final Four as a No. 11 seed. On the Final Four run, Loyola beat Miami FL, Tennessee, Nevada and Kansas State before falling to Michigan in the national semifinal.
The Ramblers took a step back the next two seasons and finished 20-14 in 2018-19 and 21-11 in 2019-20, but are right back in the mix nationally this season. Loyola won the MVC this season and is now in the Sweet Sixteen after beating Georgia Tech and Illinois over the weekend in Indianapolis.
This year's run came as no surprise to many as the Ramblers are ranked in the top 10 of the KenPom ratings and own the nation's best defense according to Pomeroy's ratings.
While Moser's overall record as a head coach shows a winning percentage of just 57.3, it's clear that he's figured out a winning formula at Loyola. The 2018 tournament run may have been viewed by some as a fluke, but he's now backed it up with a dominant team this season that will be favored in its Sweet Sixteen matchup next weekend against Oregon State.
Following the win over Illinois, Moser made his affinity for basketball in Illinois and specifically Chicago clear.
"It means a lot. You want to be relevant. You want to have the excitement," he said. "Basketball has very rich traditions in Chicago and the State of Illinois, and I thought today you saw two ranked teams go at it. But it means a lot for Loyola. Where we were to where we are now, and we're not done. So it means a lot."
Indiana went the mid-major route last time with Archie Miller and it didn't work out. That, however, shouldn't rule out looking into Moser as a potential option. He's a charismatic guy who seems capable of handling the PR aspect of the Indiana job. But more importantly, he has clearly grown and continued to improve as a coach. His schematic work in the Illinois win was terrific and putting the nation's best defense together at a mid-major school is a tremendous accomplishment.
Filed to: Porter Moser