Coaching Search Profile: Michael Lewis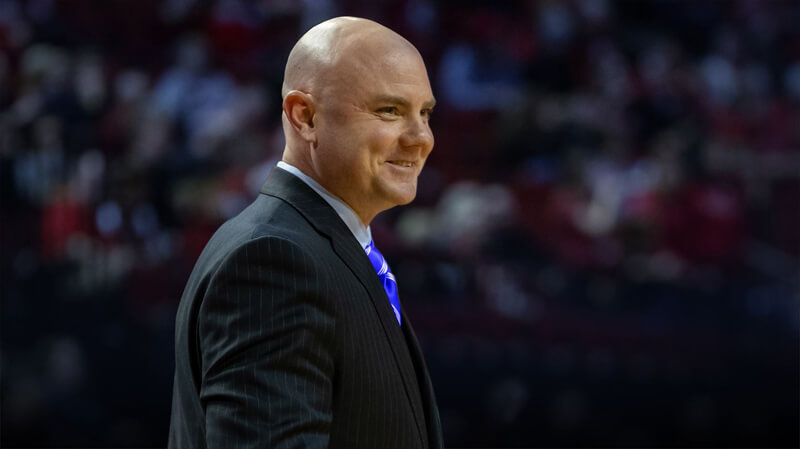 After four seasons in Bloomington, Archie Miller is out as Indiana's head coach and Scott Dolson's search for a new leader for the program is underway.
Inside the Hall will profile many of the candidates being discussed for the job over the coming days. Our eleventh profile takes a look at Michael Lewis.
Jasper native Michael Lewis was a standout guard for the Hoosiers from 1996-2000 under Bob Knight. A 1996 Indiana All-Star, Lewis started 66 of his 127 career games at Indiana where he amassed 545 assists, which is second all-time in program history.
Known for his hard-nosed style of play and willingness to make the little plays that contribute to winning, Lewis was a career 36 percent 3-point shooter and 79.8 percent free throw shooter. He played in the NCAA tournament in each of his four seasons at Indiana, advancing as far as the round of 32 in both 1998 and 1999. As a prep standout, Lewis was the Gatorade player of the year as a senior and still ranks among the top 35 scorers in state history.
Lewis began his coaching journey as a graduate assistant at Texas Tech under Knight from 2002-04. Lewis earned a Masters Degree at Texas Tech and his first assistant coaching job came at Stephen F. Austin, where he worked for just one season for the Lumberjacks.
The former point guard was hired in 2005 by Eastern Illinois, where he spent six seasons. Lewis was hired as an assistant coach at Loyola under Porter Moster in 2011, but resigned from the position to take a similar post at Butler under Brad Stevens. While at Eastern Illinois, Lewis was named one of the top five assistant coaches in the OVC in 2010 by FoxSports.com.
Lewis spent two seasons at Butler working under Stevens, who left for the Boston Celtics in 2013. Lewis remained at Butler through the 2015-16 season, where he worked first under Brandon Miller, who resigned, and then Chris Holtmann. While at Butler, Lewis helped guide the Bulldogs to 108 wins over five seasons and he was on the bench for Butler's upset of No. 1 Indiana in the 2012 Crossroads Classic in Indianapolis.
Following the 2015-16 season, Lewis was hired by Tim Miles at Nebraska, where he worked for three seasons. Miles cited Lewis' time under Stevens and what he learned offensively as one factor that made him such an attractive candidate. Lewis was largely responsible for coaching the offense at Nebraska over his final two seasons in Lincoln and the Huskers went 41-28 and 19-19 in Big Ten play over that time period.
Miles was fired in 2019 and Lewis was hired by Mick Cronin at UCLA, where he's spent the past two seasons as an assistant coach. Cronin called Lewis a "great offensive coach" in the press release announcing his hiring in Westwood. This season, the Bruins earned a No. 11 seed in the NCAA tournament, have won three games (Michigan State, BYU, Abilene Christian) and are set to take on Alabama on Sunday in the Sweet Sixteen.
The passion Lewis has for Indiana basketball and coaching is unquestioned. He is a grinder who worked his way up through the coaching ranks. Coaching at the low major level is not a glamorous or high-paying job, but Lewis was able to prove himself worthy of moving up due to his stellar work at Eastern Illinois. That experience landed him his first major gig at Butler under Stevens and he has flourished and grown in the years since.
Lewis has experience at the high major level at both Nebraska and UCLA and is well respected and liked by his peers and colleagues. While he has been mentioned in the past for coaching jobs, he has yet to get his opportunity to lead a program.
Filed to: Michael Lewis