Coaching Search Profile: Dana Altman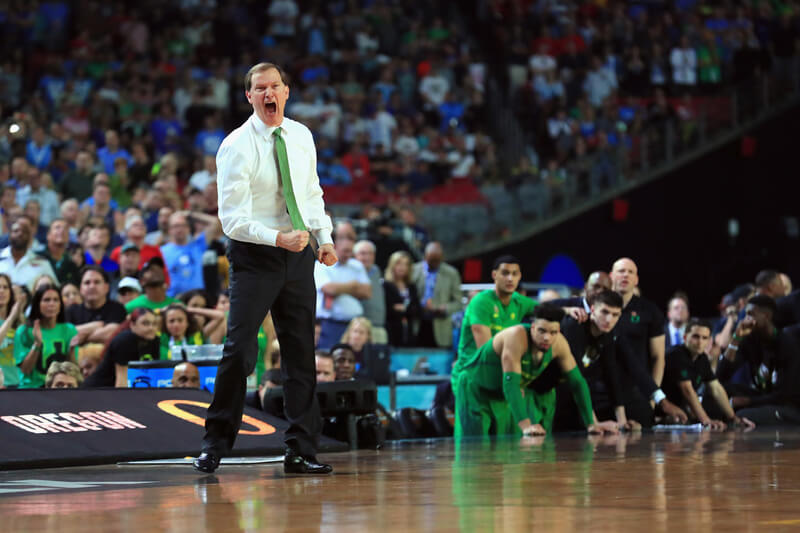 After four seasons in Bloomington, Archie Miller is out as Indiana's head coach and Scott Dolson's search for a new leader for the program is underway.
Inside the Hall will profile many of the candidates being discussed for the job over the coming days. Our tenth profile takes a look at Dana Altman.
After Oregon's upset win over Iowa on Monday, Dana Altman has now led the Ducks to its fifth Sweet Sixteen in the last nine seasons.
Because of his recent success in the Pac-12, Altman has received some mention as a potential candidate to fill the head coaching vacancy at Indiana. The 62-year-old's extensive collegiate coaching experience certainly makes him an intriguing option.
After playing at Fairbury Junior College in Fairbury, Nebraska, Altman took his first head coaching job at Marshall in 1989. It turned out to be a brief stop as Altman only stayed one season, but he guided the Herd to a 15-13 record before losing in the Southern Conference tournament championship.
Altman then accepted the head coaching position at Kansas State, where he took over for his mentor Lon Kruger. In four seasons with the Wildcats, Altman boasted an overall record of 68-54.
Altman's teams at Kansas State had a knack for pulling out wins in crunch time, a characteristic that Indiana lacked last season. In Altman's four seasons, his teams were 28-13 in games decided by six points or less and 6-1 in games decided by one point.
In his third season at the helm, the Wildcats earned a bid to the NCAA tournament and Altman was named the Big Eight coach of the year. The following season, the Wildcats advanced to the semifinals of the NIT.
In 1994, Altman returned to his home state of Nebraska and became the head coach at Creighton. Altman tallied an overall record of 327-176 in his 16-year tenure with the Bluejays and holds the record for most wins in school history. He also coached future NBA players Kyle Korver, Anthony Tolliver and Rodney Buford.
It did, however, take Altman some time to get on track at Creighton. The program failed to make the NCAA tournament in his first four seasons and only had a winning record once.
But then Creighton made the Big Dance in five consecutive seasons, tallying a 121-41 record over that span. Altman earned Missouri Valley Conference coach of the year twice. In the 2002-03 season, he was a finalist for the Naismith Coach of the Year. His teams at Creighton, however, never made a Sweet Sixteen appearance.
In 2010, Altman agreed to terms to become Oregon's next head coach. Now in his 11th season, Altman has piled up 280 wins to just 109 losses.
Oregon captured its fourth regular-season Pac-12 crown under Altman this season. They've also won the Pac-12 tournament three times since 2013.
In his third season, Altman took Oregon to a Sweet Sixteen. In the 2015-16 season, Oregon made it to the Elite Eight. Then, a year later, Altman made his first appearance in the final four before losing to eventual champion North Carolina.
In 2017, Sports Illustrated reported a concerning story about Altman. According to SI, Altman had been tipped off about rape allegations that had been brought forth on Oregon forward Kavell Bigby-Williams when he wasn't supposed to have knowledge of the situation. Oregon said that Altman was informed about an investigation, but didn't know specific details, as protocol stated. Phone records, however, seemed to prove otherwise.
This season marked the seventh occasion that Altman has helped guide Oregon to an NCAA tournament appearance in his tenure. As a No. 7 seed this season, the Ducks are headed back to the Sweet Sixteen. At Oregon, it seems like Altman's teams always perform well in March, even if they're not a top-seed.
Throughout his career, Altman knows what great talent looks like. Recently, he's coached Dillon Brooks, Payton Pritchard and Tyler Dorsey. He also landed top-5 recruit Bol Bol in 2018.
Altman's teams at Oregon don't usually get the same pomp as blue-bloods in the East Coast and Midwest. Still, he's built a powerhouse in Eugene.
Altman is on the older side and doesn't have any significant ties to Indiana, but, regardless, his ability to win at the highest level and his long-standing collegiate tenure make him a valid candidate to consider.
Filed to: Dana Altman