Coaching Search Profile: Thad Matta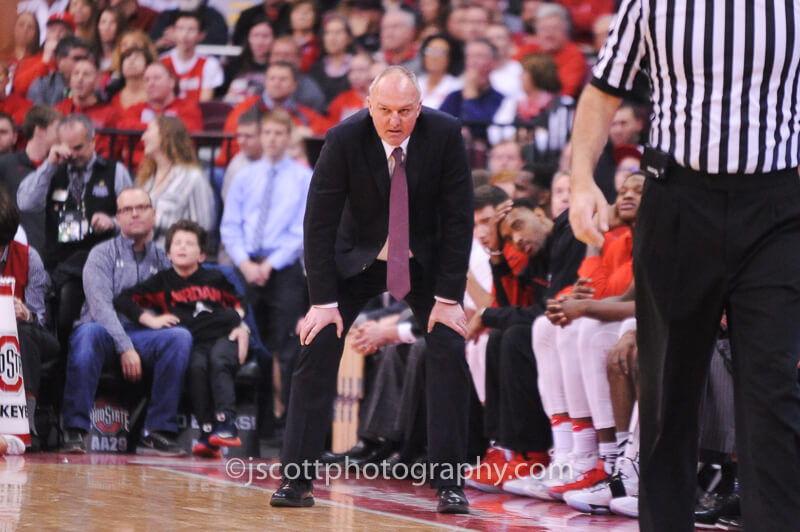 After four seasons in Bloomington, Archie Miller is out as Indiana's head coach and Scott Dolson's search for a new leader for the program is underway.
Inside the Hall will profile many of the candidates being discussed for the job over the coming days. Our fifth profile takes a look at Thad Matta.
Thad Matta's coaching resume stacks up as one of the best among potential candidates for the Indiana job.
The 53-year old native of Hoopeston, Illinois won five Big Ten regular-season championships and four Big Ten tournament championships over 13 seasons at Ohio State.
Matta played collegiately for Southern Illinois and Butler in the late 1980s before getting into coaching as an assistant at Indiana State in 1990. From there, Matta moved up the ranks in college basketball with assistant coaching stops at Butler, Miami (Ohio), Western Carolina, Miami (Ohio) again and Butler for a second stint before landing the head coaching job at his alma mater in 2000.
His stint roaming the sidelines at Hinkle Fieldhouse was brief as Xavier hired Matta in 2001 after a 24-8 season and an NCAA tournament round of 32 appearance with the Bulldogs. In his one season at Butler as head coach, it was Matta who brought Brad Stevens into the fold as a volunteer.
It didn't take Matta long to find success at Xavier, either, as he led the Musketeers to a 78-23 record over three seasons with two NCAA tournament round of 32 appearances and a trip to the Elite Eight.
At Ohio State, Matta became a household name in coaching. The winningest coach in Ohio State program history, he made the NCAA tournament nine times over his 13 seasons in Columbus, including a national championship game appearance in 2007. That Buckeye team was led by Lawrence North products Greg Oden and Mike Conley, who Matta plucked out of Indiana's backyard of Indianapolis.
In addition to the 2007 run to the national championship game, Matta also reached a Final Four in 2012 and an Elite Eight in 2013. He also made a pair of Sweet Sixteens in 2010 and 2011.
Success in the Big Ten and high-level recruiting were hallmarks of the program built at Ohio State. Over 13 seasons leading the Buckeyes, Matta amassed a 150-78 record in Big Ten play, good for a winning percentage of 65.8.
In 2010, Evan Turner won national player of the year. In 2011, Jared Sullinger was recognized as national freshman of the year. In addition, Greg Oden and Aaron Craft were both named national defensive player of the year under Matta. In addition to those accolades, Matta also recruited one-and-done talents like Kosta Koufos and D'Angelo Russell.
Looking at his KenPom coaching profile, ten of Matta's 13 teams at Ohio State ranked in the top 25 nationally in adjusted defensive efficiency. Seven of his Buckeye teams ranked in the top 25 nationally in adjusted offensive efficiency.
Unfortunately for Matta, setbacks to his health ended his tenure at Ohio State in the summer of 2017. After two poor seasons in 2015-16 and 2016-17, athletic director Gene Smith opted to move on from Matta on June 5, 2017.
In a joint press conference with Smith, Matta wouldn't rule out a return to coaching one day while reiterating that his health would need to improve to do so.
"I don't think, anybody can truly comprehend what this job, coaching, it does to you," he said. "The things – I went through a year where I couldn't walk. I couldn't take my shoes off after a game, I couldn't take my pants off after game. I would have to curl up in a ball just for the media stuff. That's when I said, the stuff I had to go through in terms of being serviceable. But, you know, maybe to a fault, I always fought. And that's what I felt I had to do that for the players."
If Matta has successfully navigated past the health challenges that clearly slowed him down near the end of his run in Columbus and has the desire to coach again, he would be a logical candidate for Indiana to pursue. He's still relatively young at age 53 and knows what it takes to win not only in the Big Ten, but nationally as well.
Filed to: Thad Matta