6-Banner Sunday: Search underway to replace Archie Miller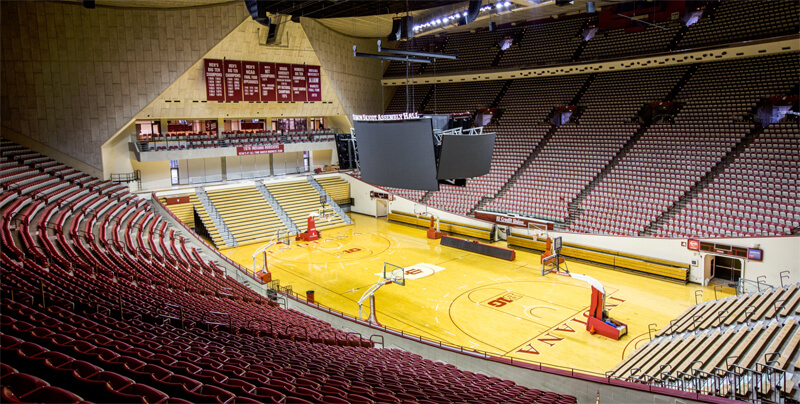 6-Banner Sunday is Inside the Hall's weekly newsletter in partnership with The Assembly Call. More than 7,500 Indiana fans receive the newsletter each week. In addition to appearing each week on the site, you can also opt to receive 6-Banner Sunday by email. A form to subscribe via email is available at the bottom of this week's 6-Banner Sunday.
Welcome to another edition of 6-Banner Sunday, a joint production between The Assembly Call and Inside the Hall where we highlight the five most essential IU basketball stories of the past week, plus take a look at how the other IU sports programs are doing.
Indiana head coach Archie Miller was fired Monday after four years with the program. In his tenure with the Hoosiers, Miller never led the team to an NCAA Tournament appearance.
The decision ended what was a turbulent career in Bloomington for Miller. He finished his time at Indiana with an overall record of 67-58 and 33-44 mark in Big Ten play. He was 0-7 against rival Purdue.
This season was seemingly the nail in the coffin as Indiana finished with a 12-15 record, losing their last six games of the season in an utter collapse. All of the team's potential, with Trayce Jackson-Davis, experienced guards and young talent, was present. But, like was the case throughout Miller's tenure, Indiana couldn't make free throws, couldn't hit outside shots and failed to lock down on defense when it mattered the most.
By the end of this season, it was clear the fanbase was ready for a change. In Indiana's season-ending loss in the first round of the Big Ten Tournament, chants of "Fire Archie" rained down from the stands.
Then on Monday afternoon, it was announced that Miller had been terminated.
Podcast on the Brink had two episodes this week breaking down the news, one with Galen Clavio and another with Ryan Corazza. Assembly Call hosted an emergency show on Monday after Miller's firing as well as their weekly show on Thursday.
• Archie Miller fired after four seasons at Indiana
• Exploring potential candidates to be Indiana's next head coach
• Al Durham enters transfer portal
• Trey Galloway and Anthony Leal pledge to stay with Hoosiers
• Trayce Jackson-Davis earns more national honors, undecided about next season
• Hoosier Roundup
Banner #1
Archie Miller fired after four seasons at Indiana
Following the announcement that Miller had been fired, Indiana Athletic Director Scott Dolson spoke to the media on a Zoom call Monday afternoon.
"I met with Archie this morning, and in the final analysis, it's a results-oriented business and I really felt that ultimately we had not made enough progress to continue the program under Archie's leadership," Dolson said. "I really felt like we need a new voice and a new direction. I really want to thank Archie and Morgan for the commitment to the program, and again, just a tough day."
Dolson met with an "anonymous donor" to help cover the funding of Miller's $10.35 million buyout. Dolson, however, said that the decision of whether to fire Miller was not influenced by any boosters and was solely based on his own evaluation. Dolson also said they will not be hiring a search firm.
Assistant coaches Mike Roberts and Kenya Hunter, along with administrator Ben Sander and strength coach Clif Marshall are all a part of the transition team during the coaching search.
"It's really important to me that we have an identity, and that players around the country, around the Midwest, around Indiana, that when we look at Indiana Basketball they understand the identity and they want to be a part of it," Dolson said.
Banner #2
Exploring potential candidates to be Indiana's next head coach
With Miller out, the coaching carousel has begun. Inside the Hall has started profiling a group of potential candidates to be Indiana's head coach.
Some names that have been discussed are Brad Stevens, Chris Beard, Eric Musselman, John Beilein, Scott Drew Nate Oats, Dana Altman, Dane Fife, Thad Matta and a few others.
Stevens would be the home run hire, but he reiterated Friday that he isn't interested in the job after being questioned multiple times.
"I'm not a kid anymore," Stevens said Friday. "I'm a 44-year-old Masshole. I swerve around others when I'm driving, I eat Dunkin Donuts and I root for the Patriots."
This is what Dolson said about how the next coach and management are approaching the ensuing years of IU basketball: "Love our tradition. Proud of our tradition. We embrace it. We celebrate it. But at the same time, we need to take that tradition and make certain we know what is the modern-day tradition look like."
Banner #3
Al Durham enters transfer portal
Senior guard Al Durham announced this week that he will be entering the transfer portal. According to reports, Durham has heard from Nebraska, Providence, Kansas, Texas Tech, LSU, Villanova, Duke and Michigan State.
Durham has spent the past four seasons with the Hoosiers, spanning the entirety of Miller's tenure. He averaged 8.4 points, 2.2 rebounds and two assists per game over his career at Indiana. He was also a two-time captain.
"Thank you Indiana for allowing me to grow up and mature right in front of your eyes," Durham said in a post on social media. "My four year experience has been amazing!"
Banner #4
Trey Galloway and Anthony Leal pledge to stay with Hoosiers
Freshmen guards Anthony Leal and Trey Galloway are committed to staying at Indiana, according to Tipton Edits, a Twitter account that makes graphics for prospects.
"I'm staying and I believe in IU basketball and I trust in everything that is going to happen in the future," Galloway told Tipton Edits.
Leal added to Tipton Edits: "Hoosier for life. Born and raised and that's never going to change."
Galloway averaged 3.6 points, 1.9 rebounds and 1.6 assists per game last season. Leal averaged 1.6 points, 1.4 rebounds and one assist per game. Both figure to be important pieces to the future of Indiana basketball.
Banner #5
Trayce Jackson-Davis earns more national honors, undecided about next season
The accolades kept coming in for sophomore forward Trayce Jackson-Davis last week.
On Wednesday, Jackson-Davis earned third-team All-American by the United States Basketball Writers of America (USBWA). On Thursday, Jackson-Davis was a third-team All-American selection by the National Association of Basketball Coaches (NABC).
This comes after Jackson-Davis posted a stellar season where he averaged 19.1 points and nine rebounds per game. He was also a first-team All-Big Ten selection, as voted by the media.
Jackson-Davis said he's still undecided about whether he will return for his junior season and is waiting to see who Indiana will hire as its next head coach.
"I haven't really even decided to weigh my options, still a lot to take in," Jackson-Davis told Tipton Edits.
Banner #6
Hoosier Roundup
While Men's Basketball's season is over, Women's Basketball is about to compete in the NCAA Tournament as a very high seed. Also, Baseball and Soccer took over the Big Ten lead this week, while almost every other IU sport competed in some form.
• Women's Basketball earned a school record four seed in the NCAA Tournament. They will play on Monday at 2pm on ESPNU against VCU. I wrote a column in the Assembly Call Community (subscription required) about why you should follow this team as they embark through March Madness after an amazing season. This terrific campaign led to a huge awards for both sophomore Mackenzie Holmes and assistant coach Ashley Williams.
• Baseball finished a four game sweep of Penn State with two thrilling victories. These victories caused recognition for starting pitcher McCade Brown. This weekend the team is off to a 1–1 start against arch-rival Purdue with a Sunday game to decide the series. I am on-site with coverage of the series for Assembly Call, in what is the first sporting event of any kind I have attended in over a year.  
• Men's Soccer beat Michigan State and Rutgers to take over the Big Ten Lead. These victories earned awards for a couple players.
• Softball had a walk-off win over Rutgers.
• Women's Soccer and Volleyball had their matches postponed for COVID issues that are affecting the teams they were scheduled to play.
• Women's Tennis lost to Minnesota and Illinois.
• Water Polo fell to Michigan and Stanford.
• Field Hockey was defeated by Northwestern and Maryland.
• Women's Swimming and Diving finished 15th at the NCAA Championships.
• Men's Golf was in action at the General Hackler Championship.
• Women's Golf competed at the Briar's Creek Invitational.
• Cross County had it's final meet of the season.  
• Rowing competed at the Oak Ridge Cardinal Invite. This performance earned recognition from the conference.
• Wrestling took part in the NCAA Championships.
• Track and Field announced their outdoor spring schedule.
• 61 Hoosiers earned Academic All-Big Ten Honors.
Thanks for your continued support for The Assembly Call. We'll be back next weekend with a new roundup.
Now go enjoy yourself a 6-banner Sunday.
Tyler Tachman – Student Intern The Assembly Call
Filed to: