After four frustrating years, Archie Miller's tenure at Indiana has come to a close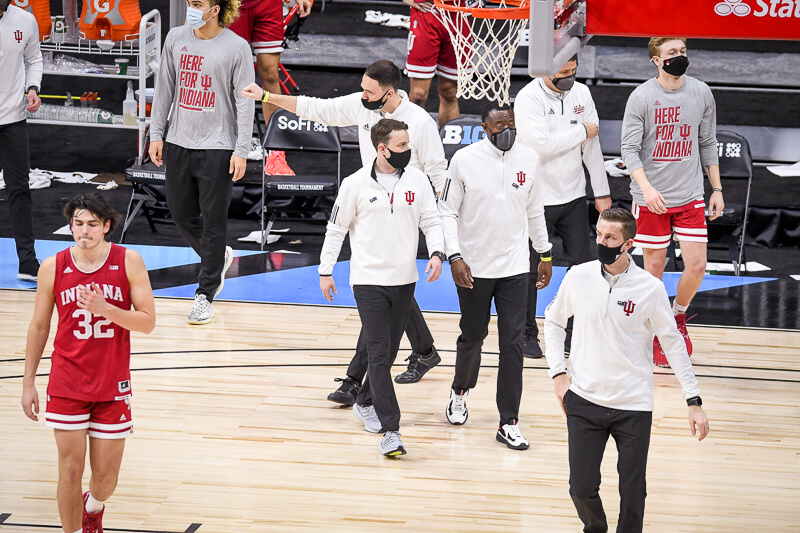 In retrospect, the beginning was fitting.
There was Archie Miller, taking a swig of water and adjusting the microphone before he had to address the media after his first game as Indiana's head coach four years ago. Indiana State had just dismantled Indiana 90-69 in the 2017-18 season-opener. And it was at Assembly Hall, nonetheless.
"Give tremendous credit to Indiana State," Miller said that night. "We knew coming into the game how difficult it was going to be… Incredible shooting performance, so hats off to those guys."
This exact wording could've been copied and pasted for the next four years of Miller's career at Indiana. It was one that, in many aspects, never realized its full potential and was filled with more downs than ups.
On Monday afternoon, less than four years after he arrived in Bloomington, it was announced that Miller had been terminated, his $10.35 million buyout had been covered by "private philanthropic funding."
"I have spent a great deal of time evaluating our recruiting, student-athlete development, leadership development, and playing philosophy and strategy," IU Athletic Director Scott Dolson said in a statement. "That review, combined with the on-court results, ultimately led me to conclude that a change in leadership of our program is warranted at this time."
Miller finished his time at Indiana with a 67-58 overall record and failed to ever lead the Hoosiers to an NCAA tournament appearance. This season was seemingly the nail in the coffin as Indiana finished with a 12-15 record, losing their last six games of the season in an utter collapse.
"Like every program at this point in time, you've got to take inventory," Miller said Thursday after Indiana's season-ending loss to Rutgers in the first round of the Big Ten Tournament. "Performance matters. Our performance here this season was inconsistent."
And Dolson took the inventory, promptly ending Miller's tenure at Indiana. It was, however, a hire that once appeared promising. In 2017, the decision to bring Miller aboard was largely viewed with open arms.
Miller had led Dayton to a 139-63 overall record in his six years with the Flyers. In 2014, Dayton made a run to the Elite Eight. The Flyers earned a bid to the NCAA tournament in each of his last four years at the helm. He arrived at Indiana as one of five active coaches who accumulated at least five NCAA tournament wins in his first four seasons, with others being Mark Few, Thad Matta, Shaka Smart and Roy Williams.
His total over four years at Indiana was zero.
During his introductory press conference in the spring of 2017, Miller spoke about the importance of establishing connections with past and current members of the program. The word that seemed to stand out in the eyes of most was the word "future," highlighting a key pillar of "inside-out" recruiting.
"The inside-out approach means that we have to dedicate ourselves to the high school coaches in this state, the high school talent in this state, the grass-roots programs in this state, and they must feel like they're being dominated by Indiana University," Miller said in 2017.
For the most part, Miller did exactly that. In his first full recruiting cycle, he landed New Albany mega-star Romeo Langford, the 2nd high-ranked prospect to commit to Indiana in the recruiting database-era, per 247Sports. In that 2018 class, he enticed in-state four-star products Damezi Anderson and Rob Phinisee to play for the Hoosiers. It encapsulated a class that was ranked 10th nationally.
A year later, McDonald's All-American and Indiana Mr. Basketball winner Trayce Jackson-Davis continued the pipeline. As did four-star Cathedral High School guard Armaan Franklin.
In 2020, Miller received his third consecutive Indiana Mr. Basketball in Bloomington native Anthony Leal. Then five-star Reitz High School point guard Khristian Lander joined the movement.
Between all of the homegrown recruiting wins, Miller sprinkled in out-of-state talent like Jerome Hunter, Race Thompson and Jordan Geronimo into the mix. After he was initially hired, Miller built a strong relationship with Al Durham, earning enough trust to get him to recommit to Indiana after originally pledging to play for Tom Crean.
The problem for Miller at Indiana wasn't recruiting. Rather it was how he utilized that talent within his coaching system.
Offensive stagnancy became a consistent occurrence. Over the last four seasons, the Hoosiers never shot better than 33 percent as a team from beyond the 3-point line. Miller's strategy of side-to-side dribble handoffs was often stymied. The Hoosiers averaged less than 70 points per game this season, even with an All-American in Jackson-Davis on the roster.
But it was the defense that Miller, who was a hard-nosed guard at North Carolina State, was supposedly the centerpiece of his teams' identity.
"We have to become a tough, nasty team on defense, and I think at the end of the day, if you looked at our teams at Dayton we may not have been the biggest, but there wasn't very many days that I left that I said that's not one of the toughest-minded groups of people," Miller said in 2017.
Indiana's pack line approach often fell apart last season. The Hoosiers allowed 52 points in the second half against Michigan State, their rotations slipping fully out of synch. There were multiple occasions where Indiana couldn't contain players off of the dribble. There were times in the middle of the season where Miller said they had to refocus on fundamentals.
Miller's defense, which improved in efficiency from years one to three, regressed in his fourth year.
In all, Miller was never able to put the puzzle pieces together for Indiana. In his second season, with Langford and the star-studded class, the Hoosiers dropped 12 out of 13 games after breaking into the top-25. It finished with a NIT appearance.
In the 2019-20 season, Indiana would've likely earned a bid to the NCAA tournament had it not been for the COVID-19 pandemic. But the cancellation of the tournament strung on restlessness from the fanbase as the Hoosiers still hadn't made the Big Dance since 2016.
It all seemingly reached its tipping point this season. All of the potential, with Jackson-Davis, experienced guards and young talent, was present. But, again, Indiana couldn't make free throws, couldn't hit outside shots and failed to lock down on defense when it mattered the most. It was the same issues in an endless cycle.
In the first round of the Big Ten tournament last week, Miller was booed during introductions. In the second half, chants of "Fire Archie" rained down from the stands in frustration.
After the game, Miller said he didn't hear the angry fans.
It appears, though, that Scott Dolson did.
Filed to: Archie Miller