Coaching Search Profile: John Beilein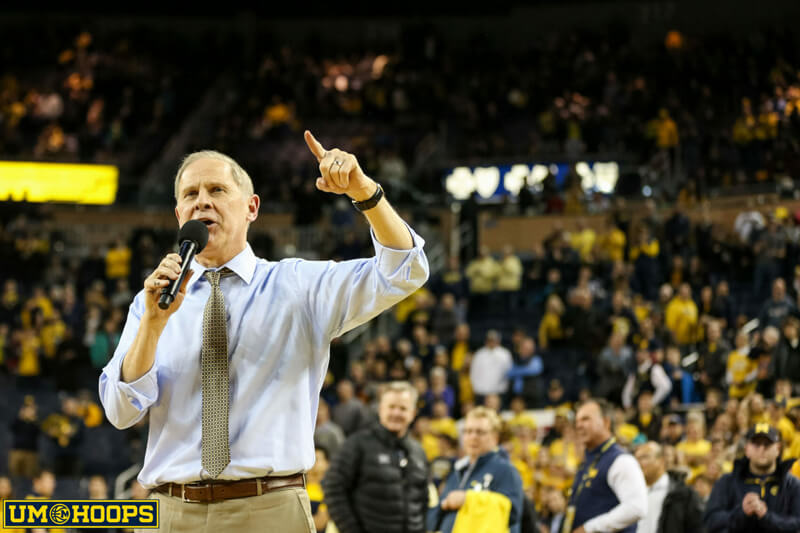 After four seasons in Bloomington, Archie Miller is out as Indiana's head coach and Scott Dolson's search for a new leader for the program is underway.
Inside the Hall will profile many of the candidates being discussed for the job over the coming days. Our second profile takes a look at John Beilein.
When John Beilein left Michigan for the Cleveland Cavaliers in the summer of 2019, it was viewed as the final coaching challenge for the future Hall of Famer.
But Beilein's tenure in Cleveland, one of the lowly franchises of the NBA following the departure of LeBron James for the Los Angeles Lakers, was short-lived. He resigned from the Cavs on Feb. 19, 2020 and was "reassigned to a different role within the organization." The resignation was not without controversy, either, as Beilein reportedly told his players they were "playing like a bunch of thugs." Beilein later clarified that he intended to say "slugs," but the incident was cleary a turning point that ultimately led to his time in Cleveland coming to a close.
Beilein resurfaced this year as an analyst for the Big Ten Network, but there's a belief he could be hungry for one more run in a league where he had a plethora of success from 2007 through 2019.
The 68-year old has accumulated 843 career wins over a coaching career that has spanned more than 40 years. Beilein's first coaching gig was at the high school level back in 1975 at Newfane High School, which he took immediately after he played four years collegiately at Division II Wheeling University.
Beilein's first Division I coaching job came in 1992 at Canisius, where he reached one NCAA tournament and accumulated an 89-62 record over five seasons. From there, Beilein accepted the Richmond job, where he won 100 games over four seasons and made one NCAA tournament appearance.
He became known on the national stage when he accepted the West Virginia job (after Dan Dakich backed out) in 2002 and rebuilt the Mountaineers into a legitimate Big East contender over five seasons. Over his final three seasons in Morgantown, Beilein made two NCAA tournaments, resulting in trips to the Sweet Sixteen and Elite Eight, while also compiling 73 wins.
From there, Beilein took over Michigan in 2007 and transformed the program from a Big Ten doormat to a national title contender. By season two in Ann Arbor, Beilein had Michigan in the NCAA tournament and after a shaky third season, he reeled off four straight tournament appearances, winning 104 games in that span. In 2013, the Wolverines lost at home to Indiana, which gave the Hoosiers the outright regular-season Big Ten title. But as the Hoosiers sputtered in an NCAA tournament loss to Syracuse, Michigan made a run all the way to the national title game, falling to Louisville.
The Wolverines were back in the Elite Eight the following season. Over his last four seasons in Ann Arbor, he made another national championship game appearance (losing to Villanova) and made the Sweet 16 twice.
While Beilein never recruited a McDonald's All-American at Michigan, his recruiting produced plenty of NBA players including Darius Morris, Trey Burke, Mitch McGary, Glenn Robinson III, Tim Hardaway Jr., Nik Stauskas, Caris LeVert, Jordan Poole, DJ Wilson, Moritz Wagner and Ignas Brazdeikis. In total, Michigan won two Big Ten tournaments and two Big Ten regular season championships under Beilein.
His early Michigan teams were well known for their offensive prowess and an ability to space the floor and shoot the ball. Later in his tenure in Ann Arbor, however, Beilein made several key staff hires to improve his teams defensively. His last two seasons at Michigan with Luke Yaklich running the defense, Michigan ranked in the top three nationally in KenPom's adjusted defensive efficiency rankings.
The question many will have with Beilein is his age and the appetite he will have to take over a job with the pressure that exists at Indiana. He's a proven winner who is well-liked by his former players and widely respected by his fellow coaches. He's also run clean programs that have never had issues with NCAA compliance, which is a necessity at Indiana.
If Dolson is looking for an option with a proven track record of developing players and success in the Big Ten, Beilein warrants serious consideration.
Filed to: John Beilein