Coaching Search Profile: Brad Stevens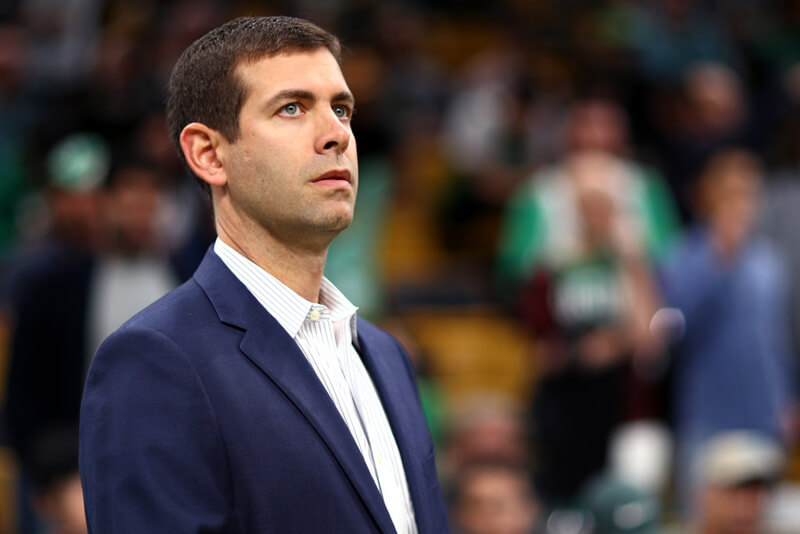 After four seasons in Bloomington, Archie Miller is out as Indiana's head coach and Scott Dolson's search for a new leader for the program is underway.
Inside the Hall will profile many of the candidates being discussed for the job over the coming days. Our third profile takes a look at Brad Stevens.
Rumors and high hopes from the Hoosier fanbase have been swirling recently over the possibility that Brad Stevens could return to his home state and become the next head coach at Indiana. If a home run hire exists, it would certainly be Stevens.
Stevens is currently in his eighth year as the head coach of the Boston Celtics. After taking over at the helm of the historic franchise in the 2013-14 season, he's been heralded as one of the brightest young minds in basketball.
Stevens took on a rebuilding project in Boston, as the Celtics finished with a 25-57 overall record in his first season. But since then, Boston has only recorded one losing season and Stevens has helped guide the Celtics as a juggernaut in the Eastern Conference, advancing to the Conference Finals in three of the last four seasons.
What makes a fit at Indiana so enticing, though, is Stevens' history before taking the job in Boston.
Stevens was born and raised in Zionsville, Indiana, roughly an hour and a half drive from Bloomington. He starred on the Zionsville High School basketball team and grew up attending IU basketball games.
He continued his playing career at DePauw University in Greencastle, Indiana before joining the coaching staff at Butler as a volunteer in 2000. Stevens worked his way up to a job as a full-time assistant, spending five years in that position before being named the head coach in 2007.
In his first season at the helm, Stevens led the Bulldogs to a 30-4 record, becoming the third-youngest coach in Division I history to record a 30-win season. Two years later, Butler made consecutive appearances in the national championship but fell in both matchups.
After the 2012-13 season, Stevens left for Boston, concluding his six-year stint with a 166-49 mark.
There are a variety of reasons why Stevens would be the ideal candidate for the job at Indiana.
First, Stevens knows how to win at both the collegiate and professional levels. Between Butler and Boston, he has a 504-314 overall record. Recently, it's been evident that some coaches are unable to make the transition from coaching at the college level to the professional level. Stevens' coaching ability, however, has transcended age.
Secondly, Stevens has coached great players. At Butler, it was future NBA all-star Gordon Hayward. In Boston, he worked with Kyrie Irving, Jayson Tatum, Jaylen Brown, Isaiah Thomas, Kemba Walker and Hayward again, among others. Former IU star Romeo Langford is currently on the Celtics roster.
Furthermore, Stevens is only 44-years-old and likely just getting started in his coaching career. If the move to Bloomington were to happen, and if it were to work out, Stevens could have an extended tenure at Indiana and become the face of the brand.
Being that he's from Indiana, he already resonates with the Indiana fanbase and would be quickly accepted. His father, Stevens said, still lives in Indiana. Plus, getting a high-profile name like Stevens could entice Trayce Jackson-Davis and other Hoosiers to remain in the program, too.
The problem with all of this, however, is the timing. The Celtics are in the middle of their season, making it much more complicated to get a deal done. Stevens would likely have to commit to the position at Indiana in the next couple of weeks or leave the job in Boston immediately. The initial rumblings that Stevens could even be an option was because of the outcry of Boston fans over the team's underperformance this season.
The rumors have spread all the way to Stevens, who has been questioned recently about taking the Indiana job in press conferences and radio interviews. Being that it's in the middle of the season, even if he were considering coming to Indiana, there's nothing he would say publicly confirming an interest. He did, though, speak very fondly of his upbringing in Indiana.
"That's nice of them," Stevens said."That really is. Listen, that's home. I get it. I appreciate all the nice sentiments. It certainly doesn't go unnoticed and it's certainly very kind."
Stevens added: "I also realize that I'm the coach of the Celtics and that's – it's been an amazing opportunity, an amazing challenge every day for the last eight years and I'm extremely grateful for that."
But at the same time, Stevens hasn't vehemently shut down the possibility, like Rick Pitino did when he recently said: "You could come to me with the greatest job on Earth and I would not consider it."
Stevens seemingly checks off all of the boxes for what to look for in Indiana's next head coach. It's not impossible for it to happen, but the timing makes it much more difficult. It would, though, immediately inject excitement back into the sphere of Indiana basketball.
Filed to: Brad Stevens