Six more names that could make sense to lead IU basketball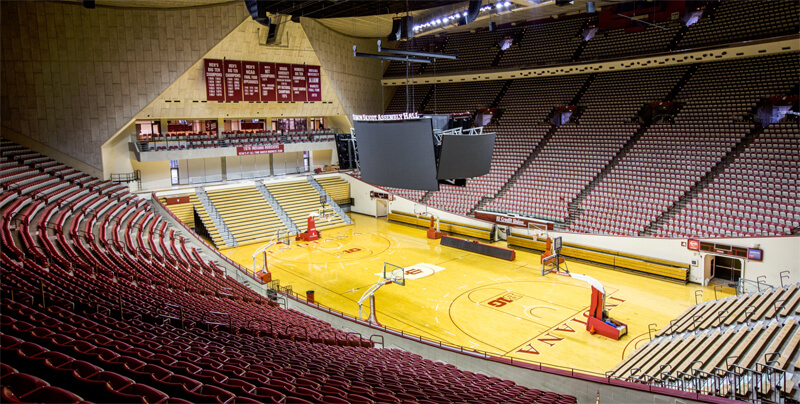 Yesterday, we published a list of nine names that could make sense to lead the next chapter of Indiana basketball.
Today, we're expanding the list of potential candidates that could make sense for the job. In alphabetical order by first name, here are six more names to keep an eye on as the coaching search moves along:
Calbert Cheaney, Indiana Pacers (assistant coach): The Big Ten's all-time leading scorer and one of the most decorated Indiana players of all-time, Cheaney is now a member of the Indiana Pacers coaching staff. He focuses on player development with the Pacers and has also formerly served on the IU staff in a director of basketball operations role under Tom Crean. Cheaney left IU for a job on the Saint Louis staff under Jim Crews and has also spent time coaching in the NBA's G-League. If Indiana is looking to bring in a coach who could unite the fanbase and also have credibility with recruits due to a storied career, is Cheaney worth exploring?
Joe Pasternack, UC Santa Barbara: Ironically, Pasternack replaced Archie Miller on Sean Miller's coaching staff when Miller left Arizona for the Dayton job. A former IU basketball manager, Pasternack is 88-33 in four seasons at UC Santa Barbara and is only 43 years old. This season, the Gauchos are 22-4 and will play Creighton in the NCAA tournament this week. Pasternack certainly understands the program and the university as an alumnus.
Mark Pope, BYU: Pope had a successful career as a player at Washington and later Kentucky, where he won a national championship in 1996. Pope was a second-round pick of the Indiana Pacers in 1996 and played professionally until 2005 before getting into coaching. His coaching career included stops as an assistant coach at Georgia, Wake Forest and BYU before he landed his first head coaching job at Utah Valley in 2015. Pope took over the BYU program beginning with the 2019-20 season. In his second season at the helm, he has the Cougars in the NCAA tournament.
Michael Lewis, UCLA (assistant coach): One of Indiana basketball's all-time assists leaders, the Jasper product was a fan favorite during his time in Bloomington. Lewis has served as an assistant coach at Eastern Illinois, Butler and Nebraska before taking on his current role at UCLA. Lewis is still in his early 40s and has truly worked his way up through the business. At Butler, he worked under both Brad Stevens and Chris Holtmann. Like Cheaney, Lewis is a former player that has an intimate understanding of the program and what it takes to succeed in Bloomington as a player. He's also a personable, energetic guy, which is something IU basketball has been lacking.
Mike Boynton, Oklahoma State: A 39-year old native of Brooklyn, Mike Boynton took over a difficult situation at Oklahoma State and is succeeding. Boynton was a point guard at South Carolina in the early 2000s and worked his way up through the coaching ranks with stops at Furman, Coastal Carolina, Wofford, South Carolina and Stephen F. Austin. He came to Oklahoma State in 2016 with Brad Underwood. When Underwood left Stillwater after one season for Illinois, Boynton took over a program that would soon be under NCAA scrutiny due to violations that proceeded his tenure. This season, Boynton has Oklahoma State in the NCAA tournament as a No. 4 seed.
Porter Moser, Loyola Chicago: Moser has been a head coach for 17 seasons. This season, he earned his second NCAA tournament appearance with the Ramblers. Moser and Loyola Chicago were the talk of college basketball back in 2018 when the program reached the Final Four as a No. 11 seed. This season, Loyola Chicago is No. 9 in the KenPom ratings and a No. 8 seed in the NCAA tournament. The 52-year old played collegiately at Creighton and is from Naperville, Illinois.
Filed to: