6-Banner Sunday: Indiana clinches losing Big Ten record with losses to Rutgers and Michigan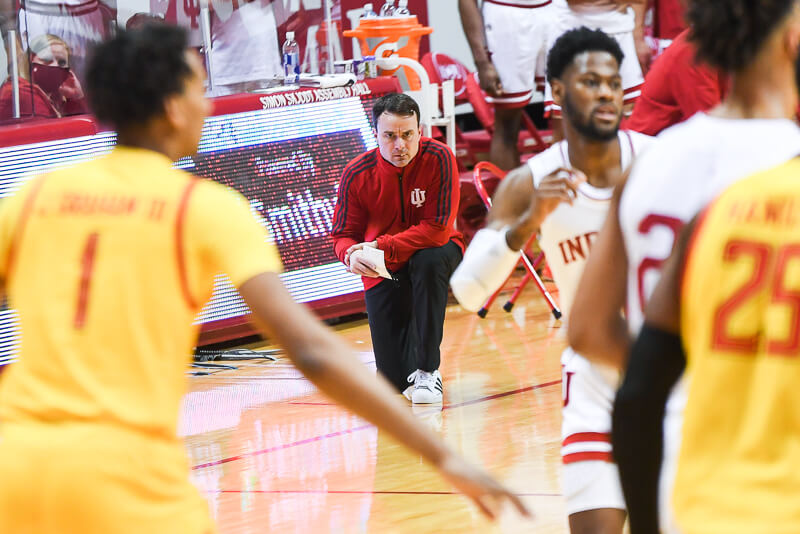 6-Banner Sunday is Inside the Hall's weekly newsletter in partnership with The Assembly Call. More than 7,500 Indiana fans receive the newsletter each week. In addition to appearing each week on the site, you can also opt to receive 6-Banner Sunday by email. A form to subscribe via email is available at the bottom of this week's 6-Banner Sunday.
Welcome to another edition of 6-Banner Sunday, a joint production between The Assembly Call and Inside the Hall where we highlight the five most essential IU basketball stories of the past week, plus take a look at how the other IU sports programs are doing.
Indiana finished this week 0-2, losing to both Rutgers and Michigan. The Hoosiers now have an overall record of 12-12 and a 7-10 mark in the Big Ten with just one week of regular-season action remaining.
On Saturday, Indiana was outmanned by Michigan, losing 73-57. As a result, Indiana finishes a very disappointing 4-6 at home in Big Ten play this season.
Armaan Franklin didn't play against Michigan due to a bone bruise he suffered in his foot during the second half of the Rutgers game. Archie Miller said that he doesn't expect Franklin to play the rest of the regular season.
In the first game of the week against Rutgers, Indiana got off to a fast start before quickly squandering its lead. The Scarlet Knights ended up seizing a commanding 74-63 victory.
Now, the Hoosiers are scheduled to hit the road on Tuesday against Michigan State. Then, on Saturday, Indiana will take on Purdue to close out the regular season.
Indiana's hopes of making the NCAA tournament are quickly dwindling and they'll have to patch together a run of two wins this week if they want any chance of advancing to March Madness.
You can listen to this week's edition of Assembly Call radio here and the newest Podcast on the Brink here.
• Indiana falls to Michigan
• Hoosiers routed by Scarlet Knights
• Indiana set for rematch with Michigan State
• Trayce Jackson-Davis named a finalist for Karl Malone Award
• Archie Miller provides update on Parker Stewart and Joey Brunk
• Hoosier Roundup
Banner #1
Indiana falls to Michigan
The Hoosiers had no answers for the Wolverines, who made easy work of Indiana on Saturday.
Indiana's defense struggled again. Michigan knocked in eight 3-pointers and made 17-of-19 from the free-throw line. They also dominated Indiana on the glass, outrebounding the Hoosiers 37-27. Michigan had four players score in double-figures, including Franz Wagner with 21 points.
On senior night, Al Durham led Indiana in scoring with 15 points. Race Thompson added 11 points and Trayce Jackson-Davis struggled from the field, shooting just 3-of-12 and grabbed only four rebounds. As a team, the Hoosiers shot just 38.5 percent from the field.
Banner #2
Hoosiers routed by Scarlet Knights
Indiana's 74-63 loss to Rutgers Wednesday looked awfully similar to the Michigan State game the week prior. The Hoosiers jumped out to a 23-8 lead over Rutgers in the first ten minutes of the game before quickly crumbling into pieces. Rutgers closed the half on a 27-8 run to take a four-point advantage at the break.
From there, Indiana was utterly embarrassed as Rutgers extended its lead up to 20 points. It was another poor defensive effort as Geo Baker and Ron Harper Jr. both went off for 20 points and combined to make 10 3-pointers. Baker also dished out 10 assists.
"The thing that's disappointing right now is when things don't go well for us, the thing that we've hung our hat on and been able to do is really scrap, compete and find a way to make it anybody's game," Miller said. "And in our last two second halves, in particular when things haven't gone well, our defense and our tightness, our ability to communicate, our response hasn't given us a chance."
Trayce Jackson-Davis and Al Durham carried the offensive production, combining for 41 of Indiana's 63 points. Jackson-Davis was 7-of-16 from the field while grabbing 11 rebounds and Durham knocked down five 3-pointers. Other than that, the Hoosiers struggled to score.
"I thought their pressure really rattled us tonight," Miller said. "We had a hard time functioning cleanly on offense and a lot of it had to do with, I thought, their ability to pick up the ball and really work."
Banner #3
Indiana set for rematch with Michigan State
Indiana is set to face off against Michigan State for the second time in two weeks. The Hoosiers will travel to East Lansing for an 8 p.m. tipoff on Tuesday in a crucial game between two teams on the NCAA tournament bubble. The game will be televised on Big Ten Network.
The Hoosiers dropped the first meeting 78-71 on Feb. 20 in Assembly Hall. Indiana got off to a hot start before allowing 52 second-half points and falling apart. Michigan State guard Aaron Henry scored 27 points, while Gabe Brown and Joshua Langford combined for 28 points.
Since that game, Michigan State has rattled off wins against No. 5 Illinois and No. 4 Ohio State. They're set to play Maryland, another bubble team, on Sunday before taking on Indiana.
The Spartans are led by Henry, who averages 15 points and over five rebounds and three assists per game. Forward Joey Hauser is averaging better than 10 points and six rebounds per contest. The Spartans have six other players that averaged between four and 10 points per game.
It will be yet another, and possibly final test to see if Indiana can possibly make the field of 68.
Banner #4
Trayce Jackson-Davis named as finalist for Karl Malone Award
Indiana forward Trayce Jackson-Davis was announced Thursday as one of five finalists for the Karl Malone Award. The honor is given to the nation's top power forward.
The other four players named to the list were Gonzaga's Drew Timme, Pittsburgh's Justin Champagnie, Seton Hall's Sandro Mamukelashvili and Villanova's Jeremiah Robinson-Earl. Last season, Dayton's Obi Toppin won the award and the year prior Zion Williamson won it.
Entering Saturday, Jackson-Davis was averaging 20.3 points and 9.5 rebounds per game while shooting 53 percent from the field. He was touted as the No. 51 prospect in the upcoming NBA Draft, according to The Athletic.
"I feel like his attitude and who he is as a person is going to allow him to keep growing and getting better and better," Miller said earlier this season. "He's such a team guy. He's so coachable."
Banner #5
Archie Miller provides update on Parker Stewart and Joey Brunk
Archie Miller said last Monday that he doesn't expect either Parker Stewart or Joey Brunk to play this season for Indiana.
Brunk, who averaged 6.8 points and 6.2 rebounds per game as a junior, has been sidelined for the entirety of this season due to a back injury. Brunk underwent surgery in late-December but has still been traveling with the team. On Monday, Miller said that Brunk is just starting to return to basketball activities and running up and down the court.
Stewart, who transferred from UT-Martin to Indiana in December, hasn't suited up at all this season. Miller said that Stewart hasn't practiced at full capacity yet. Stewart's father Anthony, who was the head coach at UT-Martin, died unexpectedly in November.
Both players have the potential to be key for Indiana next season, although it's still not certain whether Brunk will return. However, Brunk did not go through senior day activities which may indicate his plans for being back next year.
Banner #6
Hoosier Roundup
The week once again belonged to Women's Basketball, who after obtaining their best ranking in program history, picked up two huge wins. With a loss by Maryland today, the Hoosiers would be in the drivers seat for their first Big Ten title since 1983. Even without help from the Terrapins, IU needs to win just one of its two final games to finish in the conference runner-up spot. This would be the highest finishing position since the aforementioned '83 season.
Some other strong results occurred as well this week for Women's Soccer, Softball, Track and Field and Swimming and Diving.
• Women's Basketball achieved its highest ranking ever at No. 11 this week. They showed they were worthy of this ranking dominating Wisconsin and then knocking off a top 15 Ohio State team for the first time in over a decade.
• Men's Soccer beat Ohio State before a very disappointing loss to Northwestern.
• Women's Soccer beat Rutgers for the first time since the Scarlet Knights joined the Big Ten.
• Softball opened their season 3-1 splitting a doubleheader with Nebraska before sweeping Wisconsin.
• Volleyball fell to arch-rival Purdue this week.
• Wrestling also lost to rival Purdue.
• Swimming and Diving finished third at the Big Ten Championships.
• Track and Field saw the Men finish runner-up and the Women 6th at the Big Ten Championships.
• Field Hockey had three players on the Big Ten preseason watch list. They lost to Rutgers in their season opener before suffering a defeat to Iowa.
• Women's Tennis got its first win of the year over Michigan State before falling to Iowa.
• Men's Tennis knocked off Nebraska before tripping up against Michigan.
• Water Polo beat Salem last weekend before falling to Michigan. This weekend they again competed against Salem and swept them in two games.
• Women's Golf competed in a tournament in Kiawah Island, S.C.
Thanks for your continued support for The Assembly Call. We'll be back next weekend with a new roundup.
Now go enjoy yourself a 6-banner Sunday.
Tyler Tachman – Student Intern The Assembly Call
Filed to: