UT-Martin graduate transfer Parker Stewart commits to Indiana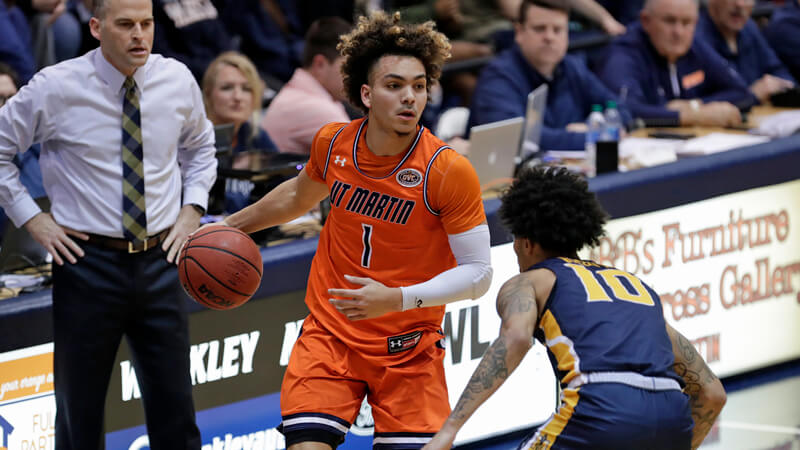 UT-Martin graduate transfer Parker Stewart announced his commitment to Indiana Tuesday evening. Stewart, who has two years of eligibility remaining, could try to play for the Hoosiers this season as a graduate transfer.
I just hope I make you proud dad, see you soon. ????? pic.twitter.com/dFreOfDmZg

— Parker Stewart (@_PSTEW) December 15, 2020
"I just feel like it's a good fit overall, and the tradition at the school I just couldn't over look," Stewart told Inside the Hall.
Stewart was in Bloomington over the weekend for a visit and didn't wait long after to make his pledge to the Hoosiers. The 6-foot 5-inch guard has played for both Pittsburgh and UT-Martin and is a career 36.3 percent 3-point shooter, which will be a welcome addition to an Indiana backcourt that has struggled to shoot from the perimeter.
His late father, Anthony, who was the coach at UT-Martin, unexpectedly passed away on Nov. 15 at the age of 50 and Stewart opted to transfer to complete his college eligibility. Anthony Stewart had a relationship with Indiana's co-associate head coach Kenya Hunter. Parker Stewart was also recruited by Hunter earlier in his career.
"I feel me and him have a good relationship and that I can trust him, and my father thought highly of him as well," Stewart said.
Indiana's geographic location was also a key factor in Stewart's decision.
"Bloomington is four hours away from where my family is currently in Tennessee and four hours away from Ohio where I'm originally from, so it just made sense distance-wise," Stewart said. "My mom has also been working on her PHD online at the university so she was happy when they recruited me as well."
Last season he was named to the All-Ohio Valley Conference second team in his first season at UT-Martin. He averaged 19.2 points, 4.6 rebounds, 3.8 assists, and shot 34 percent from 3-point range.
Stewart was the only player in college basketball last season to average at least 19 points, 4.5 rebounds, 3.5 assists and 2.5 3-point field goals per game. He had four games of 30 or more points.
He led the Ohio Valley Conference with 2.8 3-point field goals per game, was third in scoring, third in minutes played (36.1), seventh in assists and 10th in free throw percentage (76.6).
Stewart, 22, also considered Arkansas, Kansas State and Memphis.
He started his career at Pittsburgh where he averaged 9.1 points per game as a freshman, while converting on 38 percent from his 3-point attempt and 80 percent from the free throw line.
Stewart earned an undergraduate degree from UT-Martin in the summer of 2019 and recently earned his Masters degree in business administration this fall.
According to his bio published by UT-Martin, he was the first ever UT-Martin student athlete to graduate in two years.
(Photo credit: UT-Martin Athletics)
Filed to: Parker Stewart