The Minute After: Michigan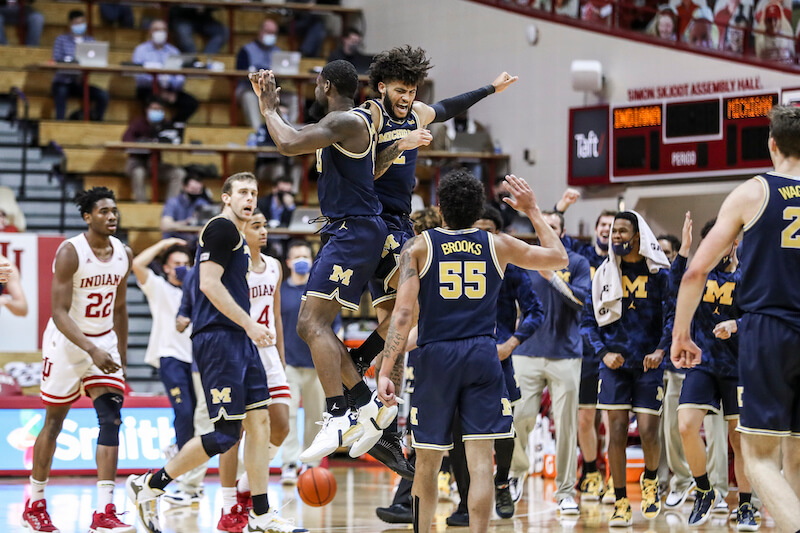 Thoughts on a 73-57 loss to the Wolverines:
In its previous two losses to Michigan State and Rutgers, Indiana collapsed over the final 30 minutes of action, blowing huge leads in the process.
That didn't happen today. But even though Indiana brought better effort and continued to fight in this one, Michigan is just too good. And so it's Indiana's third straight loss for the first time this season, its shot at a huge win to bolster its NCAA tournament resume gone with it.
Indiana had to play at a high-level for 40 minutes in this one to even have a chance, and that just didn't happen. While the Hoosiers shot well from the line (11-of-15, 73.3 percent), everything else was a bit of a struggle. Michigan forced Indiana into a number of late shot-clock situations with its zone-to-man defense and the Hoosiers needed to force up shots as a result.
Worse yet, the Hoosiers shot just 11-of-29 (38 percent) on layups and dunks in this game. Hunter Dickinson's length was a problem for Trayce Jackson-Davis, who shot just 3-of-12 for the game and scored only 10 points. But a number of backcourt Hoosiers failed to convert when they were around the basket today as well. And after hitting 3-of-7 from deep in the first half, Indiana made just 1-of-8 in the final 20 minutes to shoot only 26.7 percent (4-of-15) from 3-point range for the game.
Al Durham gave it his best shot on senior day, leading the team with 15 points on 6-of-9 from the field. But all the other poor shooting from the Hoosiers meant they scored just .89 points per possession, which isn't going to get it done against an elite team like Michigan.
While Indiana had a better performance from the line than usual, the Hoosiers sent Michigan to the line more. And the Wolverines seriously converted there, hitting 89.5 percent (17-of-19). Michigan also shot it well from deep (8-of-21, 38.1 percent) on its way to 1.14 points per possession for the contest. The length and skill of Franz Wagner was a tough cover for the Hoosiers today and he led all scorers with 21. Wanger made all eight of his free throw attempts and added six rebounds. Mike Smith (14 points) hit some big shots to keep Indiana at a distance as did Isaiah Livers (16 points). Dickinson wasn't amazing today, but his 11 points helped keep things moving for the Wolverines.
The numbers after this one are bleak. Indiana finishes just 4-6 at home this season in Big Ten play. And here's an even more depressing one: Today's loss means Indiana will finish under .500 in conference play. That means Indiana has been .500 or worse in conference play for five straight seasons, something that hasn't happened since 1914-1919. That's over 100 years ago, folks.
Michigan is the class of the conference, class of the country, and Indiana just can't hang at that level. It's got two more shots at conference wins to close out the regular season. But there's little confidence at this point the Hoosiers can pick up two straight on the road to try and get back on the right side of the bubble.
If they can't, chalk up yet another underwhelming season in the Archie Miller era.
(Photo credit: IU Athletics)
Filed to: Michigan Wolverines