The untold stories of Trayce Jackson-Davis' formative basketball years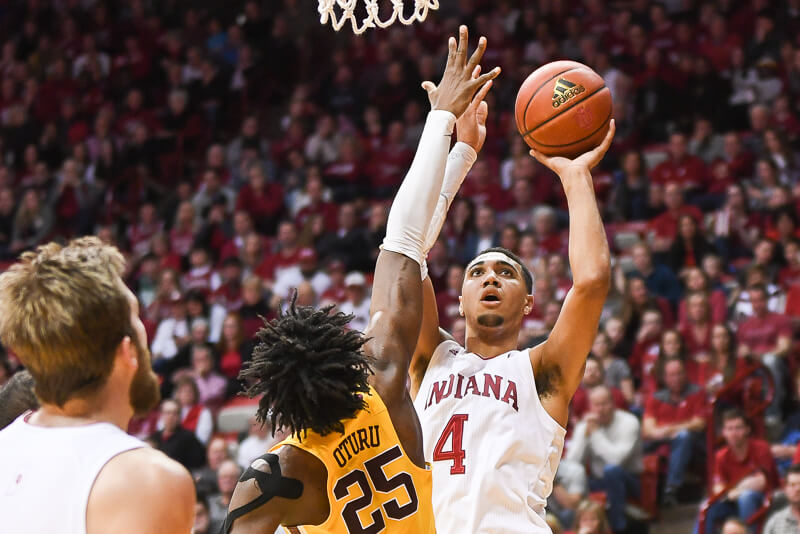 The players on Team Teague had seen enough. They threw their arms up in frustration. They complained to their coach. It was the new kid again. He couldn't catch.
Before the tournament started, Team Teague coach Bill Collins received a call about a tall kid with talent. There were only six or seven players on the 7th-grade Team Teague and they were all guards. Naturally, Collins invited him to play.
But as the tournament started, the new kid couldn't handle the skilled passes of the Team Teague guards. He couldn't run the floor. He missed layups. Even if he was open, it wasn't a guaranteed make.
The new kid was Trayce Jackson-Davis.
This wasn't the Jackson-Davis you know. Not the 6-foot 9-inch, 245-pound chiseled pillar of muscle echoing yells through the rafters of Assembly Hall. Forget the tomahawk dunks and putback slams. There were no furious blocks or aerial attacks for rebounds.
This was the 7th-grade version of Jackson-Davis. He was around 6-foot 3-inches tall and not in ideal playing shape. He ran light on his toes "like a baby giraffe." His coaches described him as "clumsy" and "timid." He couldn't run a pick and roll effectively.
"Trayce was absolutely the worst player on the team by far," Collins said.
Many of the players on Team Teague were talented and went on to play college basketball. They didn't take his poor play well. Collins told them to be patient. That maybe in a few years he'd be dunking.
"He can't catch the ball, coach," one player complained to Collins.
That annoyed teammate?
A young Armaan Franklin.
After the initial tournament, Collins kept Jackson-Davis on the team, but he mostly sat on the bench. One time they drove all the way to Washington D.C. for a tournament and, in one of the games, Jackson-Davis didn't even play at all. He didn't complain, though. He listened and soaked it in.
When Jackson-Davis got on the floor, he'd get blown by on defense. Collins and the other coaches did their best to boost Jackson-Davis' confidence. They kept telling Jackson-Davis "he can't guard you" about whoever marked him on defense.
As summer neared following the first season, the coaches told Jackson-Davis he needed to slim down so he could run the floor. He had to dunk everything. He wasn't going to be a back to the basket big man.
During the summer going into eighth grade, Jackson-Davis came to the Monday through Friday team workouts at a local high school. He worked on his ball-handling skills with the guards. He did a rim tapping drill to work on his explosiveness.
The coaches would tell him to work on catching the ball in the post and making a drop step. Or attacking down the baseline and using his body to lay it in. Then Jackson-Davis would get to work. By the time they saw him again, he'd made strides.
"He was willing to do whatever it took to get to the goals he wanted to reach," Collins said. "If he wanted to be a McDonald's All-American, there was nothing that anybody could do to stop him."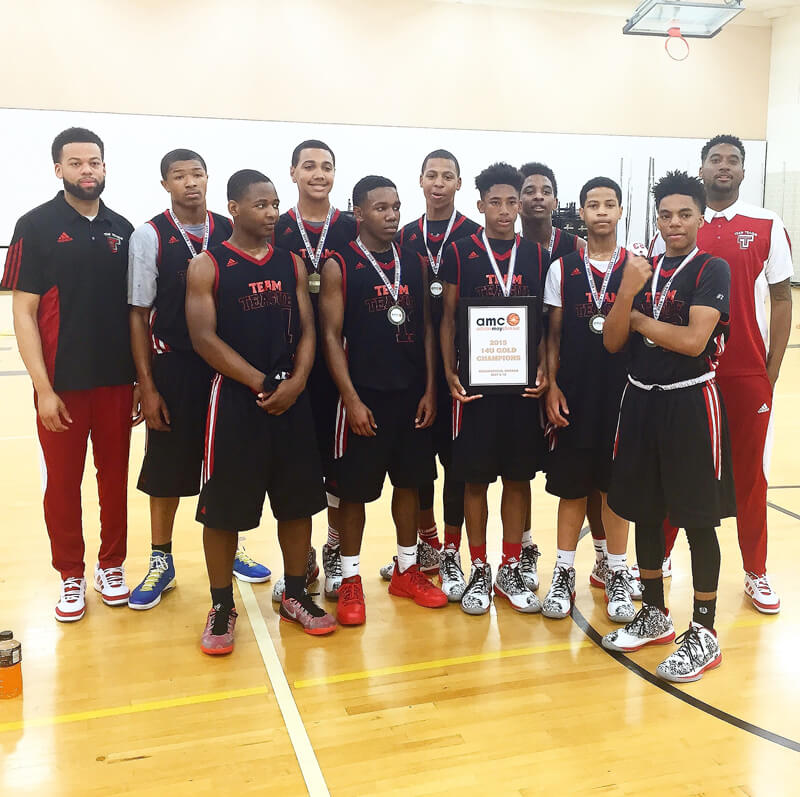 By the end of the summer, Jackson-Davis had slimmed down and had already started dunking. It became apparent that he started to believe he couldn't be guarded. The team had a play called "Box T" against the zone where everyone was on the perimeter and Jackson-Davis cut to the basket for a lob. It almost always led to a dunk. Jackson-Davis had the confidence to tell Collins to call the play.
Jackson-Davis kept growing taller and was catching the ball with ease. Then he added more layers to his game like rim-protecting and rebounding. In his freshman year at Center Grove High School, he played 22 games on varsity, averaging nearly 10 points per game.
"His game grew every year," Collins said. "It hasn't stopped. It's building and building and building."
In 2016, Jackson-Davis missed a layup in a game at an Orlando, Florida tournament. Collins told him to dunk it next time. On the very next possession, Jackson-Davis jammed it on a fast break.
"Alright, he gets it," Collins remembers thinking. "It's clicking."
After emerging as the centerpiece on the Center Grove team, Jackson-Davis' confidence translated to the AAU circuit where his national profile grew. During the 16U season, Team Teague played up an age group and Jackson-Davis carried them to a win over an older Indiana Elite group. His teammates joked that he went from "Dale's son" to Trayce Jackson-Davis.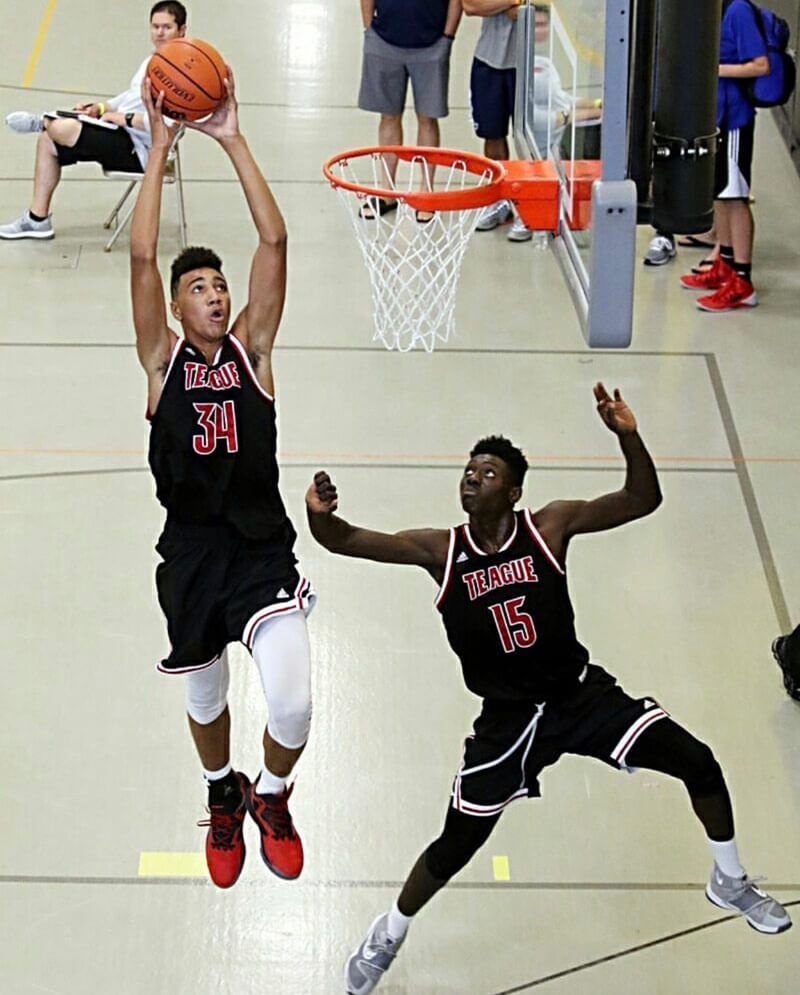 But Jackson-Davis didn't forget what it felt like back in those tournaments earlier in his career. In 2017, a new player joined Team Teague and was struggling on the court. After one game, the team went to Subway to eat. The new kid sat alone in a corner booth while the rest of the team joked around and had a great time.
Jackson-Davis left his teammates to sit with the new kid in the corner booth. Jackson-Davis wrapped his arm around him, smiling and trying to cheer him up. By the end, there was laughter.
"You want to be around him," Collins said.
All the while, Jackson-Davis had turned into one of the most dynamic players in the country. In his junior season at Center Grove, he averaged 22.3 points and 9.5 rebounds and 3.7 blocks per game. And the offers had poured in: Indiana, Michigan State, Ohio State, Virginia Tech and UCLA.
One time, Jackson-Davis played poorly while Clemson was watching him. They offered him anyway. After the poor performance, Collins saw a look on Jackson-Davis' face. A frustrated, disappointed, "I'm sick of" not playing up to my potential expression.
Jackson-Davis dominated the following game.
In the summer prior to his senior season, Jackson-Davis left Team Teague so he could play on the Nike Elite Youth Basketball League circuit. By that time, he was dunking everything. "Everyone knew who he was," Collins said. "He was a man-child." Jackson-Davis was named Indiana's Mr. Basketball and honored as a McDonald's All-American. He also signed to play for the Hoosiers in the 2019 class with Armaan Franklin, who didn't seem to mind playing alongside him anymore.
Yet, it was still the same Jackson-Davis. In a Center Grove game during Jackson-Davis' senior year, Collins recalls, there was a misunderstanding where a fan mocked an opposing team's player. Jackson-Davis tried to set up an in-person meeting between the two people to try to diffuse the situation. Collins doesn't know if the meeting ever happened.
"The fact that he was willing to bring some calm to the situation by bringing both parties together," Collins said. "I thought it was another thing that speaks to his character."
After a standout freshman season at IU where Jackson-Davis made the Big Ten all-freshman team and emerged as a star, the posterizing dunks and double-doubles come as no surprise.
Now as a sophomore, the expectations are higher than ever. Jackson-Davis was named as a preseason all-American by multiple outlets and his departure for the NBA is just a matter of when.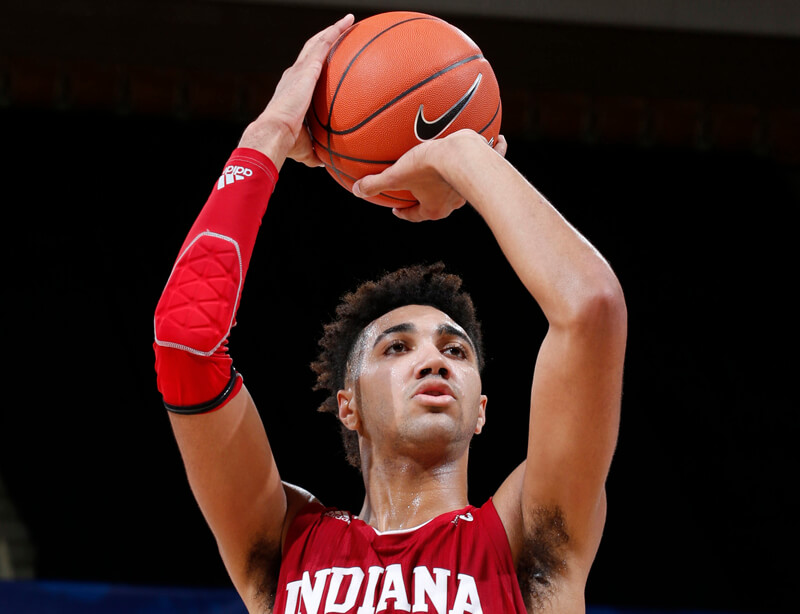 So far this year, he's won four gold jerseys for outstanding performance in practice. IU head coach Archie Miller said the team's chemistry starts with Jackson-Davis. After Race Thompson had a career game against Providence, Jackson-Davis was there hyping him up and making him smile.
"I feel like his attitude and who he is as a person is going to allow him to keep growing and getting better and better," Miller said earlier in the year. "He's such a team guy. He's so coachable."
But early this season, Jackson-Davis was pressing and was struggling by his standards. Then, he broke out with a career-high 31 points against Stanford in the Maui Invitational. After the heartbreaking loss in overtime to Florida State, Collins saw that same frustrated, "I'm sick of this" look on his face. Jackson-Davis, who put up a 25-point, 17-rebound line, was vocal to his teammates in the locker room after the game.
"I was really mad because I don't think of us as any other IU team we've had in the past ten years," Jackson-Davis said after the game. "I'm trying to be different this year. To be different we have to win these games."
Now, Collins and Jackson-Davis often reflect about his evolution over the years.  They'll send Snapchats of Jackson-Davis' favorite meal of steak and lobster. Jackson-Davis is just thankful that Collins took a chance on him when he was younger.
"Yeah, I was trash," Jackson-Davis would say to Collins.
Fellow former Team Teague coach Curtis White tells his current middle school team that there used to be a version of Jackson-Davis far from the one they see on TV. But they don't believe him. White uses the story as motivation for the young players.
"It's still unbelievable," Collins said. "If you saw him play back then you would be like there's no way he'd be where he is today."
For all of the alley-oop jams in the past and still to come, for all of the emphatic swats and soaring rebounds, somewhere inside Jackson-Davis, there will always be the new kid who couldn't catch.
Filed to: Trayce Jackson-Davis