The perspective behind Race Thompson's dominant afternoon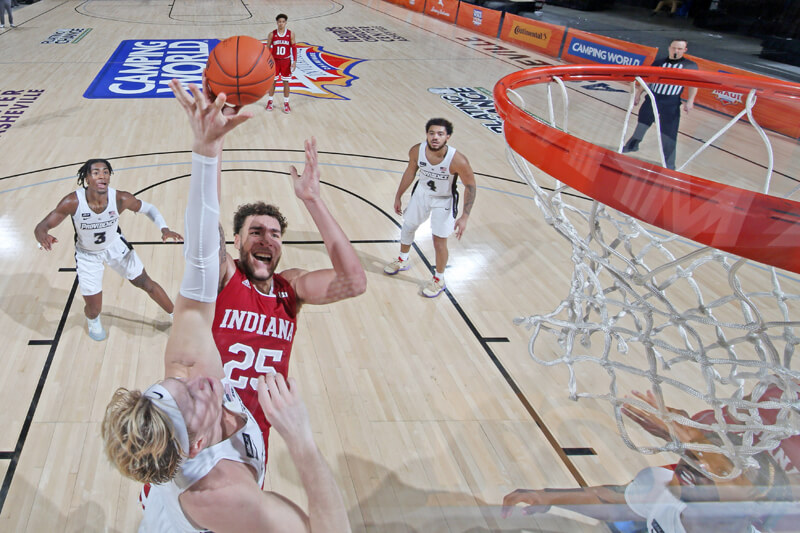 ASHEVILLE, N.C. – Not far from Race Thompson's home in Plymouth, Minnesota, there's a steep hill covered in luscious green grass and spotted with small patches of dirt from a continued tread. In spring, when the weight rooms closed and the gyms shut down due to COVID-19, Thompson went to the hill along with his brother and a few friends.
They started working out in the mornings shortly after students across the country were sent home. Thompson slipped on a weighted vest and dug a pair of new Adidas cleats into the ground during sprints up the hill. They did circuits with resistance bands. They brought a deck of cards, each suit was a different exercise while the digit decided the number of reps.
Later on Zoom, Thompson worked on his ball-handling. He was on the court, working on adding a consistent jump shot. After his workouts were done, Thompson went to the track for more. When gyms opened back up, he worked on body control and core strength.
On Monday, Indiana head coach Archie Miller called it one of the most impressive offseasons he'd ever seen.
There was Thompson, on the Harrah's Cherokee Center court, putting up his first career double-double with 22 points and 13 rebounds in a 79-58 win over Providence in the first round of the Maui Invitational. He played 35 minutes, 10 more than his previous career-high. Every hill run paid dividends.
There was Thompson, who fought through injuries in his redshirt freshman and sophomore seasons, finally healthy. There was Thompson, who worked his way into the rotation at the end of last season, igniting an offensive onslaught for Indiana. There was Thompson leading Indiana.
"His emergence, to me, is one of the special things about this off-season and just watching him get a little bit of reward for what he did," Miller said. "… I'm so happy for him just because of his development the last eight months, his attitude, his leadership, and how he plays is how he practices every day."
It is, of course, important what Thompson did on the court over the summer. But to really get a full picture of Thompson's transformation, you have to understand what happened off the court.
On May 25, no more than 20 minutes from Thompson's home, George Floyd, an unarmed Black man, was killed by police. Floyd was killed near Cup Foods, a local restaurant in the city. Thompson had been there before.
"This is home for me," Thompson said over the summer. "This hits home."
As protests spread across the nation, Thompson spoke with passion on a team Zoom call. He was featured in an IU basketball video that promoted racial equality. With a black mask covering his face, Thompson attended peaceful protests. He walked among crowds during chants of "prosecute the police." During a protest in late May, a semi-truck came flying into the closed road sending many scattering. Thompson helped others get off the side of the highway and over a fence.
With those experiences came maturity and a voice. When Indiana players came back to campus in July, Thompson was named as the Offseason Champion. When senior Al Durham was asked who had stepped up as a leader, without hesitation, he said Thompson. When the captains were named, Thompson was included.
"I feel like he has a purpose about him," Director of Athletic Performance Clif Marshall told Inside the Hall over the summer. "It's almost like he flipped a switch."
With all of that in mind, consider Thompson's performance Monday afternoon. Indiana was already thin in the frontcourt playing without senior forward Joey Brunk, who was dealing with back discomfort. After Indiana's win against Tennessee Tech, Miller criticized his team's ability to rebound. The Hoosiers needed somebody to step up.
From the opening tip, it was clear Thompson was that guy. He scored Indiana's first two points, cleaning up a missed layup from Armaan Franklin. Then, Thompson followed it up with a block on the other end.
When Providence went to an extended zone, Thompson wheeled from side to side down the baseline, showing off a featherlike floater one time after another. On a defensive possession, he didn't bite on a pump fake. Instead, he walled up, forcing a shot that bounced harmlessly off the top of the backboard.
With just under seven minutes remaining in the half, Thompson checked in for Trayce Jackson-Davis, who had just picked up his second foul. On the following possession, Thompson cleaned up another miss for two more points.
All the while, that quiet leadership was showing through. Thompson clapped his hands for encouragement. At a timeout, he twirled his finger, signaling for the Hoosiers to keep up the intensity. He patted freshman guard Khristian Lander on the chest.
"I would say just confidence," Thompson said after the game. "That's the main thing. Coach told me before the game to go out there with extreme confidence and just do what you do."
Thompson's dominance continued after halftime. With a couple of minutes gone in the half, Thompson threw down another dunk. On the next possession, Thompson fed Durham for a 3-pointer. A wide grin came across both of their faces as they slapped hands. Durham, who came as a part of the same recruiting class as Thompson, has seen his growth as much as anyone else.
"He's been through a lot as everyone knows since he's gotten here," Durham said. "Just to see him have a game like this and show you all what we see. When he's healthy and himself, I mean, he had a spectacular game. I'm so proud of him. I can't even put into words how proud I am of him."
The final call came with eight minutes left when the game was already out of reach. Thompson grabbed a Jackson-Davis miss and thundered a two-handed slam, swinging the ball back behind his head. He let out a howl so loud that it couldn't be drowned out by the crowd noise or even the uproar from the bench.
Thompson wanted to let everyone know he was in the building. Once and for all.
(Photo credit: Maui Invitational)
Filed to: 2020 Maui Invitational, Race Thompson