An unprecedented night inside Assembly Hall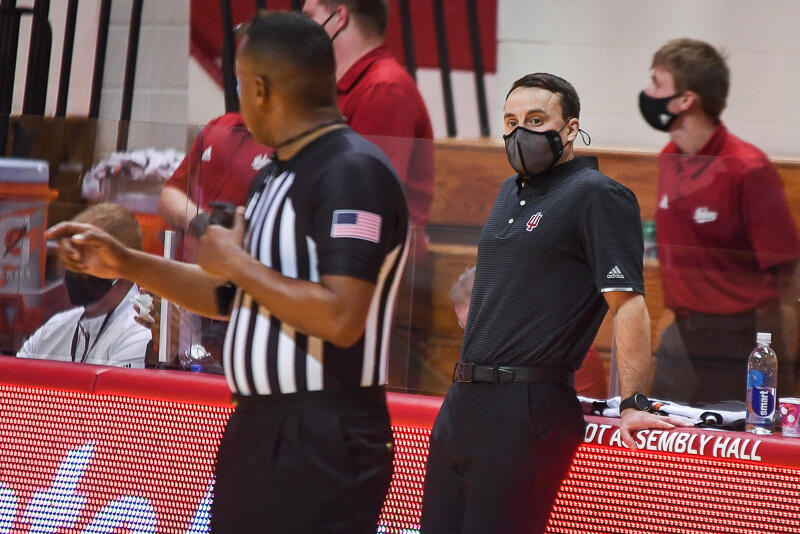 At a certain point, it had all become so strange, so offbeat, that Archie Miller couldn't help but ask.
It was six days before the start of the 2020-21 season and Miller was stationed on the Assembly Hall hardwood. The Hoosiers were in the middle of a preseason scrimmage, and the team was split into cream and crimson squads. Indiana would usually host a preseason exhibition against a Division II or III opponent, but this year, as a result of COVID-19, no such contests were allowed by the NCAA.
At the end of a timeout, Miller made his way over to the scorer's table in front of longtime public address announcer Chuck Crabb, who had a microphone wire looped in his ear. Right before play resumed, Miller leaned over to Crabb.
"Who are you announcing to anyway," Miller asked.
"Just you and me," Crabb said as Miller let out a chuckle.
The scrimmage was just a preview for the oddities that would take place in Indiana's season opening 89-59 win against Tennessee Tech on Wednesday night. Among the many changes in college basketball this season due to the COVID-19 pandemic, it was announced earlier that fans wouldn't be allowed into Indiana's home games on an indefinite basis.
It turned out to be a night unlike any other in Assembly Hall lore.
Earlier in the week, it was uncertain whether the game would be played at all. Tennessee Tech coach John Pelphrey tested positive for the virus on Monday. In the end, the Golden Eagles made the trip to Bloomington and passed protocols.
Fifteen minutes before tipoff on Wednesday, the South end of Assembly Hall was nearly silent.
In a normal year, there would've been kids in candy stripe pants tearing around the lobby like it was a toy store. There would've been a continuous chime from tickets being scanned. The aroma of buttery popcorn and salty pretzels would've wafted through the air.
It would've all been humming with hope of a new season.
Instead, on Wednesday, much of Assembly Hall still looked like a COVID-19 testing site. It isn't surprising, considering the week prior IU used it to test students before they returned home.
In the lobby, as tipoff neared, a few security guards chatted quietly. There was a subtle hum from the air conditioning. A sign reminded family members in attendance to wear a mask. Water fountains were enveloped in a plastic covering and hand sanitizing stations were placed around the lobby. The escalator was blocked with a yellow caution sign reading: "Do not enter."
The glaring differences continued during Indiana's pregame warmups.
Sheets of plexiglass enclosed the scorer's table, resembling a hockey penalty box. Team benches were split into two rows, the seats socially distanced apart from each other. Team managers had masks on. Cardboard cutouts of fans, which were installed in the morning, sat in the North end bleachers. A picture of a smiling sheltie sheepdog dog was perched on the wooden benches, among with some other K-9's, felines and babies.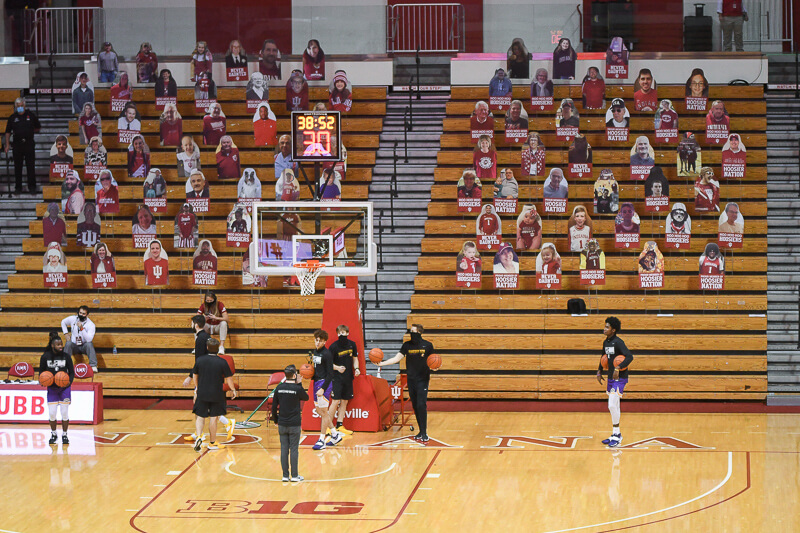 But through all the changes, there were hints of normalcy.
Sophomore Trayce Jackson-Davis rapped Drake's verse in "SICKO MODE" under his breath. Director of Athletic Performance Clif Marshall patted freshman Jordan Geronimo on the arm to try to alleviate Geronimo's nerves before his first collegiate game. Jackson-Davis playfully lifted Armaan Franklin up in the air, sending him flying above the rim for a dunk.
Minutes before game time, the usual video of Martha the Mop Lady illuminated the jumbotron with its syrupy melody. Indiana ran out in their iconic candy stripe pants.
But then the new reality hit again. Somewhat sarcastically, Jackson-Davis and Race Thompson lifted their arms to pump up the crowd. It was greeted with a few cheers. The seats were nearly empty, as family members dotted only a small portion of the crimson seats. When Tennessee Tech came out, there were no jeers.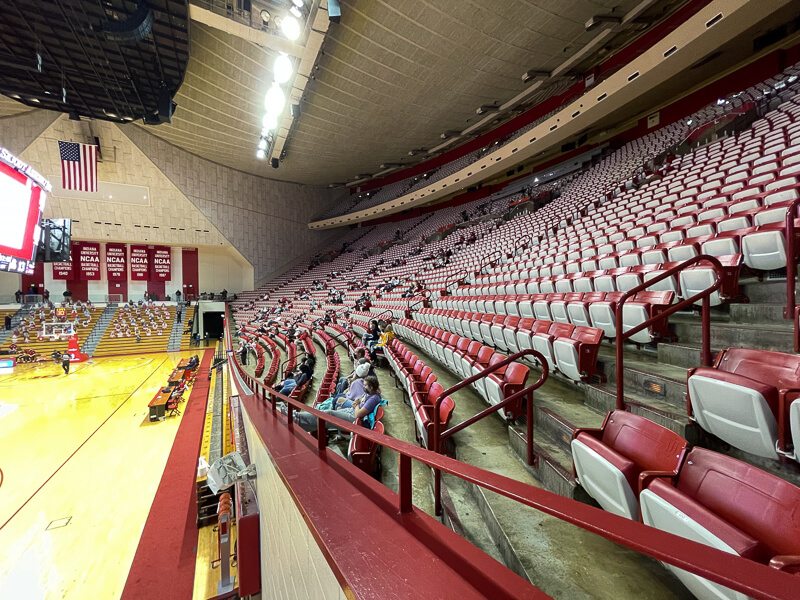 Right before the game, Crabb, who was announcing through a mask, wished a quick recovery to Pelphrey over the speaker. Without a band, a recorded version of the national anthem was played.  There was also an audio track of crowd noise, which sounded more like a whisper.
The atmosphere revealed sights and signs that you'd expect out of a local pickup run. There was a constant squeak of shoes. The endless thumping from the ball hitting on the hardwood. A chant of "IU" arose from the stands only to quickly trail off.
"We started out sluggish and slow, then you notice you have to create your own energy," Jackson-Davis said. "So, just trying to get energy off my teammates and try to create energy on my own."
After a slow start, there were plenty of times when both teams generated the energy that Jackson-Davis alluded to. Al Durham and Franklin both let out an "AAHHHH," while closing out on defense to try to disrupt their man. Miller pulled down his mask to bark out muffled calls. A Tennessee Tech player yelled "defense," followed by two claps to try to ignite his team. At one point, freshman Anthony Leal almost forgot to take off his mask before checking in.
Around eight minutes into the first half, freshman Trey Galloway streaked down the floor and kissed a layup off of the glass. Jerome Hunter howled "AND OOOOOONE" and bumped chests with Galloway.
At halftime, there was no entertainment. There was only a worker toting around a jug to disinfect the benches. The court had been cleaned after the Indiana women's basketball game earlier in the day, too.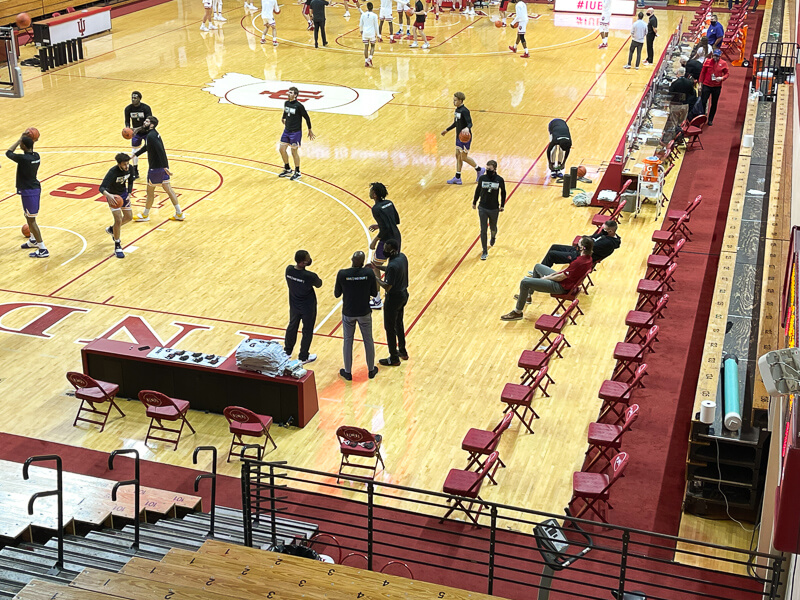 During the under 8-minute timeout in the second half, a William Tell video starring IU fans aired in place of cheerleaders that would usually take the floor. During other stoppages, music was played to fill the time.
With about three minutes left, Galloway cut down the right sideline, gathered a feed from Rob Phinisee and slammed in a dunk. A shout of "AAYEEEE" in unison echoed out from the bench. From the seats, there were a couple of claps.
Fittingly, post game handshakes were skipped. Jackson-Davis waived up to his family before walking into the tunnel. There would be no postgame traffic for them to beat.
"I think we were all anticipating what it was going to be like," Miller said reflecting on the atmosphere. "It is greatly different. The energy level, the juice in the building, the crowd, it's a different feeling for your team in terms of the energy level."
Through everything that the players, fans and communities have endured since March, the game also brought a sense of relief. Indiana basketball was back on the court. The game was back on your screen. Galloway's highlights will be replayed in the coming days. Jackson-Davis' performance will be analyzed. Hunter's contributions will be praised.
They were back playing the game they loved. You were back watching the game you love. As far as everyone knows, it was done safely.
And the best part of it all:
They're scheduled to play again next week.
Filed to: