Five takeaways from Indiana's win over Tennessee Tech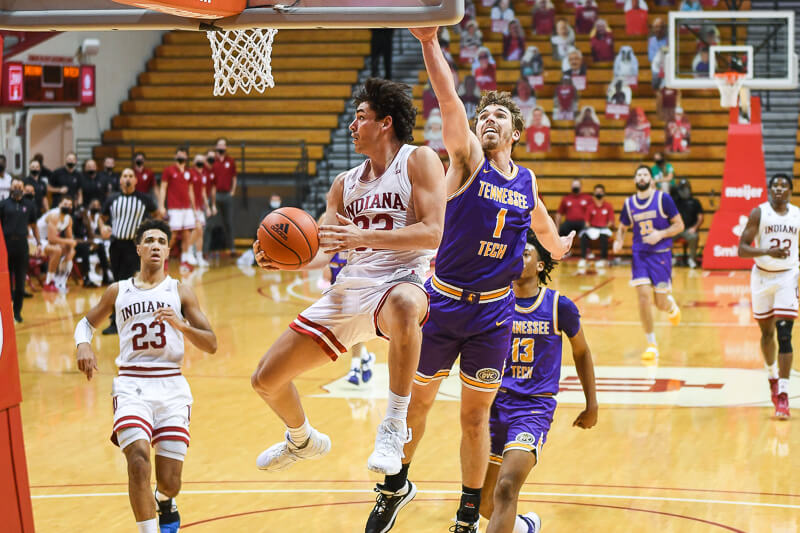 For the third straight season, Indiana cruised to a season-opening victory at Assembly Hall. The Hoosiers defeated Ohio Valley Conference opponent Tennessee Tech 89-59 on Wednesday night in their only tuneup game before next week's Maui Invitational at Asheville.
Here are five takeaways from the win over the Golden Eagles:
· The rust shows early on: For the first 10 minutes of Wednesday's game, Indiana very much looked like a team with a lot of work to do before taking on major conference opponents next week in Asheville.
Trayce Jackson-Davis was sluggish early on, the Hoosiers took some questionable perimeter shots and as a result, only led an undermanned Tennessee Tech team 20-17 at the 10:13 mark of the first half.
The start probably shouldn't have been surprising considering it was the first game for Indiana in over 255 days.
Due to the COVID-19 pandemic, the Hoosiers were not permitted to play exhibitions this season or any closed scrimmages. In a non-conference season that has already been shortened, Wednesday was just one of two opportunities Indiana will have all season to play against a low major team.
· After slow start, Jackson-Davis dominates in all facets: The aforementioned sluggish start for Jackson-Davis was a distant memory once IU's All-America candidate hit his stride on Wednesday night.
Tennessee Tech lacked the size and athleticism needed in the paint to put up resistance to Jackson-Davis and the sophomore forward capitalized. He led all scorers with 26 points – one shy of his career-high – and also grabbed 11 rebounds for his 13th career double-double.
Jackson-Davis also connected on a long 2-point jump shot in the second half, a potential new wrinkle to his game that was missing as a freshman.
"I feel really comfortable with my shot, especially when I am wide open," Jackson-Davis said postgame. "I shoot jumpers every day in practice, so just have got to execute that and just trust in myself and my confidence."
· Galloway impresses in debut: Khristian Lander is Indiana's most heralded freshman entering the season, but it was Trey Galloway who delivered the most impressive performance of IU's newcomers in Wednesday's opener.
Galloway scored 13 points in 19 minutes and attacked the rim without fear. He was an efficient 6-of-9 from the field and also grabbed two rebounds and two assists in his debut. He was particularly impressive in transition, which Miller pointed out in his postgame remarks.
"He can really finish. He is good in the open floor," Miller explained. "I think you got a chance to see what we see in the open floor how he attacks."
Despite the impressive debut, Miller also sent a postgame message that he's looking for more from Galloway, particularly on the glass.
"The big thing with Trey is the physicality on the boards," Miller said. "He is going to have to find a way over the course of the season to get more involved in the rebounding game. We are a small perimeter-oriented team. It helps you on one end, but you really have to be aware of it on the other end. I think that is the biggest concern when we head to Asheville, can we rebound?"
· Indiana's shooting continues to miss the mark: Poor shooting from beyond the 3-point line and from the free throw line have been constants in Miller's first three seasons in Bloomington.
Year number four of Miller's tenure opened with more of the same struggles. Indiana was a dismal 10-of-22 from the free throw line on Wednesday and just 5-of-19 on 3-pointers. Indiana has yet to rank in the top 200 nationally in either free throw or 3-point shooting percentage under Miller.
Until improvement is shown in both areas, Indiana's ceiling offensively is limited. For a team that wants to attack the rim and get to the line, the free throw struggles are alarming. The Hoosiers have ranked 331st, 328th and 271st nationally in free throw shooting percentage over Miller's first three seasons.
"I think sometimes the first game jitters are in there, but other times it's like, we have to step up and be better," Miller said. "From the foul line tonight, we spent a ton of time on that and shooting the ball, we have good shooters getting wide open shots, guys got to make them. This is the beginning of the year, but we got to make those. That is going to make the difference in our team, if we want to be better. We are going to have to make some shots down there."
· We'll learn a lot about this group next week: Very little can be gleaned from a 30-point beatdown of an inferior opponent missing its coach and two key players due to COVID-19 protocols, but the competition will quickly intensify for Indiana.
The Hoosiers are scheduled to play three games in three days next week in Asheville and all of them could come against high major competition.
Six of the eight teams in the Maui Invitational field rank in the top 48 of the KenPom ratings, including Indiana's opponent on Monday, Providence.
Miller said he hopes to have Joey Brunk (sore back) available next week, which should help with frontcourt depth and rebounding.
"I think in general we are smaller right now, especially with Joey out. When Joey returns that makes us deeper and bigger, but we are smaller and you can see we are switching more," Miller said. "I think that switching puts our guards on the glass a lot more and that hurts. That is where the switching hurts you. In general, right now my biggest concerns are our ability to rebound and take care of it, those two things, if we can do those two things we will be ok."  
Filed to: Tennessee Tech Golden Eagles, Trayce Jackson-Davis, Trey Galloway