'He's as loyal as it gets': Doubted and overlooked, Al Durham's turbulent career isn't one to forget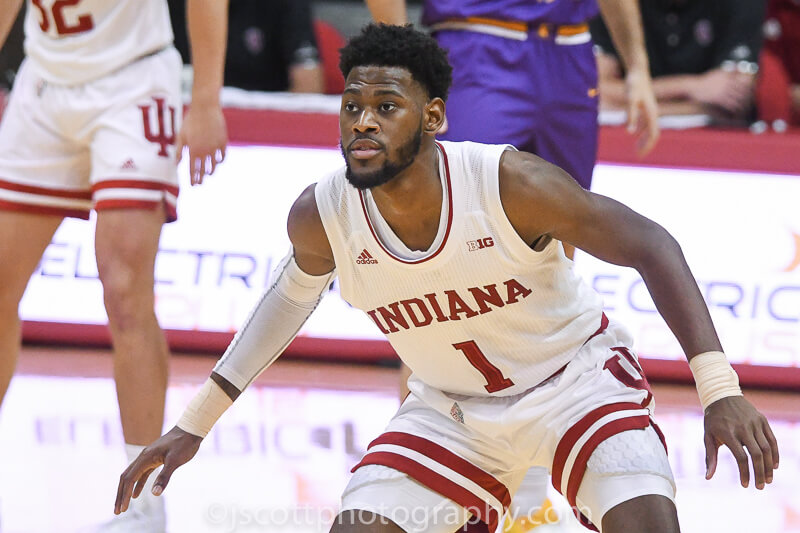 The doubts weren't a secret. Sean Sherman heard them. There were a few people close to the Southern Stampede AAU program that cast their criticisms. They approached Sherman and murmured about Al Durham.
I don't think he's a high-major, they'd say.
Durham was still in high school, playing travel ball for the Stampede. He was a six-foot four-inch string bean ranked 230th in the 2017 class, per 247Sports. He had a smooth outside shot and nifty finishing ability but wasn't the type of explosive playmaker that attracted an abundance of national attention.
So Sherman, who trained Durham during his middle and high school years in Lilburn, Georgia, heard the skepticism.
"It was something that was real motivational in their house," Sherman said. "It was doubters then."
But Sherman knew how Durham worked. He would always be in the gym working with Sherman. Or working with others. Each repetition was done with intensity. Sherman has a picture of Durham bent over on his hands and knees in exhaustion.
"You didn't say 'oh this kid is going to be a pro or McDonald's All-American,'" Sherman said. "But you knew that he had the work ethic to take him anywhere he wanted to go."
Eventually, it took Durham to Indiana. And Saturday afternoon, on senior day and in quite possibly his last game at Assembly Hall, Durham eclipsed the 1,000 career points.
Despite Durham's team-high 15 points, Indiana was blown out by No. 3 Michigan 73-57. But even with the game out of hand in the second half, Durham wouldn't stop fighting to bring the Hoosiers back. It was emblematic of Durham's career as a whole. One where, like his high school years, he was often overlooked.
Durham was never the fastest or strongest or most athletic on the roster at Indiana. But through a tumultuous career and through an unstable state of the Indiana program, Durham has displayed the same unrelenting passion.
"Al is a guy that, 10-15 years from now, I wouldn't be surprised whatever field he's in how successful he's going to be," Indiana head coach Archie Miller said postgame. "Just because the personality, the teamwork, he's likable, smart."
Those characteristics were prevalent before Durham arrived at Indiana, too. He was a respected voice on the Southern Stampede that wouldn't get too high or too low. He knew how to build relationships and had a "quiet charisma" as Sherman described it.
"The main thing with him was a calmness knowing that he'd be in the fire with them," Sherman said.
Before his junior year at Berkmar High School, Durham committed to play for Tom Crean at Indiana. The following year as a senior, Durham had just polished off a season where he averaged 21 points per game when Crean was fired.
Durham de-committed from Indiana. Then in came Archie Miller and, quickly, Miller made it a priority to keep Durham on board. Shortly after, Durham pledged to remain a Hoosier.
"He's as loyal as it gets," Miller said Saturday.
In his freshman season at Indiana, Durham emerged in a bigger role than many would expect the No. 230 incoming prospect to have. He played nearly 20 minutes per game, averaging 4.8 points and even starting nine games. Still, he only weighed "a buck 60," Durham said Saturday afternoon, thinking back with a smile. That season, the Hoosiers were just one game over .500 in Miller's first season at the helm.
As a sophomore, he continued to make strides. He started 30 games, becoming an integral part of the rotation and averaging 8.3 points per game. He was second on the team with 40 made 3-pointers. This time the season ended with an NIT appearance.
One summer, Sherman recalled, either between Durham's freshman or sophomore seasons at Indiana, Durham was back home in Georgia. Durham's younger sister was training with Sherman, and Durham wanted in. Sherman asked Durham if he was sure he wanted to join since his sister wasn't at the same skill level as him,
"'I don't care,'" Sherman recalls Durham saying. "'You know me. I just want to get some work in.'"
"Even with a little bit of status, the willingness to get in the gym with anybody," Sherman said. "He didn't care."
It spilled over to Durham's junior year where his leadership was evident once again when he was named a team captain. He upped his scoring to 9.8 points per game and hit 38 percent of his tries from deep. He was fifth in the Big Ten in free throw percentage.
All of the momentum built up to this season, Durham's senior year, where it appeared that Indiana had its best roster of the Miller-era. He'd built enough muscle to be listed at 185 pounds and was again named a team captain. But through a pandemic, there have been struggles and the Hoosiers' season hasn't panned out quite as planned.
Durham has been a part of a highly-criticized veteran backcourt. But through some silent stretches, he's come up big in victories against Penn State and Iowa, along with a prolific stretch to almost single-handily pull a win out against Northwestern.
Durham has also essentially been the emotional heartbeat of the Hoosiers, frequently rallying together his teammates. His positivity is evident through his postgame comments, which are usually made up of cliches you might find in fortune cookies.
Case in point, after Saturday loss: "Stick with the process" and "I have nothing but faith in my team," Durham said.
Durham did all he could during Saturday's game. He had 11 points in the second half, hitting a couple of and-ones that kept Indiana's deficit from ballooning for the time being. He also knocked in a 3-pointer that made him the 53rd player in program history to score 1,000 points.
"It's been a blessing, I'll say, to have the opportunity to play DI, play on the highest stage in America," Durham said reflecting on his career. " It's all of the blessing filled with hard work and pain, sweat and tears… I feel like there's too many jewels I've taken from Indiana, whether that's relationships, basketball, friendships, anything."
With just over one minute remaining, Durham received a standing ovation from the crowd that included Michigan head coach Juwan Howard, as he was subbed out. Durham slung his arm around Miller on the sideline, embraced assistant coaches and slapped hands with his teammates.
Indiana's season has taken somewhat of a nosedive and the loss leaves its NCAA tournament hopes dwindling. It's uncertain whether Durham will utilize his extra year of eligibility and return next season and it's uncertain how this season will end.
"To me, he, right now, is finishing the way you like seniors to finish: by rallying our troops and staying positive," Miller said. "But at the end of the day, he's playing so hard."
After the final buzzer sounded, Durham jogged across the court and raised up his right hand to acknowledge the small number of friends and family in attendance. Then, maybe for the final time, he disappeared into the tunnel.
Filed to: Aljami Durham