6-Banner Sunday: IU improves to 7-3 all-time in Crossroads Classic with win over Butler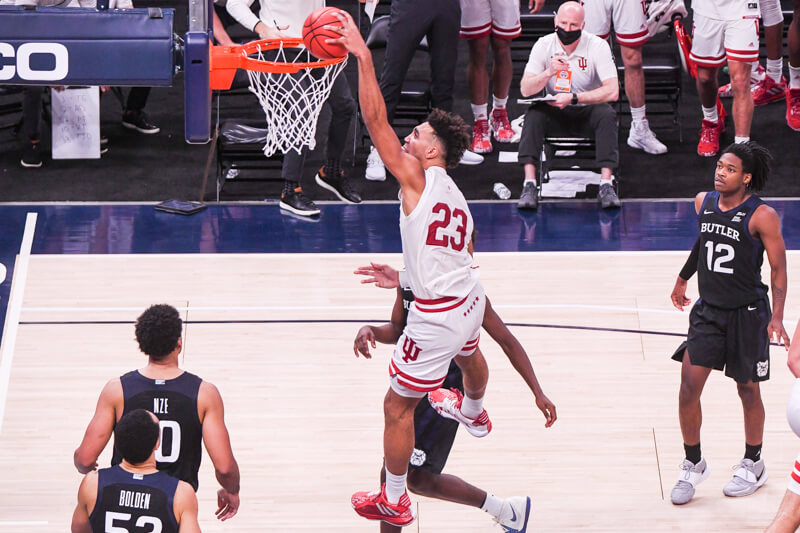 6-Banner Sunday is Inside the Hall's weekly newsletter in partnership with The Assembly Call. More than 7,500 Indiana fans receive the newsletter each week. In addition to appearing each week on the site, you can also opt to receive 6-Banner Sunday by email. A form to subscribe via email is available at the bottom of this week's 6-Banner Sunday.
Welcome to another edition of 6-Banner Sunday, a joint production between The Assembly Call and Inside the Hall where we highlight the five most essential IU basketball stories of the past week, plus take a look at how the other IU sports programs are doing.
The college basketball season is in full swing as Indiana wrapped up its nonconference schedule with a 68-60 win over Butler on Saturday in the Crossroads Classic. The Hoosiers trailed by five at the end of the first half but dominated after the break to improve to 5-2 on the season.
In the latest AP Poll, the Hoosiers were left out of the top-25 but did receive 22 votes. Indiana's two losses have come to Texas (11th) and Florida State (15th).
The Hoosiers are scheduled to open conference play at home against Northwestern this coming Wednesday at 8:30pm on BTN. Indiana is then expected to travel to highly-ranked Illinois for a big-time matchup on Saturday at 4pm on FS1. Following those games, the Hoosiers are scheduled to return home to take on Penn State and Maryland in Assembly Hall.
You can listen to this week's Podcast on the Brink with Big Ten Network Analyst Brian Butch here. You can also check out this week's edition of Assembly Call radio here.
• Hoosiers surge past Bulldogs in Crossroads Classic
• Indiana adds graduate transfer Parker Stewart
• Indiana demolishes North Alabama behind 3-point barrage
• The untold stories of Trayce Jackson-Davis' formative basketball years
• Top recruit Aminu Mohammed set to commit Monday
• Hoosier Roundup
Banner #1
Hoosiers surge past Bulldogs in Crossroads Classic
It was a rocky start again for Indiana against an undermanned Butler squad on Saturday in Indianapolis. The Hoosiers were outmuscled in the first half and allowed Butler to shoot better than 70 percent from beyond the 3-point arc. Indiana also committed seven turnovers and had zero bench points.
The Hoosiers, however, turned the game around in the second half. Indiana's defense held Butler to just 8-of-30 shooting from the field. That defense turned into fast-break opportunities and Indiana also outscored Butler 22-8 in the paint during the second half. Those factors allowed IU to take the 68-60 victory.
"I thought we challenged ourselves and I thought our guys really were disappointed in the way that we played, and I thought in the second half we came out with a much better approach," IU head coach Archie Miller said after the game.
Indiana was led by Armaan Franklin, who knocked down five 3-pointers and scored a career-high 20 points. Trayce Jackson-Davis put up another stellar performance of 21 points and eight rebounds. Al Durham also contributed 11 points.
"And Armaan, he's playing with great confidence," Miller said. "He's earned that right. He's working hard at it. And like I've said before, he's really developed into a player I think is one of the most improved players in our league this year."
Banner #2
Indiana adds graduate transfer Parker Stewart
UT-Martin graduate transfer Parker Stewart was officially introduced as a part of the Indiana basketball program Thursday afternoon. He has two years of eligibility remaining, but it's uncertain whether he will suit up this season.
The 6-foot 5-inch guard has played for both Pittsburgh and UT-Martin and is a career 36.3 percent 3-point shooter. In mid-November, his father Anthony, who was also the head coach at UT-Martin, unexpectedly died at the age of 50. Stewart then chose to leave the program.
One of the deciding factors in Parker Stewart's commitment to Indiana was his father's relationship with IU co-associate head coach Kenya Hunter. Stewart was also recruited by Hunter earlier in his career.
"I feel me and him have a good relationship and that I can trust him, and my father thought highly of him as well," Stewart told Inside the Hall.
Stewart is coming off of his first season at UT-Martin where he named to the All-Ohio Valley Conference second team. He averaged 19.2 points, 4.6 rebounds, 3.8 assists, and shot 34 percent from beyond the 3-point arc.
"Parker brings a lot of high level experience to our program and I think he will be a great fit with the guys we have not only as a player, but as a person," IU head coach Archie Miller said in a release.
Banner #3
Indiana demolishes North Alabama behind 3-point barrage
Indiana surged past North Alabama 87-52 on Dec. 13 thanks to a dominant second-half performance. The Hoosiers got off to yet another slow start and with under five minutes left in the half, the Lions cut the deficit to just eight.
However, Indiana came out firing in the second half and put up their best shooting performance of the season, making 13-of-33 attempts from beyond the arc. The Hoosiers hit nine 3-pointers in the second half alone. It was the most made 3-pointers in a single game since Indiana put in 14 against Iowa in 2018.
Armaan Franklin shined yet again, scoring 19 points, including five makes from behind the 3-point line. Rob Phinisee and Khristian Lander each added a pair of 3-pointers, too. It was a promising sign for a team that has consistently struggled to shoot the ball over the past few seasons.
"I think in the first half we stood," Miller said. "We had much better chemistry in the offense in the second half. The shots were coming off inside-out action against the zone, which you want… When the ball goes in the basket, to me, it takes the pressure off everyone."
Banner #4
The untold stories of Trayce Jackson-Davis' formative basketball years
Before all the accolades and highlight-reel plays, there used to be a very different version of Trayce Jackson-Davis. As a 7th grader, Jackson-Davis joined Team Teague, an AAU squad in the Indianapolis area, but initially didn't see much time on the court.
"Trayce was absolutely the worst player on the team by far," his coach Bill Collins said.
At that time in his career, Jackson-Davis couldn't catch. He couldn't run the floor or execute a pick and roll. Sometimes, he missed open layups. Then, Jackson-Davis put in extra time in the gym. He was patient and listened to his coaches.
"He was willing to do whatever it took to get to the goals he wanted to reach," Collins said. "If he wanted to be a McDonald's All-American, there was nothing that anybody could do to stop him."
Eventually, Jackson-Davis started catching the ball and dunking. His game kept growing and hasn't stopped since. Now, Jackson-Davis has been named a preseason All-American by multiple outlets and is the centerpiece of an Indiana team looking to make noise in the Big Ten. All of it, though, took time and hard work.
Banner #5
Top recruit Aminu Mohammed set to commit Monday
Class of 2021 five-star shooting guard Aminu Mohammed will announce his college decision on Monday. Mohammed has been a top target for Archie Miller after Indiana missed out on Trey Kaufman and Mason Miller.
The 6-foot 5-inch wing is ranked as the No. 16 player in the nation, according to the 247Sports Composite. Last season Mohammed averaged 34.8 points, 15.7 rebounds, 3.6 assists and 2.5 blocks per game for Greenwood Laboratory School in Springfield, Missouri.
Indiana, Maryland, Georgetown, Kansas State and Georgia and all considered potential landing spots for Mohammed. The lone crystal ball prediction on 247Sports has Mohammed going to play at Georgia under former IU head coach Tom Crean. There has also been discussion about Mohammed potentially enrolling this winter.
"Academics is going to be a big one," Mohammed told Inside the Hall earlier this year. "For the basketball part, it's just how they're going to be able to use me and their style of play: in transition, if they can trust me to lead a team, to be able to coach me up. Tell me my mistakes, teach me stuff, work on my mental part of the game, break down film."
Banner #6
Hoosier Roundup
As good of a day as it was for IU basketball yesterday, things could not have broken worse for IU from a football perspective. After the Bucket Game was again cancelled this week due to COVID, every game went the opposite way of what IU needed to make a New Years Six Bowl. With Iowa St. and Florida suffering close losses, they are unlikely to fall behind IU in the College Football playoff standings, leaving the Hoosiers at No. 11 one spot short of a New Years Six Game as things stand right now. One other other small, but unlikely possibility that would allow the Hoosier's into the New Year's Six, is if Notre Dame getting routed by Clemson knocks the Irish out of the playoff. This would relegate Notre Dame to the Orange Bowl and actually let the Hoosiers in at No. 11.
Fans will find out official Bowl Selections at 12pm today on ESPN, but the Hoosiers are likely headed to the Citrus Bowl per most projections. As I wrote at the end of my column last week for Assembly Call (with a larger point of trashing Big Ten for leaving IU out of Big Ten Championship), IU needs to focus on its bowl and make the most of it whether it is the New Year's Six or Citrus Bowl which will be the Hoosier's best since 1967.
Other Hoosier Headlines:
• In non-bowl related news, the Hoosiers racked up many awards this week as coach Tom Allen won both Big Ten and ACFA Coach of Year and outgoing defensive coordinator Kane Wommack was named a semi-finalist for the Broyles Award. On the players side, Ty Fryfogle was named WR of year in Big Ten as six Hoosiers received All-Big Ten honors on offensive side of ball, as did seven defensive players and three special teams players.
• In Football recruiting news, IU signed 14 players for next year, including highly ranked four-star QB Donaven McCulley from Indianapolis.
• Women's Basketball added a game against historical, but struggling power Tennessee after a cancellation against Butler due to COVID. Unfortunately, the Hoosiers lost to the Volunteers to complete a disappointing non-conference season at just 2-2 despite being the Big Ten Favorite before the year began. IU opens Big Ten play today at 4pm against Nebraska on BTN as they look to turn it around and live up to the preseason hype.
• Women's Soccer added a recruit for 2021
• The Excellence Academy named its Spirit Award Winners for the fall semester.
Many Hoosiers athletes graduated during the December Commencement.
Thanks for your continued support for The Assembly Call. We'll be back next weekend with a new roundup.
Now go enjoy yourself a 6-banner Sunday.
Tyler Tachman – Student Intern The Assembly Call
(Photo credit: IU Athletics)
Filed to: