A closer look at the Parker Stewart addition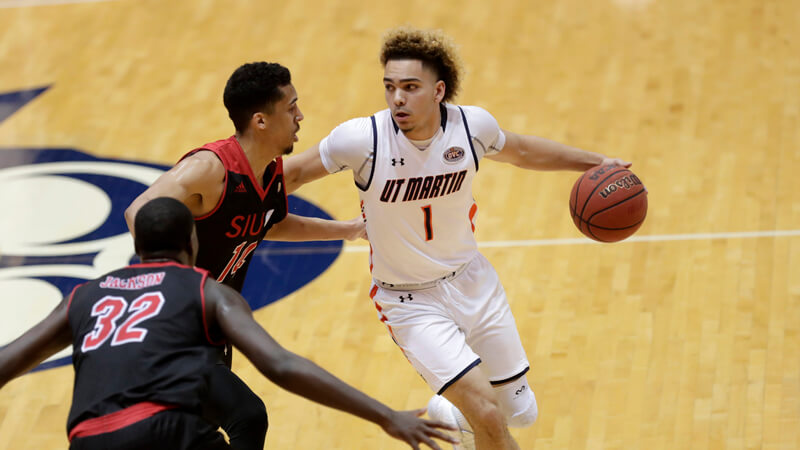 Indiana filled one of its two open scholarships on Tuesday with the addition of UT-Martin graduate transfer Parker Stewart.
In a statement provided to Inside the Hall, Stewart explained his decision to come to Indiana:
"I just feel like it's a good fit overall and the tradition at the school I just couldn't over look. I have known Coach (Kenya) Hunter for a while now. He recruited me at Nebraska while I was in high school and when I left Pitt. I feel me and him have a good relationship and that I can trust him, and my father thought highly of him as well.

"Bloomington is four hours away from where my family is currently in Tennessee and four hours away from Ohio where I'm originally from, so it just made sense distance wise. My mom has also been working on her PHD online at the university so she was happy when they recruited me as well."
Stewart is eligible to play immediately as a grad transfer, but there has not been any firm decision on whether that will happen. If he does suit up this season for the Hoosiers, it's likely that he would need time to acclimate to the system and to gain familiarity with his teammates before taking on anything more than spot minutes. After playing at Pittsburgh during the 2017-18 season and at UT-Martin in 2019-20 for his father, the late Anthony Stewart, the 6-foot-5 guard has two seasons of eligibility remaining.
Following a coaching change at Pittsburgh in the spring of 2018, Stewart made the decision to transfer from the high major level to the low major level and play for his father. He sat out the 2018-19 season before a breakout sophomore campaign that saw him average 19.2 points, 4.6 rebounds and 3.8 assists for the Skyhawks, who finished just 9-20 and No. 338 nationally in the KenPom ratings.
So unlike most transfers who move up in college hoops without experience at the highest level, Stewart is the rare up transfer who has already played in one of the nation's toughest leagues.
As the numbers below show, Stewart's role morphed from a role player as a freshman at Pitt to a high-usage offensive focal point as a sophomore (only games against Division I competition are included below):

At Pitt, Stewart's complementary role was mainly that of a spot-up shooter. According to Synergy Sports, 53.7 percent of his offensive possessions were spot-ups. He scored 1.11 points per possession on those opportunities, which ranked in the 84th percentile nationally.
For a freshman in a power league on a team that finished just 8-24, Stewart's efficient shooting numbers were one of the lone bright spots for the Panthers. According to Synergy, he scored 1.14 points per possession on jump shots as a freshman – 199 points on 174 possessions.
On film, Stewart's quick release really stands out as a strength. He can get the ball up without much space both off the dribble and in catch and shoot situations.
At UT-Martin, Stewart's usage grew significantly and the ball was in his hands far more frequently. Last season for the Skyhawks, only 14.8 percent of his possessions were spot-ups, according to Synergy. Nearly 30 percent of his possessions were as the ball handler in pick and roll and he ranked in the 85th percentile nationally in those situations with .91 points per possession, according to Synergy. His efficiency in spot-up situations fell to just .89 points per possession.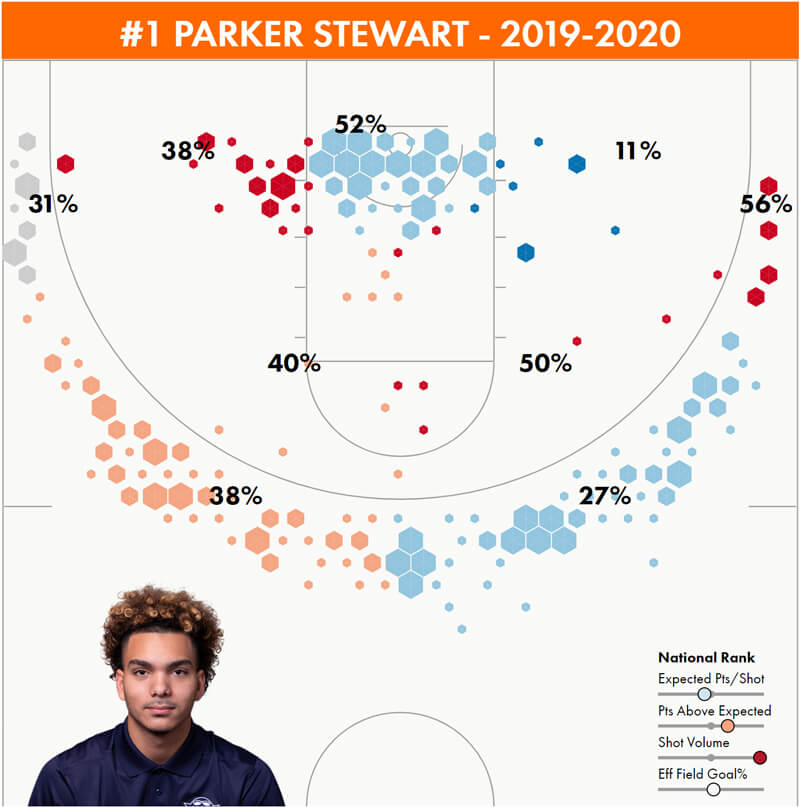 The drop in his overall efficiency was expected due to the fact that Stewart took on a much bigger offensive load at UT-Martin. After playing 26.2 minutes per game as a freshman at Pitt, Stewart played 36.2 minutes per game last season at UT-Martin. His usage rate grew from 16.7 percent at Pitt to 28.5 percent at UT-Martin. That was the 105th highest usage rate in the country and in Ohio Valley Conference play, he posted the second highest usage rate at 30 percent.
While Stewart is being billed as a major addition for the Hoosiers because of his perimeter shooting, he also showed himself to be a capable ball-handler and facilitator at UT-Martin. His assist rate of 25.4 was ninth-best in the OVC last season. This should give the coaching staff some confidence to put the ball in his hands when needed in addition to utilizing his perimeter stroke.
With two scholarships open and shooting a continued concern in year four of the Archie Miller era, there's plenty to like about Stewart's addition for Indiana. He's already played at the highest level of college basketball, he's experienced and he's also the son of a coach, the late Anthony Stewart.
Indiana's guard rotation is pretty well set through six games with Al Durham Jr. and Armaan Franklin both playing 29 minutes per game and Rob Phinisee at nearly 25. If Stewart opts to play this season, he certainly looks capable of solidifying Indiana's guard depth off the bench, which has been inconsistent through six games.
(Photo credit: UT-Martin Athletics)
Filed to: Parker Stewart