Five takeaways from Indiana's win over North Alabama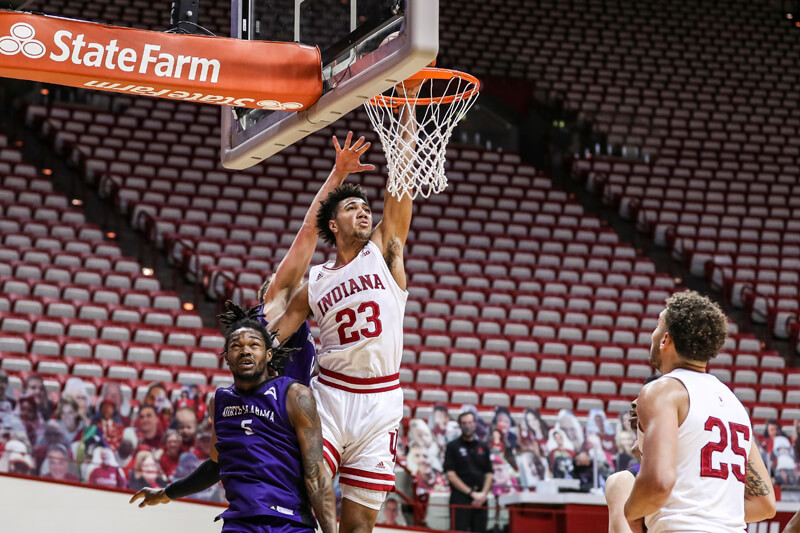 It took more than 20 minutes of game time before Indiana finally imposed itself on North Alabama on Sunday afternoon in Bloomington.
As has been the case over the first few games of the season, the Hoosiers got off to a slow start. With under five minutes remaining in the half, North Alabama was able to cut the lead to just eight. Junior Rob Phinisee and sophomore Al Durham both struggled in the half, shooting a combined 1-of-5 from the field, while the Hoosiers turned the ball over 11 times.
By the end of the half, Indiana was able to extend its lead to 40-24 after a steal and score by freshman Jordan Geronimo to beat the buzzer.
"Coach got into us," Armaan Franklin said about Archie Miller's halftime speech. "I think that he just lit a fire under us and put a big emphasis on taking care of the ball. And once we take care of the ball we'll get easy looks."
That's what Indiana did in the second half as the Hoosiers were finally able to gain momentum in what turned out to be an 87-52 blowout victory.
North Alabama is the last low-tier opponent that Indiana will face this season. The schedule will only get tougher from here as Butler is next for IU in Crossroads Classic, followed by the start of Big Ten play.
"I don't think any team feels like they are where they need to be," Miller said after the game. "It just feels like the season is so different. The great thing about our schedule, whether you like it or not, is that we've played really good teams. It's given us a reality check of what we have to do to continue to get better."
Here are five takeaways from the win:
• Armaan Franklin continues to shine: Entering this season, there was a significant amount of excitement surrounding the experienced Indiana backcourt of Rob Phinisee and Al Durham Jr. But so far, sophomore Armaan Franklin has been the most consistent player on both ends of the floor for the Hoosiers.
Franklin has spearheaded IU's superb defensive efforts this season. He's already made things difficult for a pair of five-star freshmen in Stanford's Ziaire Williams and Florida State's Scottie Barnes. It continued on Sunday as Franklin recorded three steals and one block, while tallying a team-high plus-minus of 35.
"Just play both ends of the floor and trying to be a complete two-way player," Franklin said. "That's what I strive to be. I'm working to do that every day."
On offense, Franklin's aggressiveness was apparent again, too. He notched a career-high 19 points and hit five 3-pointers, while also dishing out five assists and grabbing four rebounds.
"He continues to evolve as a player for us, but I was really happy for him to see that ball go through the net," Miller said. "He's really worked hard on it and I think that's going to be the Armaan that we get used to seeing. With the ways that he's defending for us and the way that he's creating, he's turning into a terrific player early in the year for us."
• Hoosiers display potent 3-point shooting: Perimeter shooting has long been an aspect of frustration for Miller's groups at Indiana. This season, despite playing with a guard-oriented lineup, has been no exception. Indiana entered the game against North Alabama shooting under 30 percent from the 3-point range.
Sunday, however, was a different story. The Hoosiers shot nearly 40 percent from beyond the arc, converting on 13-of-33 attempts. It was the most made 3-pointers Indiana has hit since they put in 14 against Iowa back in 2018. IU hit nine in the second half alone.
"I think in the first half we stood," Miller said. "We had much better chemistry in the offense in the second half. The shots were coming off inside-out action against the zone, which you want… When the ball goes in the basket, to me, it takes the pressure off everyone."
A total of seven Hoosiers dropped in 3s. Behind Franklin's five makes, Phinisee and freshman Khristian Lander each made a pair. Galloway, Hunter, Leal and Durham all made one.
Moving forward, not only will shooting at a high clip improve confidence, but it will also allow Trayce Jackson-Davis more room to maneuver in the paint as defenders will be forced to respect the perimeter threat. With Indiana's defense, a few made 3-pointers will go a long way.
• Another excellent defensive outing: It seems as though Miller's vision for a defensive-minded team is finally coming to fruition this season. Entering the game against North Alabama, no one had shot better than 41 percent from the field against Indiana.
That trend continued on Sunday. North Alabama finished the game at 33 percent from the field and 17 percent from 3-point land. The Lions turned the ball over on 18 occasions and the Hoosiers recorded seven blocks and 10 steals. Indiana turned those North Alabama's turnovers into 23 points on the offensive end.
"We're a better defensive team at this point in the season than we were a year ago, that's not close," Miller said. "Our perimeter quickness is better and we're much more disciplined off the ball."
Following the win, Indiana moved up to No. 10 in KenPom's adjusted defensive efficiency ratings. That level of defense will need to be sustained as the conference season nears with many Big Ten teams boasting dangerous offenses.
• Increased bench production: There has been some uncertainty pertaining to who will step up off of the bench for Indiana this season. It hasn't helped that, at times, their depth has been depleted with the injuries to Durham and Joey Brunk. On Wednesday's game against Florida State, Jerome Hunter was the only Hoosier reserve to contribute in the scoring column.
But on Sunday, the Hoosiers launched a platoon of bench scoring, accounting for 34 of their 87 points. Trey Galloway and Khristian Lander both contributed double-digits, while Hunter, Geronimo and Leal combined for 13 more.
"It's just about building our confidence up so when we come in a big game, we're more comfortable," Lander said.
It was a career-high of 10 points for Lander who has gotten off to a relatively underwhelming start to his time as a Hoosier. He made two 3-pointers while hitting all four of his attempts from the free-throw line. He added four rebounds and three assists, but did turn the ball over three times in 17 minutes.
"Khristian, he just needs more experience," Miller said. "He's like your youngest son. As a parent you say 'keep an eye on that young one, he's going to be special one day'. But in the meantime, he's got to grow up while the older guys are hanging in there."
• Indiana dominates the glass: With a smaller lineup this season, rebounding is what has concerned Miller the most. It's become even more of a problem with Brunk sidelined, and there are times when Hunter or Geronimo are forced to play the power forward position.
Indiana commanded the rebounding battle against North Alabama, though. The Hoosiers only allowed the Lions to grab 12.8 percent of their missed shots. Jackson-Davis and Hunter led the way with seven rebounds apiece, while Phinisee and Race Thompson each snatched five of their own.
"We were quicker to balls. We got more deflections," Miller said. "We're still not anywhere near good enough defensive rebounding."
Earlier in the week, Florida State was able to grab some rebounds late in the game that proved to be the difference. While North Alabama was undersized, it's certainly a step in the right direction for Indiana.
(Photo credit: IU Athletics)
Filed to: Armaan Franklin, North Alabama Lions