Trayce Jackson-Davis and Armaan Franklin are in the spotlight together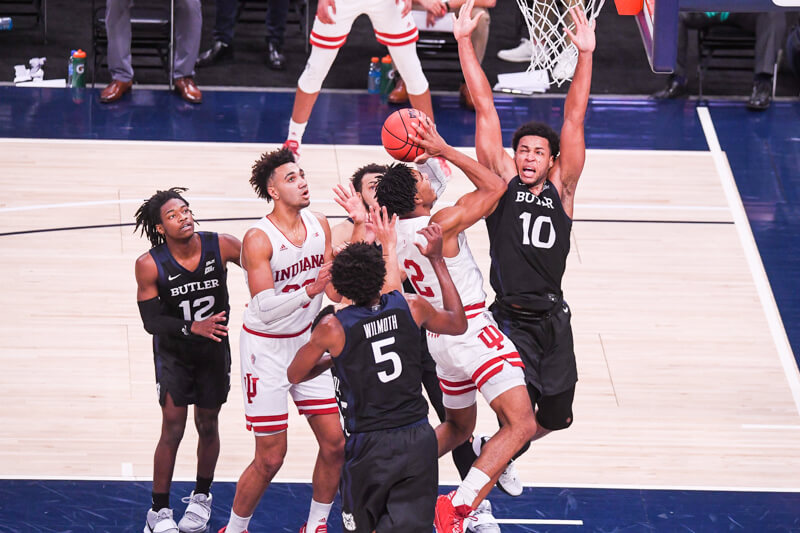 By 247Sports' calculations, Indiana's 2019 recruiting class wasn't even ranked in the top-50. They were 53rd to be exact. On their website, you have to click the "load more" button just to find Indiana along with the high school flicks of Trayce Jackson-Davis and Armaan Franklin.
It was IU's lowest-ranked incoming freshmen since 2010. There were also five Big Ten schools ranked ahead of IU. Ranking-wise, it didn't help that there were only two newcomers.
It wasn't as if there wasn't excitement surrounding the class, though. Playing for Center Grove High School, Jackson-Davis was ranked 30th nationally. He was selected as a McDonald's All-American and named Indiana Mr. Basketball. Franklin, on the other hand, wasn't as highly touted. At Cathedral High School, he came in at 151st but was still a finalist for Indiana Mr. Basketball.
They didn't, however, quite have the pop that came the year before. In 2018, Archie Miller brought in a big-name class headlined by Romeo Langford and backed by four-stars Rob Phinisee and Jerome Hunter. It was a steep task following Langford as Indiana Mr. Basketball and Franklin's instant impact wasn't certain.
But Saturday's Crossroads Classic game against Butler proved you can throw the rankings out. The duo combined for 41 points, carrying the Hoosiers to a 68-60 win over the Bulldogs in the final pre-conference matchup. It was a sight of unified dominance between the duo that, at this time last year, seemed quite unlikely.
"Armaan, he's playing with great confidence," Miller said of Franklin after the game. "He's earned that right. He's working hard at it. And like I've said before, he's really developed into a player I think is one of the most improved players in our league this year."
In many instances, success on the court is a byproduct of chemistry off of it. Luckily, for Jackson-Davis and Franklin, they have a lot of it. They started playing together in 7th grade, although Franklin wasn't as fond of Jackson-Davis at the time.
As both grew into college prospects in the Indianapolis area, their relationship was evident on the recruiting trail. In 2018, they attended Hoosier Hysteria together shortly after Franklin committed to Indiana early that month. When Jackson-Davis posted that he was scheduled for a visit to Michigan State, Franklin tweeted: "That ain't it tbh."
Eventually, Jackson-Davis ended up at Indiana and naturally, he and Franklin roomed together. They watched Will Farrell movies, notably Step Brothers, an estimated six times. They played Madden, FIFA and Call of Duty. Often, they've been seen walking around the Memorial Union on campus.
"Those two guys together are always around each other," Cathedral head coach Jason Delaney said.
Their freshman seasons, though, were drastically different. Jackson-Davis quickly became a key piece of Indiana's attack, earning Big Ten All-Freshman honors and garnering national attention. Franklin, however, navigated a rocky season that saw him go from a starter to rarely seeing the court.
On Saturday against Butler, though, Indiana needed both Franklin and Jackson-Davis to win.
Franklin did his part first. The Hoosiers slogged through the middle of the first half, where they fell into a deficit of up to nine and allowed the Bulldogs to shoot better than 70 percent from 3-point range. But Franklin kept Indiana in the game, connecting on four 3-pointers of his own. His 13 points led the Hoosiers and allowed them to stay within five points at the break.
Then it was Jackson-Davis' turn to assert himself in the paint after Indiana's frontcourt was outmuscled in the first half. Jackson-Davis scored 11 of his 21 points in the second half, helping IU outscore Butler 22-8 in the paint during that period. He also swatted a career-high five blocks.
"Just seeing him get better year after year, being a dominant force in college basketball right now," Franklin said of Jackson-Davis after the game. "I'm happy for him and I'm proud of him."
Franklin cooled off a little bit in the second half, but still finished with a career-high 20 points, topping his previous best of 19 which he set last Saturday.
"So I know he wanted to prove to himself this year what kind of player he is," Jackson-Davis said. "I already knew he was capable of doing all these things, and all the work is starting to show out here."
Indiana wouldn't be where they are at 5-2 without both Franklin and Jackson-Davis. Franklin, who worked his way back into the starting lineup this season, has emerged as a stat-stuffing extraordinaire all year. And Jackson-Davis has been living up to his preseason All-American honors, controlling the paint with poise.
"Their positive attitude and work ethic has really affected that chemistry and the work of the other guys," Delaney said.
Miller has offered a similar sentiment, saying that Indiana's chemistry starts with Jackson-Davis. Over the summer they went swimming at Monroe Lake and paintballing with other teammates. Heading into conference play, Jackson-Davis and Franklin will need to keep leading the team.
Following the game, Jackson-Davis and Franklin walked through a dimly lit hallway. In a selfie, they both held up "peace" signs. The picture's captain read: "them indy boys a problem man."
Indeed, they are.
Filed to: Armaan Franklin, Trayce Jackson-Davis