2020-2021 Player Profile: Al Durham Jr.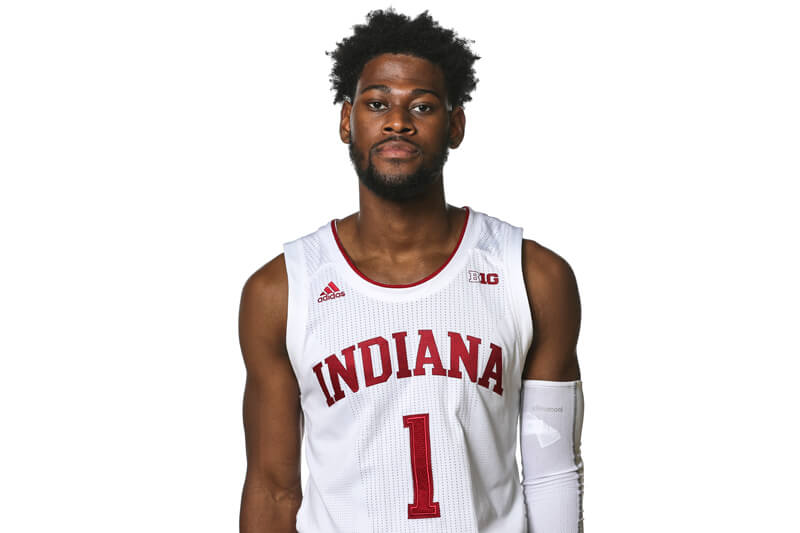 With the start of college basketball season scheduled for later this month, we've transitioned from our look at other Big Ten programs to our player-by-player previews of the 2020-21 Indiana roster. Today, our player profiles conclude with a look at senior Al Durham Jr.
Entering his senior season, Al Durham will be relied on as an experienced force in Indiana's backcourt yet again. He's the only player on IU's roster to have played three full seasons with the Hoosiers and was recently named a team captain for the second consecutive season.
Since his freshman season, Durham has been a contributor for Indiana and has made more than 70 starts in his career. There was a time, though, where it was uncertain whether Durham would even end up in Bloomington.
Durham was one of the last recruits brought in by former head coach Tom Crean. In 2015, Durham decided to spend his college years in Bloomington, making him the first commitment in Indiana's 2017 class. In March of 2017, the spring before Durham was set to arrive on campus, Crean was fired.
Originally, Durham requested for his National Letter of Intent to be released from Indiana. But after speaking with newly hired head coach Archie Miller, Durham was confident enough to stick with IU.
Out of the original four-man 2017 recruiting class, Durham and redshirt junior Race Thompson are the only two left on Indiana's current roster. Over the last two years, Clifton Moore and Justin Smith both transferred out of the program.
As a freshman, Durham earned significant minutes, mostly off of the bench, averaging 4.8 points, 1.9 rebounds and 1.3 assists per game. He shot a subpar 28 percent from beyond the arc.
Durham stepped into a bigger role as a sophomore, making 30 starts for the Hoosiers and averaging more than 28 minutes played per game. He nearly doubled his scoring average to 8.3 points per game, while his assist and rebound numbers remained relatively the same. There was, however, a noticeable improvement in his 3-point shooting, converting on better than 34 percent of his attempts.
Last season, Durham became a leader for Indiana and was named a team captain along with Devonte Green. The 6-foot- 4 Durham started all 32 of Indiana's games, averaging 9.8 points and leading Indiana in 3-point field goal percentage (38 %). He finished second on the team with 80 assists and his 81 percent mark from the free throw stripe ranked 5th in the Big Ten.
"We're comfortable with him, how we trust him, how his teammates trust him," Miller said last November of Durham. "Some guys are self-made. He takes great pride in his own development."
At the beginning of the season, Durham was shooting the ball at an efficient clip. He scored in double-figures in the first four games of the season, combining for nine 3-pointers in that stretch. Over the first 11 games, Durham averaged more than 12 points per game.
As Indiana started to face more high-major and Big Ten competition, some of Durham's production fell off. There was a five game stretch in the middle of the conference schedule where Durham averaged 5.6 points. In a crucial game at Mackey Arena against Purdue, Durham only scored two points.
There were also games where Durham provided a huge boost for the Hoosiers. He scored 14 points in an important home win against No. 9 Penn State and added 13 in a near loss to Illinois. He concluded the season averaging 9.8 points and 2.1 rebounds per game. As an on-ball guard, Durham's 2.5 assists per game were a bit troublesome since Indiana didn't have a reliable pass-first guard.
This season, Durham figures to be a lock in the starting lineup alongside junior guard Rob Phinisee. His experience will be imperative for the growth of Indiana's young guards like Khristian Lander, Trey Galloway, Anthony Leal and Armaan Franklin. The importance of having a weathered floor general like Durham on the court in late game situations will prove to be vital.
"They're young, just getting on campus so I've been trying to teach them the ropes, teach them how to workout and teach them the bits and pieces of our offense and defense and get them a head start on how we do things and how to prepare and be ready for the workouts," Durham said over the summer. "I just tried to talk them through it and keep them away from that freshman wall as much as I can."
Durham will also need to put up consistent numbers from beyond the arc again for Indiana to be successful. As a team last season, the Hoosiers shot a dreadful 32.6 percent on 3-pointers. If Miller goes with a more guard-oriented lineup, Indiana will have to make 3-pointers on a somewhat consistent basis with Durham being a major part of that.
With Durham's ability to knock down free throws, his aggressiveness attacking the basket and drawing fouls can be another prosperous part of his game. Defense is part of the reason Durham earned minutes early on in his Indiana career and will continue to be a factor in his game this season.
Miller has also put an emphasis on decreasing the amount of turnovers and increasing the amount of assists this season. Indiana ranked 189th in the nation in assists last season. Durham isn't a high-volume facilitator, which is an aspect that could use improvement heading into this season, especially if he's going to be spending any time as the primary ball handler.
Bottom Line: Durham is one of Indiana's leaders and will have to produce at an even higher level and more consistent basis than last season. Indiana's backcourt looks a lot different than last year with the influx of guards in the freshman class, and Durham will be counted on to lead the group. In his final go around, Durham will look to make his first NCAA tournament.
Quotable: "Being a captain last year, you know, it's an honor always to be looked at by your teammates like that so I felt like it was my opportunity to have my input with the guys and make sure that I don't steer them wrong. It was just, I guess, a big learning step for me and how I can do it and how I can become a leader on and off of the court and how I can gel with the guys. So, I feel like it's just a stepping stone to what I'm trying to do my senior year and make sure we're all on the same track." – Al Durham at Indiana's media day.
Previously: Jordan Geronimo, Khristian Lander, Anthony Leal, Trey Galloway, Armaan Franklin, Trayce Jackson-Davis, Jerome Hunter, Rob Phinisee, Race Thompson, Joey Brunk
Filed to: 2020-2021 season preview, Aljami Durham