6-Banner Sunday: Archie Miller and IU players speak to media about challenges of new-look college basketball offseason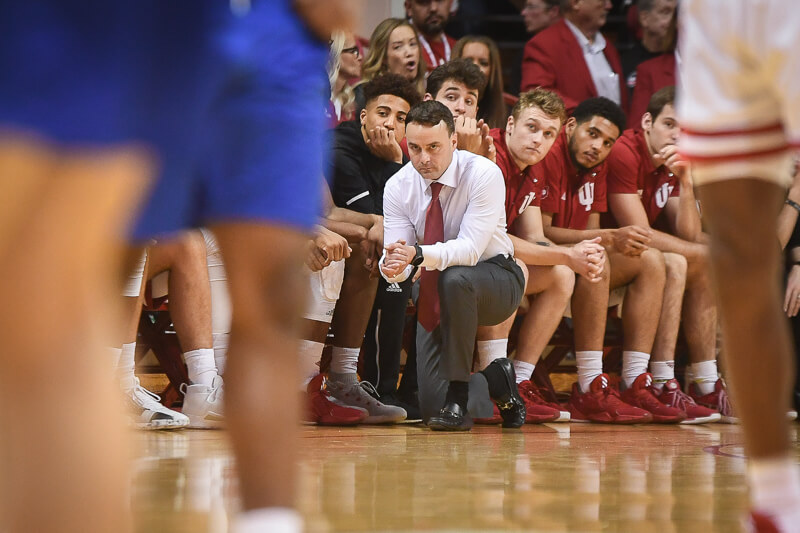 6-Banner Sunday is Inside the Hall's weekly newsletter in partnership with The Assembly Call. More than 7,000 Indiana fans receive the newsletter each week. In addition to appearing each week on the site, you can also opt to receive 6-Banner Sunday by email. A form to subscribe via email is available at the bottom of this week's 6-Banner Sunday.
Welcome to another edition of 6-Banner Sunday, a joint production between The Assembly Call and Inside the Hall where we highlight the five most essential IU basketball stories of the past week, plus take a look at how the other IU sports programs are doing.
For the first time since the end of the 2019-20 season, Archie Miller and returning IU players met with the media this week to discuss how they've handled a challenging and unpredictable offseason.
It was the latest evidence of a college basketball offseason that has continued to operate as normal as possible, despite the widely-known health and safety challenges to reopening colleges and their athletic programs around the country.
News on Saturday from the NCAA confirmed plans to still have a college basketball season, but plenty can change in the meantime as the COVID-19 pandemic continues to evolve. In between now and then, focus in the short-term can shift to what IU has done this offseason to be ready for next season, one that promises to look more different than ever before.
• NCAA still planning to begin college basketball season on November 10th
• Archie Miller and IU players meet with the media
• How Indiana basketball has adapted to the COVID-19 world
• A look at the recruiting picture for Class of 2022 backcourt prospects
• Former Hoosiers resume NBA season in Orlando
• Hoosier Sports Roundup
Banner #1
NCAA still planning to begin college basketball season on November 10th
In an interview with Andy Katz that was published Saturday morning on Twitter, NCAA senior vice president Dan Gavitt said the NCAA is still planning for the college basketball season to begin on November 10th.
That's the day Indiana is scheduled to host NJIT inside Assembly Hall.
Gavitt told Katz that contingency plans are being considered by the NCAA, and that September is when the NCAA will likely solidify plans as to what the season will look like.
While Indiana basketball just wrapped up six weeks of summer workouts on the IU campus in a phased return to offseason work for players, it hasn't been as smooth a process for other IU sports.
The IU football program just got back to voluntary workouts on Friday after halting workouts due to members of the program testing positive for COVID-19.
IU also released its latest testing results Friday afternoon: The positive test rate is 6.875 percent from 480 total tests, which means 33 positive tests have been reported since testing began June 8.
Banner #2
Archie Miller and IU players meet with the media
But while the IU football program had to halt workouts due to positive tests, the IU men's basketball team was able to largely complete its six weeks of summer workouts without issue.
Archie Miller and several key returning players, including Trayce Jackson-Davis, Al Durham and Rob Phinisee, spoke at length with the media earlier this week about what the process was like to get back to basketball work and other lessons learned by the IU team during this offseason.
Both Miller and his players also discussed the specifics of what next season's IU team will look like, from more ball screens being used to the realistic expectations for five-star freshman recruit Khristian Lander.
Race Thompson, someone frequently cited as a leader this offseason during that media session, was also announced as IU's 'offseason champion' Friday night.
While we're speaking of offseason news, there's no better time to take a deep dive into IU's shooting habits than the summer offseason months. Coach and Ryan have you covered in this regard on this week's edition of Assembly Call Radio.
Banner #3
How Indiana basketball has adapted to the COVID-19 world
One of the biggest points of discussion when Miller and IU players met with the media was adapting to life within college basketball in a COVID-19 world.
From regular temperature checks upon entry to Assembly Hall and Cook Hall to the new look of recruiting, it's been a period of adjustment for players and coaches alike.
Inside the Hall's Tyler Tachman, a new writer who officially joined the website this past week and will be helping out with Assembly Call in the near future, wrote about how Archie Miller has changed with the times and ensured that the new look of college basketball won't leave him behind.
Later in the week, I wrote about the many unknowns that still loom over the resumption of college basketball, and how IU players like Joey Brunk and Trayce Jackson-Davis are taking a day-by-day approach to being ready for when the games begin.
Banner #4
A look at the recruiting picture for Class of 2022 back court prospects
Part of the changes that have come to college basketball during COVID-19 is the entirely virtual nature of recruiting. Text messages and Zoom calls have replaced in-person visits, and two more recruits Indiana is pursuing have had to modify their recruiting journeys based around this: Avery Brown and C.J. Gunn.
I profiled both players for Inside the Hall this week.
Brown picked up an IU scholarship offer last weekend, and is looking forward to his junior season at Northfield Mount Hermon (Massachusetts) after averaging 6.6 points and 4.1 assists per game as a sophomore.
He joins Skyy Clark and Bruce Thornton as Class of 2022 back court players that Indiana has extended a scholarship offer to.
Gunn is another Class of 2022 guard from Lawrence North High School in Indianapolis. He doesn't have an IU offer yet, but after an injury-shortened sophomore season he's looking forward to shouldering more of the load for a Lawrence North team that figures to again be among the state's best.
Banner #5
Former Hoosiers resume NBA season in Orlando
The NBA also made its long-awaited return this week, with regular season games resuming inside a 'bubble' environment in Orlando.
This meant plenty of former Hoosiers renewed their quests to win an NBA championship, as over the course of the first few days of play, all former IU players in the bubble saw their teams resume play.
While the likes of OG Anunoby (Toronto Raptors), Romeo Langford (Boston Celtics), Juwan Morgan (Utah Jazz), Eric Gordon (Houston Rockets), Yogi Ferrell (Sacramento Kings), Thomas Bryant (Washington Wizards), Noah Vonleh (Denver Nuggets) and Victor Oladipo (Indiana Pacers). While not all played in their teams' return to action, there's a chance to follow along with them and see how far each player progresses in the new-look NBA season.
Banner #6
Hoosier Sports Roundup
• Women's Basketball picked up a big time recruit in top 75 guard Kiandra Browne who will re-classify and join the Hoosiers this season.
• Wrestling also picked up an addition with a transfer.
• Men's Tennis earned academic awards. Women's Tennis was also given a similar award.
• Volleyball also picked up an award.
• Former Soccer Hoosiers continued action in the MLS tournament.
Thanks for your continued support for The Assembly Call. We'll be back next weekend with a new roundup.
Now go enjoy yourself a 6-banner Sunday.
Filed to: