Class of 2022 point guard Bruce Thornton offers a defense-focused, physical option for Indiana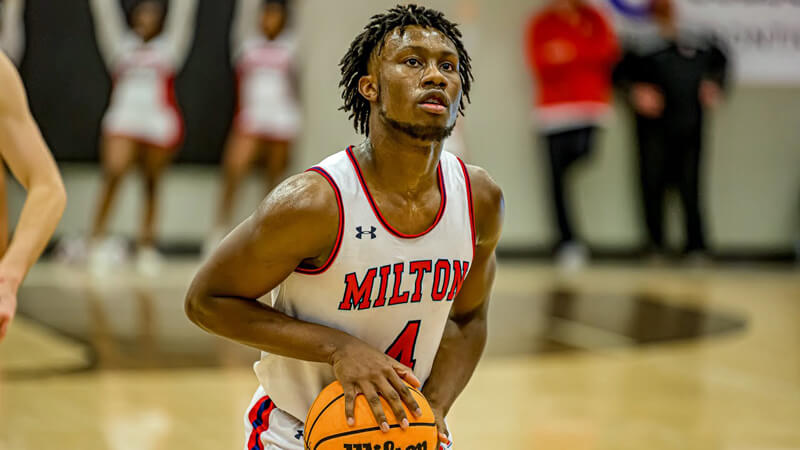 Will Whetstone knows the internal and external emotions of Bruce Thornton better than most.
As Thornton's coach with the Atlanta-based Nike EYBL team The Skill Factory, Whetstone is allowed access into Thornton's more relaxed moments, the ones not on a basketball court, but in the backseat.
Whetstone remembers the first time his wife and Thornton met.
The occasion was a summer basketball tournament, and Whetstone's wife was seated next to Thornton in the back of a car.
"He's just sitting in the backseat giggling and she's like 'Why is he just giggling?'" Whetstone recalls. "We said, 'That's Bruce.' He's always smiling, always giggling. He's real…they call him goofy…whenever he sees me he just automatically gives me that smile and starts giggling."
This is Thornton in private.
"He's very humble," Whetstone continues. "But inside he just has that mentality of 'I want to win. I'm going to do everything it takes to win. Anything it takes for my teammates to be successful. Anything it takes for my teammates to win the game.'"
Thornton's high school coach at Milton High School (located about 35 miles north of Atlanta), Allen Whitehart, agrees.
"If he dunks on a 6-9 kid, his demeanor doesn't change," Whitehart explained. "It's the same demeanor of whether he makes an easy bounce pass for one of his teammates to score. His demeanor is just even keeled."
It's a balance that's helped Thornton become one of the most sought-after point guards in the class of 2022.
With more than a dozen high-major college offers to his name, including one from Indiana, Thornton is in high-demand thanks to his offensive playmaking and resolute defense.
Now a 6-foot-2, 190 pound prospect, Whitehart remembers Thornton joining Milton as a shy but respectful freshman, someone who built relationships on trust.
"With him, the bottom line is 'How do I get better and how can I affect winning?'" Whitehart said.
His on-court growth in two seasons with the Eagles can be measured qualitatively and quantitatively.
Whitehart praises Thornton's enhanced understanding of basketball, his being able to see multiple things on the court at once.
This can be attributed to Thornton's thoroughness.
Whitehart said the night before each Milton game, Thornton will ask the team's 'film guy' to send him 'all the clips he has' of the player Thornton will guard.
"I think his anticipation of what's going to happen…he's just a bulldog," Whitehart said. "He takes defense very seriously."
Statistically, Thornton's growth is confirmed on the offensive end.
As a sophomore, Thornton averaged 23 points, 7.5 rebounds and 6.1 assists per game, showing an ability to both get teammates involved or do the scoring himself.
That's something Whetstone, who has been Thornton's coach at The Skill Factory since Thornton entered middle school, knows well.
Whetstone made his first practice with Thornton intentionally difficult, full of structure and system. Even from a young age, Thornton was up for the task.
"He was always one of those kids that picked up on everything," Whetstone said. "In fifth grade he already knew certain defensive concepts, jumping to the ball or being vocal, high hands on closeouts, things like that."
Now, the duo knows each other's idiosyncrasies.
"I'll always give him a look and I'll give him a nod and he knows we need a bucket," Whetstone said.
Thornton was moved to point guard at The Skill Factory in the sixth grade, which meant he was slotted into Whetstone's up-tempo offensive system which prioritized getting the ball out quickly.
Once Thornton successfully learned how to make a skip pass ahead to teammates, the rest of his offensive game rounded into form.
"As teams started taking that away, he would continue to maintain his dribble. Then he would be able to get to the basket with contact at sixth grade, and then seventh grade, and then eighth grade," Whetstone said. "It was effortless, he could change directions.
"Teams would start to jump him as he was dribbling the ball up the court, and he was always able to make the right play. He was always able to get in traffic and take the contact. That was one of the things early on, just putting the ball in his hands and making sure he was the playmaker."
Those early lessons shaped Thornton's development as a player, while work ethic has carried him the rest of the way.
Citing long hours spent in the gym, both Whetstone and Whitehart give Thornton credit for the way he has refined his game.
"His jump shot is just on point, the rotation, the form," Whetstone said. "Each and every time I see him on the floor he's just so efficient. When he has the opportunity to knock down a shot, he does. When he goes on spurts where he just gets hot and just starts scoring, pull-up 3s and things of that nature."
Now, more advanced elements of Thornton's game, ranging from ball-screen reads to dealing with full-court pressure, are workshopped during practice.
The results are already apparent.
"As a freshman, because he's so physically strong, most teams on a ball screen would go under the ball screen, which forced him to pass it or he didn't shoot it as effectively," Whitehart said. "Last summer that was an area we knew that he worked on a lot, and last year if you were defending him and you went under a ball screen, he would make you pay because he would knock down the open 3."
While Whitehart values Thornton's on-court skills, it's his mentality that has most endeared him.
In offseason talks with Whitehart, Thornton wasn't focused on increasing his team-best 23 points per game from last season, but rather he set a new goal: To average more than 10 assists per game next season as a junior.
It's an assertion reflective of Thornton's personality, one trait everybody can clearly see.
"As good as a basketball player he is, he's a better kid, he's a better person," Whitehart said. "He's selfless, he is all about the culture. He is the epitome of a giver and not a taker."
Filed to: Bruce Thornton