College basketball is changing and Archie Miller won't be left behind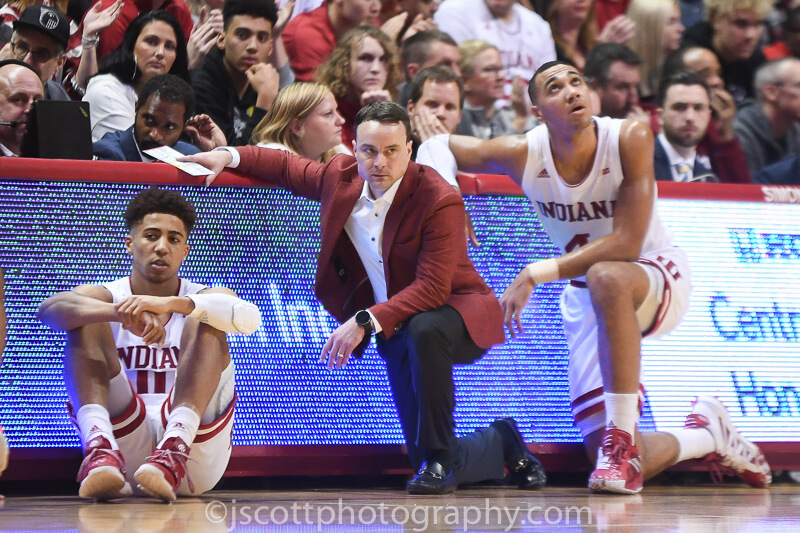 Fourteen months ago, Indiana head coach Archie Miller traveled southeast of Bloomington, away from Assembly Hall and into the countryside.
Miller was making his way to Huber's Orchard and Winery, which sits 20 minutes outside Louisville near the Indiana-Kentucky line, for an annual Indiana basketball fan event. He was greeted by miles of lush green vineyards, coy ponds and scenic white barns. A feast of fried chicken, green beans, corn and chicken and dumplings was served to those in attendance.
It was there in late May of 2019 that Miller updated basketball fans about the program's plan for summer workouts. He talked about the madness of countrywide recruiting dawning in the following months, the prospects of a more experienced Damezi Anderson and the recent hard work of Justin Smith.
Miller also fielded questions from a group of huddled reporters.
Fast forward to this summer and everything looks different. Miller didn't leave Bloomington during the most hectic recruiting months of the year, Damezi Anderson and Justin Smith transferred out of the program and the first media availability of the offseason was held on Zoom.
And that's just where these wild times start.
The manner in which Indiana finished last season's schedule, with two Nebraska football players on the court and coach Fred Hoiberg catching mid-game sniffles, kicked off what has become one of the most bizarre offseasons in recent history.
Since then, as a COVID-19 pandemic rapidly spread, March Madness was canceled, all major professional leagues have been left in an extended hiatus and the future of collegiate fall sports has still not been decided.
On Wednesday, Miller made his return in front of the local media. This time, there was no wine. No appetizers. No Indiana countryside.
Instead, after months of quarantine and the recent resumption of workouts, Miller hunched in front of a camera while seated in a leather chair in his home office.
"I'm happy to be here with you guys tonight," Miller said. "I think that our current team and our situation has been sort of a blessing in disguise. I think being able to come back to see how things are going to work, to see how comfortable things are gonna, you know, hopefully can get as time moves on."
Miller was speaking to a group that was mere floating heads in one by one inch boxes roaming within the widespread realm of the internet. Senior Al Durham answered questions as he shuffled down a hallway. One reporter forgot to unmute his microphone while trying to talk to junior Rob Phinisee. After patiently waiting in silence for nearly 15 seconds Phinisee's lips curled into a smile.
To travel back in time to the winery and describe the new absurd reality of sports would be laughable. Yet, this is the new normal.
Miller, like many former players, is a creature of habit, built on routines and may not be swayed to change.
Since his collegiate days at North Carolina State, Miller has kept his hair consistently uniform, a fade on the sides and longer on the top, with no more than a stubble on his face. His focused demeanor likely only deviates at the mention of Oscar the Grouch and bracketologist Joe Lunardi. In January, Miller vowed to chew only grape gum after Indiana's 66-54 win over No. 19 Ohio State, where grape was the day's flavor of choice.
The stubbornness can also show in Miller's coaching style.
Last season, Miller kept junior Joey Brunk in the starting lineup in 31 of the 32 games, despite the fact that Brunk fell into a 10-game stretch where he averaged 3.9 points and less than 15 minutes per game. Miller also stuck with the highly criticized three big man lineup that included Justin Smith, even though it led to a weak perimeter presence. In 2018-19, Miller failed to alter an offensive game plan that left lottery pick Romeo Langford spending a majority of time sequestered in the corner away from the action.
But like everyone else, through the uncertainty of the pandemic, Miller has been forced to change.
While at home during the quarantine, Miller has ramped up his fitness, logging more than 100 days on a VersaClimber in his basement. He also has spent time with his 15 year old daughter watching the Bad Boys Trilogy, according to an article in The Athletic.
After not posting on Instagram since 2017, Miller made an appearance on his first ever Instagram live in an interview with Talia Goodman, the daughter of college basketball insider Jeff Goodman. In the video, a relaxed and slightly sunkissed Miller talked about his relationship with his brother Sean.
Miller is also evolving in his coaching philosophies. In the press conference on Wednesday, Miller mentioned his plan to rely more heavily on a guard-oriented lineup with the addition of freshmen guards Khristian Lander, Anthony Leal, Trey Galloway and Jordan Geronimo.
"Our skill level goes up, our turnovers go down or shooting percentage goes up," Miller said. "Our style is a little bit more up-tempo, more so than a year ago, but I feel like we have a more skilled team."
Recruiting has also seen major adjustments. The new process requires Miller to watch more film and build trust with recruits over Zoom. The staff has been tasked to recreate a campus atmosphere through virtual visits. Miller, who has brought in the last three Indiana Mr. Basketball winners, has been forced to take "a little blind faith," as he says, on some evaluations.
"I will tell you this, I think it's a good way of really recruiting now," Miller said. "And I think probably every staff in the country sort of figured it out on your own, on what works for you."
Before Miller left the call, he even sarcastically cracked a joke about not seeing a recruiting analyst multiple times over the summer.
"We're going to give him a shield, a thing that looks like a welder," Miller explained on how to keep safe, motioning over his head with a smirk.
The events over the last few months could alter the landscape of college sports and recruiting forever. Heading into his fourth year as head coach at Indiana, through a time of constant confusion, the usually unchanging, stone-faced Miller has emerged with signs of adaptation. Even a smile.
Miller said he was certain that there will be a basketball season this year. But nobody really knows. Surely not the NCAA.
If there's one thing that's certain since the event at the Huber's last spring: A lot can change in a year.
Filed to: Archie Miller