'He is fearless': Indiana recruiting target Skyy Clark has the basketball world at attention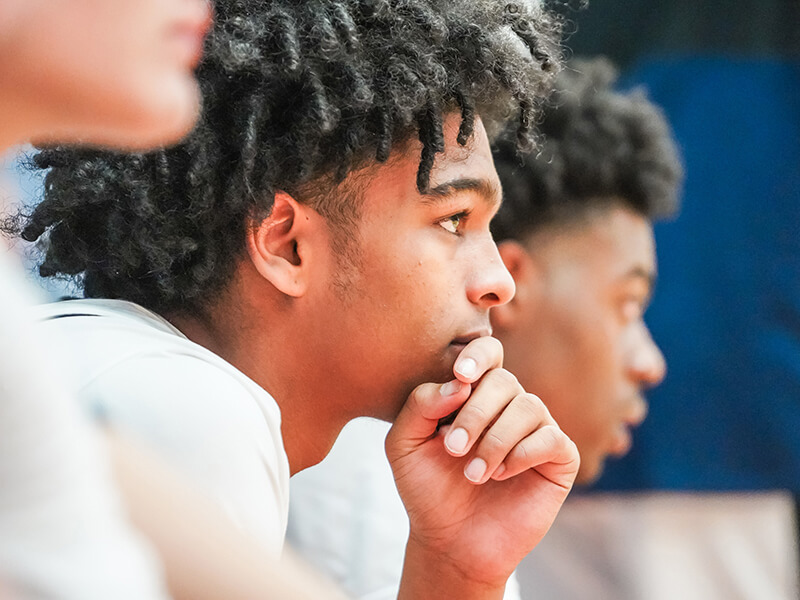 The stories surrounding Skyy Clark border on being mythical.
He's a high school sophomore who already has more than a quarter-million combined social media followers on Instagram and TikTok, a Slam magazine feature about him and the attention of the basketball world squarely focused on him.
It comes with the territory given the on-court dominance and off-court exuberance displayed by Clark, who, in late April, became the third class of 2022 player to be offered a scholarship by Indiana.
Listed as a 6-2, 185 lbs. combo guard, the 247Sports Composite has Clark ranked as the best combo guard in the country and the 18th-best player nationally in his class.
He's also a rare high school underclassman with USA Basketball experience, having been invited to three junior national team minicamps last year.
Clark's two high school seasons at the Heritage Christian School in the Northridge neighborhood of Los Angeles both supported the hype.
The Warriors went a combined 50-11 over the past two seasons with Clark leading the way. He averaged 20 points, seven rebounds, seven assists and four steals per game as a freshman, en route to Defensive MVP honors in the five-team Olympic League conference.
It led to a high-profile summer spent playing on the EYBL circuit with Bronny James (as father LeBron watched from the sideline).
Clark was the Olympic League MVP this past season, increasing his scoring average to nearly 25 points per game as a sophomore along with 5.1 rebounds per game, 4.4 assists per game and 39 percent 3-point shooting.
"He's got all kinds of…praise and adoration (on) Instagram and Slam magazine and whatever else is following him, but he's just a regular kid at school" Heritage Christian head coach Paul Tait said. "I think there's a great balance there between what he does on the court and how fearless he is and then how regular and kind he is off the court as a kid."
*****
Tait's time as Clark's coach has come and gone.
It was confirmed last month Clark will transfer to Brentwood Academy in Tennessee, leaving California behind to attend a school that counts Darius Garland among its basketball alums.
It wasn't a surprise to Tait, who communicated regularly with Clark's father Kenny, a former NFL wide receiver, about the family's relocation plans (Skyy's cousin is another former NFL player, quarterback Dante Culpepper).
"It was really just about this idea that this isn't the end of my relationship with Skyy and the Clark family," Tait said. "I will always be in the kid's life in some form or fashion should they want me."
An 18-year coaching veteran at both the college and high school levels, Tait coached NBA players Jrue and Justin Holiday in high school for four years each, as well as Spencer Dinwiddie for three years.
Tait described Clark's current work ethic as "on par" with what he saw from Dinwiddie and the Holiday brothers.
The relationship between Tait and Clark began a half-decade ago, when Skyy was in the middle of fifth grade. This long-standing connection allows Tait to speak accurately and at length about Skyy and his five younger siblings (including another promising basketball prodigy in brother ZZ), as well as parents Kenny and Sarah.
Tait believes Clark's role as a caretaker for his siblings helped produce a "well-behaved, very caring" young man.
"My parents are still alive and they still come to all the games, Skyy sees my parents (and) he goes over and gives them a hug after the game," Tait said. "My little nephew is over there and (Skyy) gives him a high five and picks him up and dribbles the ball with him. (Skyy's) a great kid and I think a lot of that is him being the oldest of six."
*****
Among the nicknames adopted by former NBA star Gilbert Arenas during his basketball career, "Hibachi" was a cult favorite.
It's a reference to the Japanese heating device, which in North America entails a small cooking stove that quickly heats.
As Arenas got hot shooting the ball, the "Hibachi" would turn on and a deluge of points followed.
Arenas was the Clark family's next-door neighbor, and Skyy's first bit of basketball success came when he made four 3s during a rec league game featuring his father and Arenas.
Several years later, Arenas allowed Clark to take the "Hibachi" nickname and make it his own, something he proved at Heritage Christian.
"On the court he is fearless. He definitely plays with a bit of splash…but he has the ability to keep things real simple," Tait explained. "He'll rip through, get to the basket in one dribble and he's got an arsenal of ways to finish, including above the rim."
"(If) the defense goes ahead and stops him, he can pull up and knock down. He's got a beautiful 15 to 17-foot jump shot, and then his ability to just catch and shoot the 3, his ability to come off the pick and roll and shoot the 3."
Scoring on all three levels earns Clark his larger-than-life reputation, but what has impressed Tait is the sophomore's ability to become a lockdown defender.
"That's such a rare thing for a kid who has the ability to score whenever he wants," Tait said.
Despite spending just two seasons with the Warriors, Clark also developed offensive versatility.
Tait said the team during Clark's freshman season had more shooters around him, giving Clark the chance to play point guard and distribute.
This season, Tait said the team had more scorers than shooters, which gave Clark the chance to show his skills playing off-ball in sets and in transition.
"He really evolved into a combo guard because he's also put on so much muscle," Tait said. "He is a force going to the basket…just a load of muscle getting hit in the middle."
*****
A college choice remains a distant event for Clark. He committed once before, to DePaul in eighth grade, before opening things back up.
"He's still humbled by the process. Indiana gives him a scholarship offer the other day and he is thankful and grateful," Tait said. "Doesn't matter what the school is, he's very appreciative that anyone would recognize him for his talents that way."
Something Tait focuses on with his Heritage Christian team is the fickle nature of college hoops. Assistant coaches recruiting high school freshmen and sophomores rarely remain in place throughout the entire recruitment.
"This basketball world is so small," Tait said. "You don't know if they're (the college assistants) going to be at another college, you don't know if they're going to be in the NBA, you don't know where they're going to be, or life after basketball."
But Tait wasn't overly concerned with keeping Clark grounded when he was his coach, and it's still not a concern now.
He points to Clark's close-knit relationships with all members of the Heritage Christian team, not just starters but the 13th and 14th players on the bench, as evidence of Clark's infectious personality.
It's what made coaching Clark such a pleasure.
"Just kind of maximize the time we had together and enjoy it,"Tait said. "Pass him along to the next program fully prepared and ready to go with whatever they might throw at him."
(Photo credit: USA Basketball)
Filed to: Skyy Clark