Q & A: Class of 2022 point guard Avery Brown talks IU offer, development in the NEPSAC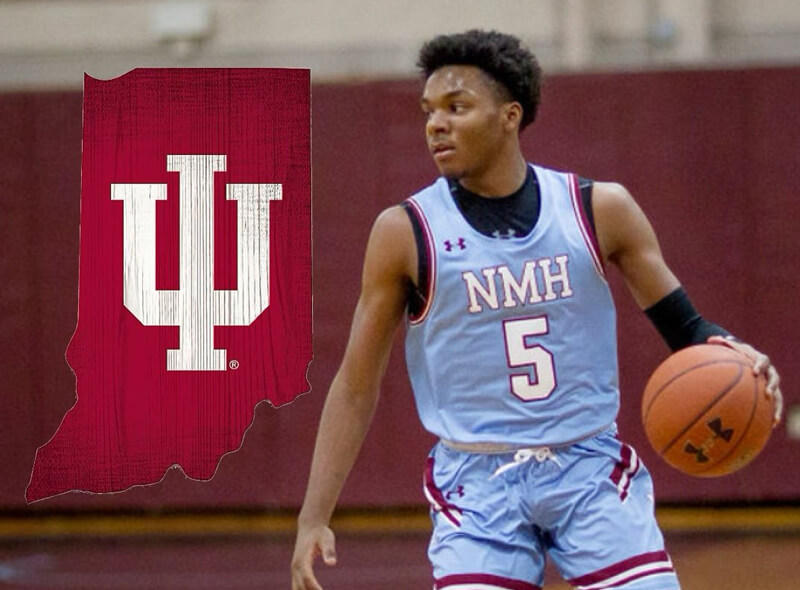 As Indiana continues to extend offers to and monitor the development of class of 2022 recruits, Avery Brown has distinguished himself from that group.
A point guard who attends Northfield Mount Hermon (NMH) prep school in Mount Hermon, Massachusetts, Brown picked up a scholarship offer from IU on Sunday morning. Brown averaged 6.6 points and 4.1 assists per game for NMH during his sophomore season, and had one game in which he recorded a school-record 17 assists.
The 6-foot-3, 180 lb. rising junior also plays on the Nike EYBL circuit with PSA Cardinals and is rated as a 4-star prospect, the 100th-best player nationally and the 18th-best point guard in the Class of 2022 by 247Sports.
He joins the likes of Skyy Clark and Bruce Thornton as Class of 2022 backcourt players with scholarship offers from IU.
Inside the Hall spoke with Brown to learn more about his game, what his thoughts are about the IU program, what he values most during the recruitment process and more.
Our Q & A is below:
Q: For people who are just learning who you are now or haven't seen you play, how would you describe yourself as a player on the court?
A: I'm a 6-3 point guard. I play both ends of the floor. I defend at a high level. I have a 6-8 wingspan so I use that to my advantage and I try to lock down as a defender.
Offensively I can score at will. I can score at all three levels and I finish above the rim. I have a great passing ability and I'm really a leader on the court. I make sure my teammates are in the right place and I just really lead my team to win. I'm really just a competitor. I'll do anything to help my team win.
That's basically me in the sum of it.
Q: What's the experience been like playing at NMH and the level of competition you face in the NEPSAC since reclassifying to 2022?
A: Yeah, the competition's been great. I'm playing against really high-level people. I'm looking forward to this next upcoming year. I know I'm going to take over the league and I'm really looking forward to it.
This year I'm really going to have the keys and I'm really looking forward to it. NEPSAC is a great league for sure.
Q: Where did you play before going to NMH, and what adjustments or improvements have you made to your game since arriving at NMH?
A: I went to Fairfield Prep in Fairfield, Connecticut. I had a great (freshman) year there.
(Since coming to NMH) my body has matured a lot. When you get older you start gaining muscle and start filling out more and that's one thing that's changed. Being more athletic, faster, quicker. And my game, the IQ level, learning where my teammates should be at, how to use pick and rolls to my advantage, the mental part of the game I've really gotten stronger at.
I had older people in front of me, older point guards. As a young one, you're like…you don't really like that feeling of people being ahead of you. So I just had to wait my turn and everything's starting to play out now as it should. It's really just a blessing, I have to keep working.
Q: Looking at your stats from this past season at NMH, you showed you can distribute the ball as well as score from all over the court. What's going through your mind when you play point guard and how do you approach the task of running an offense?
A: In terms of passing and all that, it's really like a mood with me. I always could score, but I love seeing my teammates score and I like seeing them be happy. It makes me feel better to be honest. I always put on for them so seeing other people win and score is really one of the greatest feelings.
I've just always been like that. I've always been a player who likes making my teammates better and I think that's what separates me from a lot of people. I love making people better…I'm not satisfied at all with (just) my play, so every time I get out on the floor I like to make people better.
Q: Looking at your recruitment, you have an interesting mix of schools like Ivy Leagues, HBCUs and then others like an Indiana or a Penn State. As you prepare to make a college decision at some point, are there things that you want to have or see in a school before making a choice?
A: Yeah, academics most definitely have to be a part (of it) and a school like Indiana has that aspect. That's what I really look for, along with playing the highest level of basketball you can really ask for.
Growing up with academics, my parents instilled that in me, so I'm just blessed to be able to have the chance to go to such prestigious schools. I know that after basketball there's life, so I want to make sure my family's in good hands after the ball stops dribbling.
Q: You picked up the Indiana offer over the weekend on Sunday. Who have you been talking to from IU and just what do you know already about Indiana basketball?
A: I talk to coach (Archie) Miller the most. We text probably every day, just call each other, we've built a great relationship these last few days.
I had a zoom call with him (Miller) Sunday morning and took a look at the school, he said how he sees me fitting in. It was just a great call and I know my parents are happy. They really like coach Miller.
Q: Being a college basketball recruit right now, how do you adjust to everything being conducted virtually via Zoom calls or text rather than in-person visits?
A: Indiana made that really easy. They had a whole virtual tour of the school and they showed the buildings, they showed where students live at, they showed the whole academic center, where they played their games. It was really like I was at the campus. It was most definitely helpful for me to get a look at, get an idea of, campus. They made it easy for me.
I still have time to go on visits. I'm going into my junior year. I'm not really rushing the visits. I know for sure Indiana is going to be a school I visit in the near future.
Q: In terms of your offseason training during the COVID-19 pandemic, has anything changed for you or how have things been this offseason as you look to improve?
A: I've actually been in the gym since March, since school ended and our season ended. It's really been a blessing in disguise if you ask me, I haven't had a summer like this in I don't know how long. No playing AAU, I've really had time to strictly focus on my game and getting better and stronger.
I added pounds of muscle, I've really transformed my body. I'm really at an all-time high level in terms of my game. I'm really grateful for this opportunity even though the times in the world are really problematic right now. You just try and find the light in it.
In terms of basketball nothing's really changed, I've actually been better.
Avery Brown '22 picked up an offer from #Indiana HC Archie Miller this morning! #iubb #NMHandB1G #GoHoosiers #GoNMH @_averybrown3 pic.twitter.com/GC3TEeYchj

— NMHbasketball (@NMHbasketball) July 26, 2020
Filed to: Avery Brown