The future of college sports is unknown and Indiana basketball is adjusting as best it can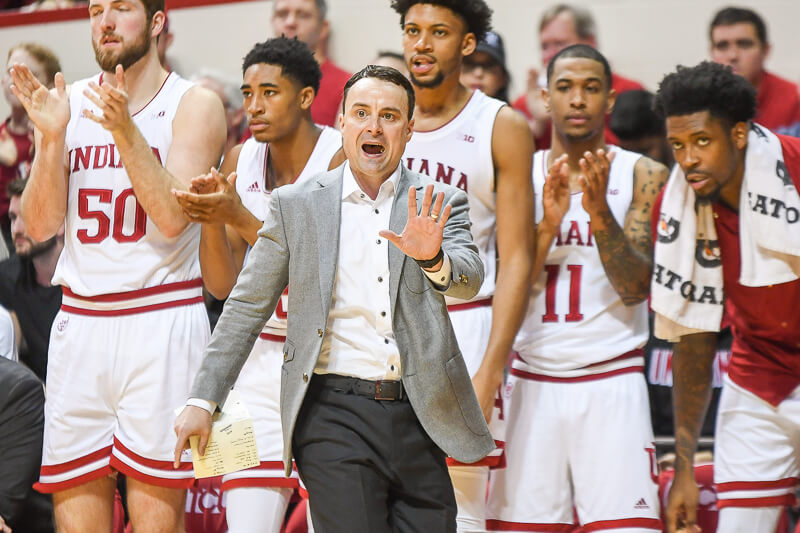 Archie Miller listed the uncertainties surrounding a potential 2020-21 college basketball season one by one, stacking unresolved question after unresolved question.
What was left in the wake of his words was a mountain of uncertainty.
Guidance on what is and isn't allowed in a COVID-19 affected country changes frequently for Division I college basketball programs, and Indiana is no different.
It's during moments of reflection, when Miller is allowed to ponder what may or may not become of the upcoming season, that one can truly understand how many unknowns exist.
"The biggest thing we learned is that we always seem to be in a wait and see mode as a staff," Miller told media members over Zoom earlier this week. "It's almost been a complete and total outlier of the philosophy in the playbook and your approach to the season."
It was impossible for Miller to touch on all the problems that could arise should college basketball go on as scheduled this fall. But the ones he singled out provide insight into the most pressing concerns of a college coach.
Will the recruiting dead period continue to be extended? Will the entire coaching staff and roster be permitted to work out together? What will a non-conference schedule look like this season, if it even exists?
Of course, the most unsettling of these looms above the rest: What happens when a coach, player or trainer tests positive for COVID-19?
Miller has precious few of these answers on hand. Even after six summer weeks spent with his team in an altered return to campus (temperature checks when entering facilities, routine tests for COVID-19, head trainer Tim Garl ensuring social distancing is enforced during practices) Miller is just beginning to learn how this can translate into the season.
"Things you really never had to think about, but those are things that you have to think about in July and August because if you don't, you're not going to be able to help your players the best that you can when those situations arise," Miller said. "It's uncharted territory for not only our coaching staff, but everybody on the planet right now."
The adjustments made in recent weeks inside Cook Hall and Assembly Hall provide a glimpse into what is likely the new normal for Indiana.
Players put up shots and lift weights while wearing masks. Reduced capacity for basketball facilities means multiple workouts per day with a smaller group of players. Time spent outside of basketball activities must be used wisely to reduce the chance of contracting COVID-19.
"At first it was a little awkward, but you tend to get used to it, so it's not as bad now," Trayce Jackson-Davis said of practicing with a mask on.
All of this could remain in place, only for things to come to a sudden halt as was the case when the IU football program paused voluntary workouts in mid-July after six positive COVID-19 tests.
"That's kind of part of life in general. You don't know necessarily how things are always going to play out," Joey Brunk said. "You make your plan but things don't always go according to plan. I think for us you want to put one good day then another good day after that.
"Hopefully a few good days turns into a good week then a few good weeks turn into a good month and it just builds from there. Whenever our opportunity comes, we'll be ready."
The precarious nature of what this college basketball season could, and what it already has, become, isn't lost on the returning Hoosiers either.
Those like Brunk and Jackson-Davis remember being robbed of an NCAA tournament experience and have had a prolonged offseason to deal with channeling that disappointment into motivation.
"We just have to come back hungry," Jackson-Davis said. "We don't know what the virus is or where it's going to go. We're just going to act like we're going to play all our games and going to prepare for the season."
Miller is optimistic a season will occur in some form.
As someone whose livelihood is intertwined with the playing of college basketball, it's a logical position to take.
The logistical and medical challenges associated with Miller's outlook aren't going away anytime soon, and for his part the IU coach acknowledges there are "a lot more hurdles to get through" before any semblance of a season can be strung together.
But for all that is undetermined and unspecified about college basketball, the words of Brunk and Jackson-Davis sum up the attitude Indiana has adopted: Control the controllables, continue to work and maximize whatever opportunities will follow.
"If we make the most of what we have now, there's not going to be any regrets as a group," Brunk said. "Let's just be ready for whenever that moment of time comes."
Filed to: Archie Miller, Joey Brunk, Trayce Jackson-Davis