6-Banner Sunday: Uncertain future for fall college sports continues to dominate college basketball offseason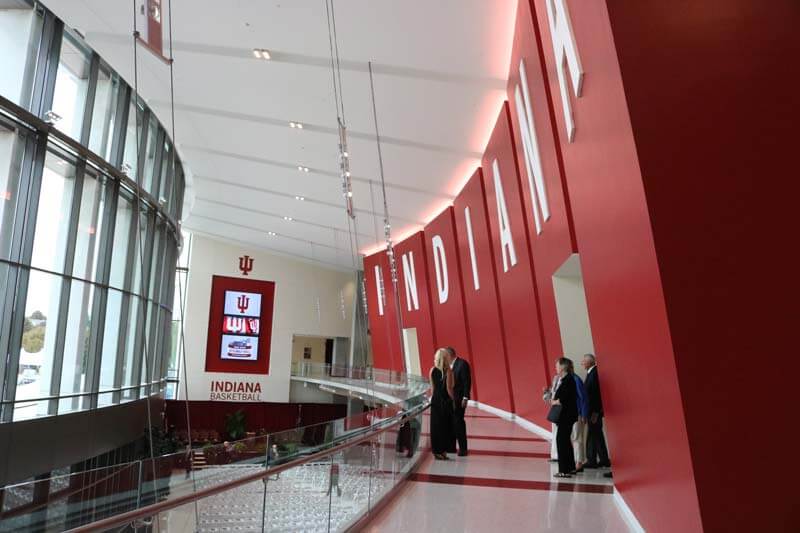 6-Banner Sunday is Inside the Hall's weekly newsletter in partnership with The Assembly Call. More than 7,000 Indiana fans receive the newsletter each week. In addition to appearing each week on the site, you can also opt to receive 6-Banner Sunday by email. A form to subscribe via email is available at the bottom of this week's 6-Banner Sunday.
Welcome to another edition of 6-Banner Sunday, a joint production between The Assembly Call and Inside the Hall where we highlight the five most essential IU basketball stories of the past week, plus take a look at how the other IU sports programs are doing.
The only certainty with relation to college sports this fall is uncertainty.
It was another week of change as the potential for college sports to be played this fall remains precarious. From additional conferences announcing the postponement of fall sports seasons to the shut down of voluntary workouts for members of the IU football program in Bloomington due to positive COVID-19 tests, it remains to be seen if and how college sports will proceed in the coming months.
With all this news coming during college basketball's offseason, only some of the rulings already made will affect the playing of the 2020-21 season, although that can also change at a moment's notice.
In anticipation for whenever the on-court action does resume, this week featured stories concerning some of the biggest talking points as we enter Archie Miller's fourth season in charge at Indiana, as well as an ongoing look at IU recruits and past members of the program now playing professionally.
• IU shuts down football workouts due to positive COVID-19 tests, men's basketball unaffected
• Offseason IU story lines series begins
• Recruiting roundup: IU targets players from North Dakota, West Virginia and Wisconsin
• Former Hoosiers Remy Abell and Maurice Creek star in The Basketball Tournament
• Former Indiana Mr. Basketball and national champion at IU, Steve Bouchie, dies at age 59
• Hoosier Sports Roundup
Banner #1
IU shuts down football workouts due to positive COVID-19 tests, men's basketball unaffected
The first interruption to IU's athletics restart plan was announced Friday afternoon.
Voluntary workouts for members of the IU football program were paused after six participants tested positive for COVID-19.
This measure does not affect the voluntary workouts currently underway for other IU sports programs, including both men's and women's basketball.
This news came just a day after Big Ten basketball coaches voted to hold coach-led workouts beginning Monday, July 20, the earliest date the NCAA Division I council said workouts could begin for men's and women's basketball.
Elsewhere around the country, significant news was also announced over the past week with regard to the playing of fall sports.
Four conferences in the Division-I Football Championship Series (FCS) have now canceled their 2020 football seasons: The Colonial Athletic Association, Mid-Eastern Athletic Conference (MEAC), the Ivy League and the Patriot League. Further sources also said the Atlantic 10 Conference will postpone fall sports and championships to the spring,
The Ivy League's ruling said no college sports would be played until 2021, impacting the college basketball non-conference schedules for the league's members.
No Power Five conference has yet announced changes to it's 2020-21 basketball plans, but news continues to emerge on this front each day.
Banner #2
Offseason IU story lines series begins
Whenever and whatever form the college basketball season comes in, there are obvious story lines to follow with the IU program as Archie Miller enter's his fourth season as head coach.
In this vein, the Inside the Hall 'Offseason story lines' series started back up this week by exploring some of the biggest hot-button issues concerning the program.
The series, evenly divided with three stories this week and three stories next week, touched on the following topics over the past few days:
Who are IU's breakout candidates for the 2020-21 season?
Where will Trayce Jackson-Davis fit among the Big Ten's best players as a sophomore?
How will Al Durham adapt, yet again, in his final season as a Hoosier?
Be sure to stay tuned for the final three installments of the series next week. While not an official story line set to be covered in this series, this week's edition of Assembly Call Radio with Andy, Coach and Ryan focused on how much Hoosier fans can expect each freshman to contribute to the team next season.
Banner #3
Recruiting roundup: IU targets players from North Dakota, West Virginia and Wisconsin
While a ban preventing on-campus recruiting activities remains in place for college athletic programs, Archie Miller and the Hoosiers have nonetheless continued their virtual pursuit of some of the nation's best players.
This week, three of those recruits were profiled by myself and Alex Bozich at Inside the Hall, although only one of these players currently has an IU offer.
That player is James Graham, a Class of 2021 forward from Wisconsin who gained an IU scholarship offer in early July. Graham averaged 20.6 points and 6.6 rebounds per game in his junior season of high school ball, and while the COVID-19 pandemic has limited his chances to impress schools during the summer, he knows things like the Indiana offer have come his way thanks to years of previous hard work.
"It was just my time," Graham said. "I've been working my ass off and doing all of the things I can do. I just kind of marketed myself as well."
Elsewhere, Indiana has not yet extended offers to, but remains in pursuit of, Class of 2022 big man Joe Hurlburt from North Dakota and Class of 2022 combo guard Isaac McKneely from West Virginia.
Banner #4
Former Hoosiers Remy Abell and Maurice Creek star in The Basketball Tournament
One of the few live team sporting events to take place in the United States in recent months was The Basketball Tournament (TBT), a single-elimination tournament featuring primarily former college players and current overseas players combining forces on teams in pursuit of a $1 million winner-take-all cash prize.
The last three editions of TBT have featured former IU players Remy Abell and Maurice Creek playing for team Sideline Cancer, and this year's tournament, which ended Tuesday night, represented the team's deepest run and the most individual success for Abell and Creek in the event.
Sideline Cancer enjoyed a Cinderella run to the TBT championship game, where it lost in heartbreaking fashion to Golden Eagles, a team made up of former Marquette players. Sideline Cancer was the No. 22 seed in the 24-team tournament, which took place in a fully quarantined setting at Nationwide Arena in Columbus, Ohio.
But the different setup for this year's tournament didn't deter Sideline Cancer, which recorded four upset wins to reach the title game and saw Abell and Creek light up the tournament with scoring performances. Creek's game-winning 3-pointer in the semifinal represented perhaps the most memorable moment from this year's TBT, and while Abell and Creek were unable to win the championship, both players will likely return to their overseas careers in the near future.
On that note, former IU guard Robert Johnson also secured another overseas contract this week, resigning with Parma Basket in the VTB United League in Russia.
Banner #5
Former Indiana Mr. Basketball and national champion at IU, Steve Bouchie, dies at age 59
Steve Bouchie, who won a national championship as a member of IU's 1981 title-winning team and was named Indiana Mr. Basketball in 1979 following his high school career at Washington High School, died last week at the age of 59.
According to The Evansville Courier & Press, Bouchie suffered a heart attack over the Fourth of July weekend.
Bouchie's career featured 110 career games at Indiana in which he averaged 5.1 points and 3.2 rebounds per contest with 48.3 percent shooting from the field. He was made a member of the Indiana Basketball Hall of Fame in 2009 thanks to his contributions with the Hoosiers and the Washington Hatchets, for whom he tallied 1,311 career points and 842 career rebounds.
After his IU career, which also included winning three Big Ten championships, Bouchie was selected in the 1983 NBA Draft by the Detroit Pistons before continuing his playing career in Italy.
Once a hand injury ended his playing days, Bouchie returned home to Washington, where he served as a member of the Washington Community School Corporation School Board.
Banner #6
Hoosier Sports Roundup
If College Football takes place this fall, several Hoosiers are in position to be among the best in the country.
• Football's DB Tiawan Mullen was named to the Bednarik Award Watch List. Also, RB Stevie Scott was named a candidate for the Doak Walker Award, WR Whop Philyor was named to the Biletnikoff Watch List and TE Peyton Hendershot was named to the John Mackey Watch List.
• Women's Basketball's Brenna Wise was nominated for NCAA Women of the Year. On a more somber note former coach and Hall of Famer Bea Gorton passed away.
• Former Baseball player Jonathan Stiever was named to the MLB 60 man roster for the Chicago White Sox.
• Several former IU Soccer players are participating as the MLS resumed.
• 23 Track and Field athletes earned Academic All-Americans.
• Indiana Athletics as a whole extended its relationship with the Libman Company.
Thanks for your continued support for The Assembly Call. We'll be back next weekend with a new roundup.
Now go enjoy yourself a 6-banner Sunday.
Filed to: