Class of 2022 combo guard Isaac McKneely 'very interested' in Indiana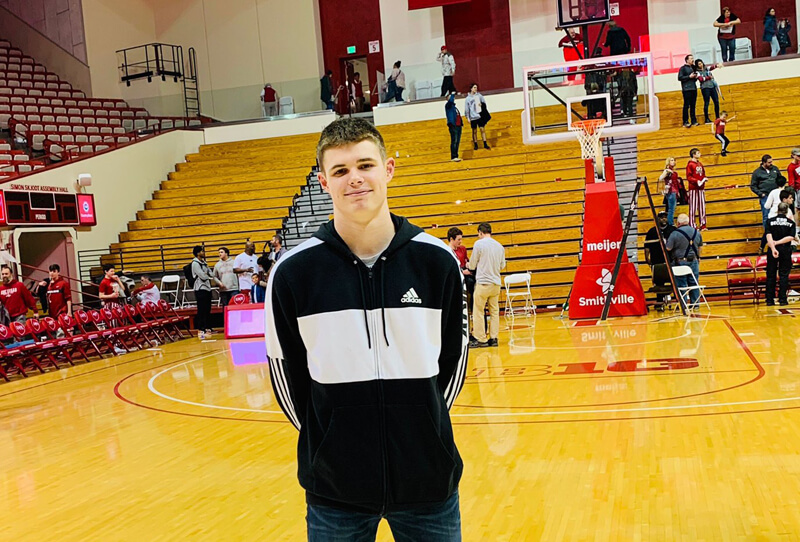 In many ways, Poca, West Virginia, is like the small towns synonymous with Indiana.
It's a community-oriented place, nestled between Charleston, the state capital, and Huntington, the state's second-largest city.
The tight-knit town of less than a thousand people bonds together over Poca High School athletics, in particular the Dots basketball program.
"The community is really involved in our basketball program and the people really love basketball and kids love basketball," Poca head coach Allen Osborne said. "I don't want to say we're like "Hoosiers" because that's one-of-a-kind, but we're just a small town that loves basketball and we've been very fortunate. It's a special place to coach basketball."
Part of that good fortune comes from the Division I players who have passed through Poca during Osborne's 40 seasons as head coach, and Class of 2022 combo guard Isaac McKneely is the latest Poca player to command attention from college basketball's premier schools, including Indiana.
"Isaac's a kid who can shoot the ball outstanding. He can beat you off the dribble. He's long, he can be a defensive presence," Osborne said. "He's the most highly-recruited player I think we've ever had here…he's as good as any of those (past Poca players) who played at Division I and I think the sky's the limit for him."
Playing with Poca and the Wildcat Select program on the adidas Gauntlet circuit, the 6-4, 180-pound McKneely has earned a reputation for being a clutch scorer with a strong offensive skillset.
At Poca, McKneely is the focal point of the offense. Whether it's creating situations for McKneely to come off screens or designing plays to generate driving angles for him, Osborne said the key for the Dots is to give McKneely the opportunity to score.
"Coaching him is just getting him open and getting him shots," Osborne said. "Run him off screens, create driving lanes, create shots off of screens for him, then we rebound it and get it (the ball) on the break and if he's open for a 3 off the break, he's got the green light to shoot it."
Naturally, this means the attention is focused on McKneely. It should be expected for a player who already counts Louisville, Maryland, Virginia and Xavier among the schools who have offered him a scholarship.
Even as a sophomore, McKneely consistently played against the opposing team's best defender, although Osborne said McKneely enjoys these challenges.
Poca's last two postseason trips have proved as much.
McKneely had the ball in his hands each of the last two years with less than 10 seconds to go and Poca's season on the line, and each time he led the Dots to victory.
As a freshman playing on the road in a sectional championship game, McKneely took the ball to the basket, missed a short jumper, then gathered the rebound and scored the winning basket himself.
This past season McKneely turned distributor, finding an open teammate by the basket for a game-winning layup as part of a Poca postseason run that ended prematurely in the regional finals due to the COVID-19 pandemic.
"He wants the ball, he wants to win and he handles himself pretty good under pressure," Osborne said. "He's a gamer. There's no doubt about it."
But even though McKneely is a player with the responsibility to make or break a season, there are times when Osborne wishes he was more unselfish.
Along with improving his off-ball movement and learning how to read screens better, Osborne said he wants McKneely to take more shots during his final two high school seasons. As a sophomore, McKneely averaged 14 shots per game.
"We just say, 'Hey, it's your role here on our team, it's for you to score,'" Osborne said. "He likes to win and for us to win he's got to shoot the ball. He had a couple 40-point games, 30-point games, and when you win those games you go 'We win when you score.'"
Osborne knows how to get the best out of McKneely, as well as how to help him through the recruitment process, thanks to his close relationship with him.
McKneely's brother and father both went to Poca while Osborne was the coach, and McKneely's mother's grandfather was the man who married Osborne and his wife. Osborne has known McKneely since he was four years old, and watching the college basketball world take notice of him is the latest part of McKneely's development.
In a pandemic-affected world, Zoom meetings are now the primary mode of communication between McKneely and college coaches. A recent Zoom call with IU coach Archie Miller and assistant coach Tom Ostrom showcased the facilities IU has to offer.
"He's very interested in Indiana," Osborne said of McKneely. "The basketball tradition at Indiana speaks for itself, and he loves basketball, so that's a good combination right there."
McKneely was in Bloomington for the Arkansas game last season, and Osborne said the experience left enough of an impression for McKneely and his family to want to take another visit to IU, whenever on-campus recruiting resumes.
As Osborne sat in on IU's recruiting pitch to McKneely, he was reminded of his coaching start in the 1970s when he would attend Bob Knight's coaching camps in Bloomington, another occasion when small town West Virginia and small town Indiana were tied together.
"I was amazed how much the place (Bloomington) had changed since the '70s," Osborne said. "It was an outstanding presentation and it was very professional and very impressive…there was no stone unturned."
Filed to: Isaac McKneely