Former IU players Remy Abell and Maurice Creek come up short in The Basketball Tournament title game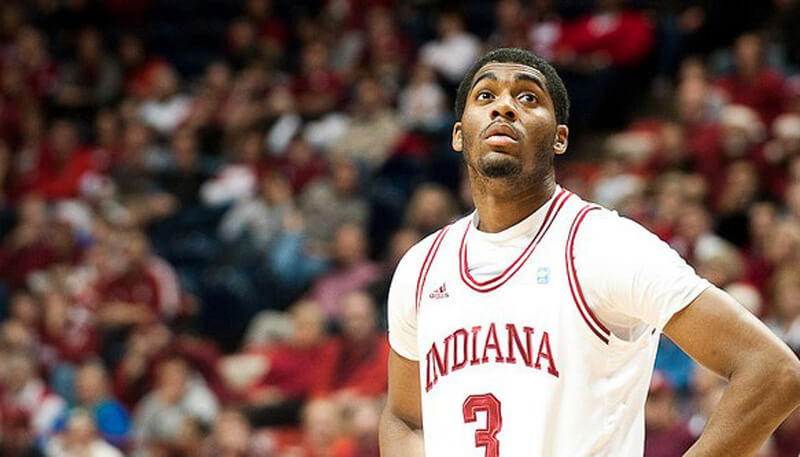 The fairytale run for Remy Abell, Maurice Creek and Sideline Cancer in The Basketball Tournament (TBT) ended one victory short of a storybook ending.
After winning four games as the No. 22 seed in the 24-team tournament to reach Tuesday night's championship game, Sideline Cancer lost to the No. 4 seed Golden Eagles, 78-73.
It was a tight contest throughout, as Sideline Cancer held one-point leads at the end of the first, second and third quarters before Golden Eagles surged ahead during the Elam Ending period.
Golden Eagles also defeated Sideline Cancer in the third round of the 2019 TBT.
The former IU players Abell and Creek were each competing in TBT with Sideline Cancer for a third consecutive season, and the 2020 tournament marked the most individual and team success they've enjoyed in the competition.
In a losing effort Tuesday, Abell recorded 14 points and Creek had 20 points.
Sideline Cancer's run to the title game received plenty of attention thanks to the team's on-court upset wins and its off-court mission.
Sideline Cancer was created by the Griffith Family Foundation in 2014, the year of the inaugural TBT, to raise awareness for pancreatic cancer. The team's purple uniforms are the same color as the Pancreatic Cancer Action Network.
Entering Tuesday's title game, Abell was Sideline Cancer's third-leading scorer (15 points per game) while Creek was third on the team in average minutes played (30.1 minutes per game), fourth on the team in scoring (14.5 points per game), third on the team in assists (1.3 assists per game) and third on the team in rebounds (6 rebounds per game).
Sideline Cancer's four victories were all upsets in terms of seeding as well.
An opening-round victory over No. 11 seed Team Hines saw Sideline Cancer erase a 12-point second-half deficit thanks in part to a combined 30 points from Abell and Creek. Next came a 10-point win over No. 6 seed Challenge ALS in which Abell scored 17 points, including the final five points to trigger the Elam Ending.
A blowout 17-point win over No. 3 seed Boeheim's Army (a team made up of former Syracuse players) saw Creek lead all scorers with 22 points before he then secured Sideline Cancer's spot in the title game with a game-clinching 3 in the semifinal victory over No. 2 seed (and four-time TBT champion) Overseas Elite.
Abell spent the 2019-20 professional season playing with Oroszlany in Hungary and also has a contract with the team for the 2020-21 season.
Creek spent the 2019-20 professional season with Prometey Kamianske in Ukraine, the second straight season he spent in the Ukranian Basketball SuperLeague.
Filed to: Maurice Creek, Remy Abell