Maurice Creek honors friend, raises awareness with Sideline Cancer in The Basketball Tournament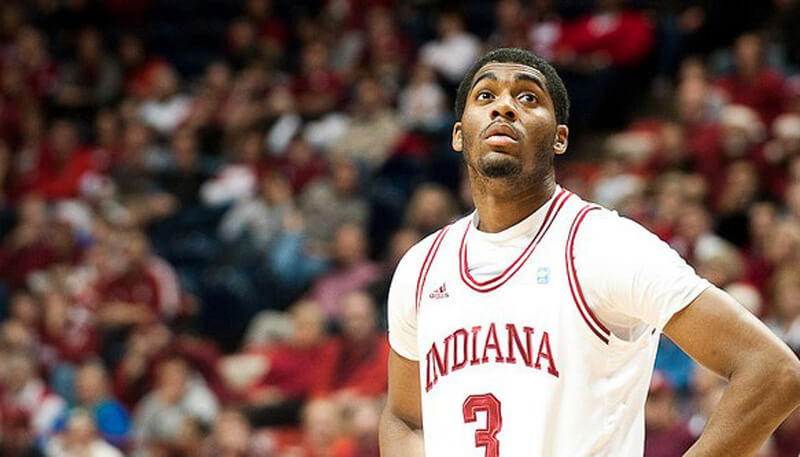 On a Thursday evening in late July, Maurice Creek wept.
The former Indiana and George Washington guard was about to play for Sideline Cancer in this summer's The Basketball Tournament (TBT) when the emotion of the occasion sent tears trickling down his face.
Sixty-four teams compete in TBT for a $2 million winner-take-all prize, and six-seed Sideline Cancer had a daunting matchup against three-seed Self Made (comprised of former Kansas players) to begin the Wichita, Kansas regional.
The on-court difficulties of containing former college stars Darrell Arthur and Tyshawn Taylor were obvious. The emotional complexities of the game were also well known.
Creek joined Sideline Cancer before the 2018 tournament after an invite from Jermaine Marshall, a former Penn State and Arizona State guard.
The men knew each other from on-court matchups in the Big Ten and in Finland's top-tier Korisliiga, where both players spent part of their careers.
Former Indiana guard Remy Abell, a college teammate of Creek's and a pro teammate of Marshall's, was also on that 2018 Sideline Cancer team which lost in the first round in Brooklyn, New York.
The friends then formed a pact.
"All three of us — me, Remy and Jermaine — were like 'Yo, next year we're not going to lose the first game,'" Creek said. "Hands down we're definitely not losing the first game against anybody that we play."
Abell and Creek returned to honor that pledge this summer because Marshall couldn't.
The 28-year-old Marshall died from undetected heart complications in January at his home in France, where he played for second-division team Nantes.
"Nobody knew, but I broke down and cried before the games because he was my brother," Creek said. "He took care of me at some point and time, and I took care of him at some point and time. It was emotional for me because I knew I had to go out there without him."
****
Hoosier fans remember Creek from an era defined by unfilled potential.
Considered one of the best shooting guards in his class, Creek was a freshman with Jordan Hulls and Christian Watford for the 2009-10 season. His breakout moment came with a 31-point showing in a December home loss to Kentucky.
After temporarily leading all freshmen in the nation in scoring, a left knee fracture in Indiana's final non-conference game ended Creek's season.
Injuries marred the rest of his time in Bloomington.
He played 18 games his sophomore season before suffering a stress fracture in his right knee. A torn left Achilles during the offseason meant Creek redshirted the whole 2011-12 season, and his involvement with the heralded 2012-13 squad was limited to 24 appearances off the bench.
"It is really hard to put into context what has happened with him," then-coach Tom Crean said in October 2011. "The one thing that I can put into context is that he is one tough young man. He embodies the spirit that we want this program to be about."
Redemption and health came as Creek transferred to George Washington in 2013 for his last year of eligibility. He averaged more than 14 points per game, made a step-back buzzer-beater against Maryland and played a career-high 32 games as the Colonials reached the NCAA tournament.
"Minor setbacks for major comebacks," Creek told The Indianapolis Star in 2014 while with George Washington. "Just a fight every day. Fight through the injuries and battle through the wounds and the cuts and the scars and the needles and all that other stuff."
A journeyman career in Europe followed and has continued, with Creek spending the last five seasons playing in the Netherlands, Denmark, Germany, Finland and Ukraine.
It's a path similar to other TBT players, like Sideline Cancer center Eric Thompson, who Creek played with in Germany, and forward Aron Nwankwo, who Creek played with in Ukraine.
Creek cites this as a reason Sideline Cancer's team felt more connected this year.
"It was like we played with each other every year the way everything was going," Creek said. "We were playing video games with each other all the time, talking about what we wanted to do and stuff like that. It just felt like we already knew each other.
****
By the time Creek's tears dried, Sideline Cancer was in control against Self Made.
A 9-0 run in the second quarter, featuring a 3-pointer from Creek, helped build a double-digit lead that Sideline Cancer maintained for most of the game.
Creek led all players with 23 points and had five 3-pointers, including the game-ending shot to clinch Sideline Cancer's victory via Elam Ending.
"Jermaine passed on before he could get into the tournament with us, but me and Remy still pulled that about, 'We're still not going out in the first game,'" Creek said. "I really felt his energy every time I stepped out onto the floor."
Abell and Creek went one better than the promise made with Marshall, going on to defeat two-seed AfterShocks (a Wichita State alumni team) in essentially a road game at Wichita's Charles Koch Arena in the second round.
"Everybody can score the ball. Everybody can pass the ball. Everybody can play defense. But it's the way that it's being done that means something," Creek said. "Are you doing it as a team or are you doing it for yourself? With us, we did everything as a team."
Sideline Cancer's run ended in the regional final with a loss to the one-seed Golden Eagles, a Marquette alumni team.
But for three games, Sideline Cancer's tributes to Marshall became commonplace.
Some team members wrote the letters "JM" in marker on the back of their hands. Patches on the team's jerseys and on Sideline Cancer's shooting shirts were displayed in Marshall's memory.
"I'm glad that he's looking down at us from above and taking care of us," Creek said. "I'm just praying he keeps putting his light on me and his spirit on me in the right way."
Inspiration wasn't lacking for Creek and his teammates given Marshall's death or the team's overarching purpose.
Sideline Cancer was created by the Griffith Family Foundation in 2014, the year of the inaugural TBT, to raise pancreatic cancer awareness.
The team's purple uniforms are the same color as the Pancreatic Cancer Action Network.
Sideline Cancer's booster (TBT teams have boosters, in addition to GMs and coaches, to help with the team's identity and increase its following) is Cathy Griffith, who began the foundation in 2010 after her husband Greg died from pancreatic cancer.
Clad all in purple, down to her sneakers, Griffith is a fixture at Sideline Cancer games and delivered team speeches in the locker room in Wichita.
"She's been doing everything for us, everything that she can to make sure we're successful," Creek said. "For us it was definitely bigger than basketball and that's why we took it the way we did."
****
With broadcast rights for TBT owned by ESPN, Sideline Cancer and its players had a chance to reach a wider audience, NBA scouts included. All three of the team's games were broadcast on ESPN's flagship network.
Creek averaged nearly 20 points and five rebounds, and made more than 50 percent of his 3-pointers during that stretch, leading to interest from a few NBA teams.
"A lot of guys who play in the tournament, they look at it as exposure, but they do too much," Creek said. "My thing was I'm just going to stay calm and play my game the way I know how to play it."
Even before professional interest was generated, the real-world effects of Sideline Cancer's run became apparent to Creek, who said he has no direct ties to a cancer patient.
"People are now wearing purple shirts for pancreatic cancer, just because we won a couple of games," he said. "I'm a family-oriented guy, so when I come toward people who are about something bigger than what they are about, then I'm all for it."
Creek's playing situation for next season still needs to be sorted out.
He's confident wherever he plays his club ball, he'll be back next summer with Sideline Cancer for a third TBT. He enjoys the family environment of the team, and the ability it gives him to use basketball as a vehicle for a larger purpose.
He wants the players on this year's roster to return for 2020, and prays they do so.
That includes Jermaine Marshall.
"That's the most blessed thing you can have in this world man, is you can feel somebody even when they're not with you," Creek said.
Filed to: Maurice Creek