Breaking down the IU career, departure of Maurice Creek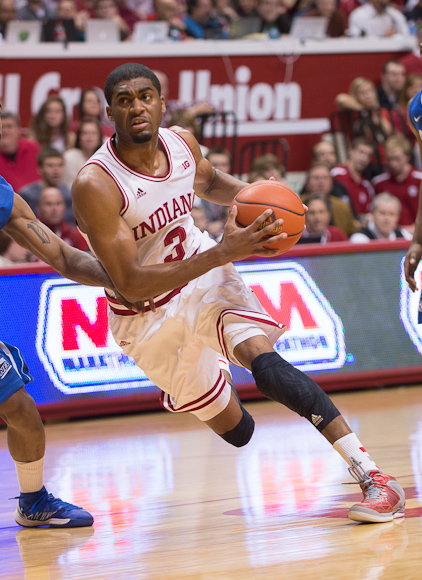 Everybody has their own opinion on Maurice Creek, and that's fine. But it's impossible to talk about his career at Indiana without using the word "unfair" or without discussing what could have been.
In reality, Creek helped the Hoosiers very little on the court after his first year and half with the Hoosiers. It wasn't his fault and he did everything he could to contribute, but his body never could hold up long enough for him to make any real impact.
It's not like he didn't want it bad enough or didn't work to have success. If you spent any amount of time around the Indiana campus over the last four years, you likely witnessed Creek's love for the game of basketball. He regularly carried a ball with him when he walked around campus, and he spent considerable time shooting around at the HPER and SRSC facilities during the team's offseason.
Creek loves the game. The game just hasn't always loved him back.
It's unfortunate, too, considering the talented player we're talking about. Some people forget how good Creek was as a freshman, when he scored 31 points on a highly-ranked Kentucky team that consisted of a backcourt of John Wall and Eric Bledsoe.
He averaged 16.4 points per game that season, shooting 53 percent from the field and 45 percent from beyond the arc. And that came on a team that won only 10 games.
He was a likely on-and-done talent, maybe two-and-done. He should be playing in his second or third NBA season right now. Instead, he's trying to find another school where he can use his last year of eligibility and begin working on a graduate degree.
It's the right decision for both Creek, who wants to get more playing time and for Indiana, but it's still hard to hear the news of Creek leaving and not feel a little sad.
The guy has been through three terrible basketball injuries during his time in Bloomington, and he just keeps coming back.
Creek's story is one of perseverance, of never giving up. Even though he was never able to accomplish what he wanted to on the court at Indiana, maybe he succeeded in teaching all of us an important life lesson.
Filed to: Maurice Creek