Former IU player, 1979 Mr. Basketball Steve Bouchie dead at 59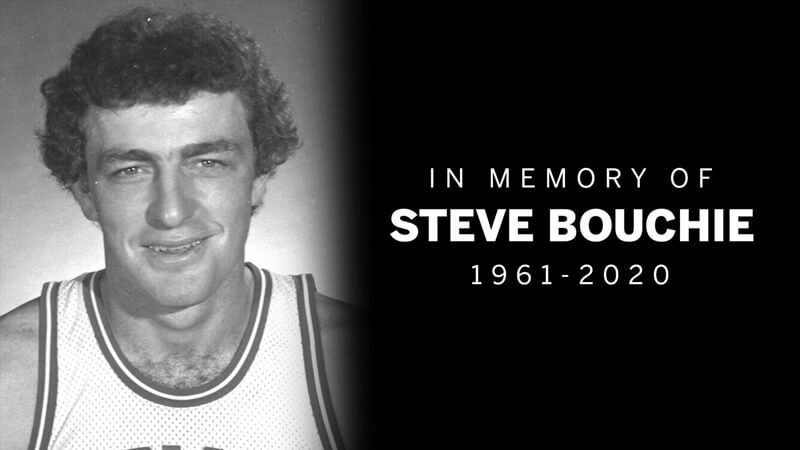 Steve Bouchie, a member of Indiana's 1981 national championship team and the state's Mr. Basketball in 1979, has died.
According to The Evansville Courier & Press, Bouchie suffered a heart attack over the Fourth of July weekend.
In 110 career games at Indiana, Bouchie averaged 5.1 points on 48.3 percent shooting.
Bouchie was enshrined as a member of the Indiana Basketball Hall of Fame in 2009. A product of Washington High School, Bouchie tallied 1,311 points and 842 rebounds for the Hatchets and set a record of 45 points in a game.
In addition to being named Mr. Basketball in 1979, Bouchie was also a Parade Magazine All-American and named to the Derby Classic team, the SIAC All-conference team and the All-Sectional, Regional and Semi-State teams.
Bouchie was a member of three Big Ten championship teams at Indiana (1980, 1981 and 1983).
He was drafted by Detroit in the 1983 NBA draft and played professionally in Italy.
Saddened to hear that 1981 National Champion Steve Bouchie passed away today. Our thoughts and prayers are with his family and teammates.

— Arch Miller (@Archie_Miller) July 13, 2020
Our deepest sympathies and prayers to the Steve Bouchie family. Steve was a Hatchet legend and 1979 Mr. Basketball. Indiana Basketball Hall of Fame inductee and continued serving his community as a valued member of the school board for over a decade.

— WHS Athletics (@washhsathletics) July 13, 2020
Update: Here is a statement released by IU on July 14:
Steve Bouchie, who played on three Big Ten Championship teams, including the National Championship squad in 1981, passed away July 12 in Evansville. He was a member of the Hoosier program from 1979-83.

Bouchie, who came to IU from Washington High School, was Indiana Mr. Basketball in 1979. He played in 110 games for the Hoosiers and averaged 5.1 points and 3.2 rebounds.

As a senior, he averaged 6.3 points, shot 54.3% from the floor and finished second on the team in blocked shots and fourth in rebounds. As a junior, he averaged 6.4 points was second on the team in blocks, and third on the team in rebounds. He averaged a career-best 6.5 points as a freshman.

He was drafted in the 4th round by the NBA's Detroit Pistons in 1983 and played played professionally in Torino, Italy before a hand injury ended his career.

He was drafted by the NBA's Detroit Pistons in 1983. He played professionally in Italy until a hand injury ended his career and sent him to a post-play life in agriculture.

As a senior in high school, he averaged 27 points per game at Washington and he was inducted in the Indiana Basketball Hall of Fame in 2009 for his career accomplishments.

Obituary From Washington Times Herald
Steven "Steve" Bouchie
February 11, 1961 – July 12, 2020

Steven D. "Steve" Bouchie, 59, passed away at 2:54 p.m. July 12, 2020, at St. Vincent Hospital in Evansville, Indiana. Steve was born Feb. 11, 1961, in Washington, Indiana, the son of Norman and Carrey (Bline) Bouchie. He married Lisa Waggoner on June 28, 1980, and she survives.

Steve was a 1979 graduate of Washington High School and member of Bethany Christian Church. He was the 1979 Mr. Basketball recipient and continued his education and basketball career at Indiana University where he was a member of the 1981 National Championship team. After graduating from I.U. he went on to play professionally in Italy for Torino, Italy. Steve was currently serving on the Washington Community School Corporation School Board and had been since 2002.

Survivors include his wife, Lisa Bouchie of Washington; son Corey Bouchie and his wife Teri of Washington; daughter Carey Bouchie and Daniel Ash of Washington; sister Susan Zipperle and her husband Ed of Washington; brothers Randy Bouchie and his wife Connie of Washington, Tom Bouchie and his wife Beverly of Washington; his grandchildren, Caleb and Bradley Bouchie, Willa and Ivy Ash, Orion and Andiee Bouchie; his stepmother, Carolyn Bouchie; and several nieces and nephews. Steve is preceded in death by his parents; son Bryan Bouchie who passed away on April 13, 2018; and his brother, Ronnie Bouchie.

Friends may visit with Steve's family from 1 p.m. until the hour of service time of 5 p.m. Thursday, July 16, 2020, at Bethany Christian Church, 1139 SR 57, Washington, IN 47501, with Pastor Matt Merold officiating. Bethany Christian Church and Goodwin-Sievers Funeral Home is recommending that everyone attending visitation and service to please wear a mask. Online memories may be shared with Steve's family at www.goodwinsieversfh.com. Goodwin-Sievers Funeral Home, 2020 State St., Washington, Indiana, is honored to assist the Bouchie family with arrangements.
Filed to: Steve Bouchie