6-Banner Sunday: De'Ron Davis and Devonte Green reflect on their time at IU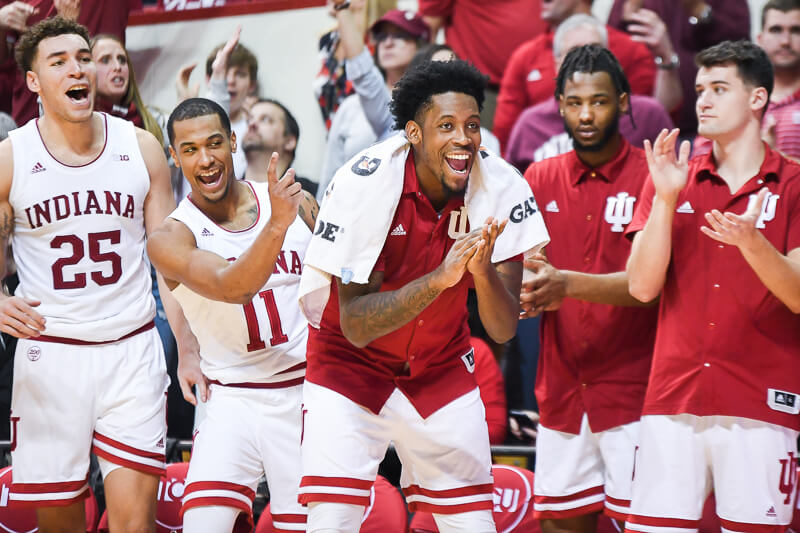 6-Banner Sunday is Inside the Hall's weekly newsletter in partnership with The Assembly Call. More than 7,000 Indiana fans receive the newsletter each week. In addition to appearing each week on the site, you can also opt to receive 6-Banner Sunday by email. A form to subscribe via email is available at the bottom of this week's 6-Banner Sunday.
Welcome to another edition of 6-Banner Sunday, a joint production between The Assembly Call and Inside the Hall where we highlight the five most essential IU basketball stories of the past week, plus take a look at how the other IU sports programs are doing.
This weekend should have featured graduation festivities across the IU-Bloomington campus, and at colleges and universities all across the country.
So it seems fitting that on a weekend meant for honoring seniors and the graduating class of 2020, Indiana basketball's main four-year representatives took center stage.
De'Ron Davis and Devonte Green both spoke last week about their IU careers as a whole and the untimely way in which they ended, while also discussing their immediate basketball plans for the future.
Elsewhere, an insightful interview with Indiana fan favorite Collin Hartman, and a check-in with former IU greats now displaying their talents in the NBA helped round out the week in IU basketball news.
• De'Ron Davis reflects on his four-year IU career
• Devonte Green talks time at IU, preparation for the NBA
• Collin Hartman goes in-depth about life as an IU basketball player
• Catching up with former Hoosiers now in the NBA
• Indiana in the recruiting hunt for elite combo guard Skyy Clark
• Hoosier Sports Roundup
Banner #1
De'Ron Davis reflects on his four-year IU career
It's been an eventful four years in Bloomington for De'Ron Davis.
From the promise he flashed early in his IU career, to a coaching change and then the devastating injury that stopped him in his tracks, followed by the recovery from it, Davis has had to overcome plenty of challenges during his college career.
In the weeks and months following the abrupt end to his time with IU, Davis has spoken about his experience with the Indiana program and what lies next for him in life. Last week, he discussed those same items and more with Alex Bozich of Inside The Hall.
"Time didn't really go by fast, if you think about it," Davis told Bozich. "Maybe it was just my mindset, but my freshman year was a long time ago."
Davis hopes to continue playing basketball overseas in the near future, but he also took some time to praise coach Archie Miller and hint at what could be a special season for IU in the 2020-21 campaign.
"With us not being able to play in the tournament, I feel like it left an emptiness," Davis said. "I feel like this season left a lot of guys hungry."
The offseason story line of what Indiana basketball will look like next season was also touched on by Bozich and Zach Osterman of The Indianapolis Star on this week's edition of Podcast on the Brink, as well as by the trio of Jerod, Ryan and Coach on this week's edition of Assembly Call Radio.
Banner #2
Devonte Green talks time at IU, preparation for the NBA
Davis wasn't the only senior member of the 2019-20 Indiana team to reflect on his time with the Hoosiers this week though, as Devonte Green did the same.
Green appeared as a radio guest Thursday afternoon on ESPN 1380 in Fort Wayne, which marked the first time Green had spoken to the media since the college basketball season came to an abrupt end.
Inside The Hall's Dylan Wallace recapped Green's comments, which included an open and honest assessment by Green of his struggles at IU.
"Definitely one my biggest flaws was my consistency," Green said. "It took me awhile to learn how to come into the game and have an impact without forcing it."
Like Davis, Green was a member of Indiana's 2016 recruiting class and remained with the program during the coaching transition from Tom Crean to Archie Miller. Green finished his IU career with 954 career points, and has spent the past few weeks staying in shape and preparing for this summer's NBA Draft.
Regarding feedback from NBA scouts, Green said his 3-point shooting has been listed as a strength, while consistency and off-ball defense have been pointed out as weaknesses.
Banner #3
Collin Hartman goes in-depth about life as an IU basketball player
In one of the most candid interviews featured on Inside The Hall, former IU basketball player Collin Hartman discussed his lengthy time with the program and the pros and cons that go along with representing the Hoosiers on the hardwood.
From his commitment to Indiana out of Cathedral High School in Indianapolis to the injury struggles and team chemistry issues that came to the surface during his time in Bloomington, Hartman was candid and honest in a two-part interview with Alex Bozich.
He also shared insight from a player's perspective about the social media criticism that often plagues Indiana players following poor performances on the court.
"I always ask IU fans, do you have kids? Just imagine if you had thousands and thousands of people just destroying that person's personal identity not just as a player, but them as a person," Hartman explained. "Destroying them on the most public of platforms, how would you feel for that person? It's hard because people are irrational and don't understand that."
Part one of the interview featuring topics like Hartman's new life in Houston, Texas, and his choice to come to Indiana can be found here.
Part two of the interview featuring Hartman's complete answer on IU basketball social media criticism and his thoughts on Archie Miller can be found here.
Banner #4
Catching up with former Hoosiers now in the NBA
In similar fashion to Inside The Hall's annual "That's A Wrap" series that focuses on current IU players at the end of the season, myself, Dylan and Alex have expanded the endeavor this offseason to also include former Hoosiers now in the NBA.
While the NBA season is technically still ongoing, the COVID-19 pandemic has limited the feasibility of the NBA to restart anytime soon.
So with that in mind the nine-part series called "Hoosiers in the NBA," one part for each former Hoosier now in the NBA, kicked off last week.
The first three players featured in the series were Victor Oladipo of the Indiana Pacers, Eric Gordon of the Houston Rockets, and Cody Zeller of the Charlotte Hornets.
Assembly Call's Aaron Shifron also did an interview and feature story when Zeller was in Indianapolis for the February 25 Pacers Hornets game earlier this year.
Banner #5
Indiana in the recruiting hunt for elite combo guard Skyy Clark
Few college basketball recruits are as interesting off the court as Skyy Clark, and even fewer are as dominant on the court as he is.
The elite combo guard became the latest Class of 2022 recruit to be offered a scholarship by Indiana when Archie Miller and Tom Ostrom extended one his way in late April.
The scoring numbers from Clark's two seasons at the Heritage Christian School in Los Angeles, along with his summer on the EYBL circuit playing with Bronny James (LeBron James' son) support this. While Clark has chosen to transfer to Brentwood Academy in Tennessee for his final two years of high school, I thought it was still worthwhile to get in touch with those at Heritage Christian who saw Skyy become the player and person he is today.
My conversation with Heritage Christian coach Paul Tait touched on a number of interesting topics, from Skyy's fame on social media apps Instagram and TikTok to his devastating ability to score on all three levels while also playing lock down defense.
Banner #6
Hoosier Sports Roundup
By Aaron Shifron
The big story this week was that of graduation, which marked the end of many careers for current Hoosiers. Although the ongoing pandemic prevented any in-person ceremony like usual, Indiana still honored many athletes.
• 74 IU athletes graduated with degrees.
• IU also inducted 47 Hoosiers into the National Collegiate Athlete Honor Society.
• Football had availability with Kevin Peoples and Jovan Swann this week.
• Men's Soccer debuted the long awaited documentary "Worth The Wait" as part of an all IU sports day on Big Ten Network.
• Softball associate coach Chanda Bell made the Kentucky Athletics Hall of Fame.
• Swimming and Diving's Max Scott and Track and Field's Princess Brinkley were honored for their academic achievements.
• Swimming and Diving also announced the loss of former athlete David Tanner.

• Wrestling added another recruit.
• This weeks Q and A's were with Volleyball's Kamryn Malloy, Rowing's Ruby Leverington, Baseball's Collin Hopkins and Water Polo's Lauren Etnyre.
Thanks for your continued support for The Assembly Call. We'll be back next weekend with a new roundup.
Now go enjoy yourself a 6-banner Sunday.
Filed to: