Q & A: Former Indiana forward Collin Hartman (part one)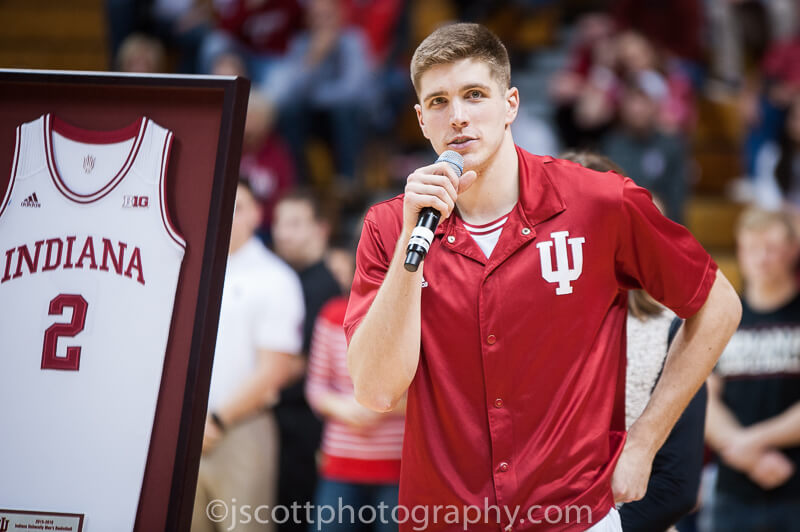 Former Indiana forward Collin Hartman was a member of Indiana's 2015-16 Big Ten championship team and also played for Archie Miller during the 2017-18 season, Miller's first in Bloomington.
Hartman, who now lives in Houston, spoke at length with Inside the Hall recently about life outside of basketball, his time at Indiana, what Miller is building at IU and more.
Here is part one of our two part Q & A with Hartman:
Inside the Hall: Being in a new situation now living in Houston for the past 1.5 months, how has it been adapting to a new city when we're all going through something as difficult with the COVID-19 pandemic?
Collin Hartman: I always tell people, I don't think there's a worst time in the history of humanity to relocate to a new city. I work for AIG, obviously an enormous company and I'm lucky and blessed enough, to be quite honest with you, to still have a job and still have income. I have a lot of friends and even family that have lost jobs and are struggling to find jobs so at the end of the day, that's what it comes down to. My cousin, he just had his first baby and he lost his job like two weeks before the baby was born. So it puts things into perspective for you. Yes, the world might be different for me in terms of working remote and stuff like that, there's the small blessings of still having a job and still having steady income and stability, security when people are having babies during this time and losing jobs. It's a lot different. It's unprecedented. We've never gone through this before.
ITH: In terms of adjusting to being in a new place. Since we've known each other, you've lived in Indianapolis. You were born in Nebraska. But this is a totally new living situation for you in Houston. What have you been able to do so far to get to know the area?
Hartman: Houston is a phenomenal city. It's absolutely enormous. In Indy, you have 465, the loop that goes around the city. Houston has two of those. It's the fourth largest city in the country. We have a phenomenal park that I do most of my living at right now. Go workout, run and just sit down and relax and just get outside. We can still be distanced from people that way. The park is big. I'm just trying to workout, take a lot of walks. I'm finding restaurants that I want to try when they open up and different bars. Just figuring my way around.
It's been weird. It's really hard to get to know a place when nothing is open. I use Google a lot to find out what to do in Houston so that when things do open back up and are safe, I'll know some things to do. In terms of exploring, it's been slim to none. Golf courses are open. I went to a golf course and played 18. That didn't go great (laughs). I got a lot of beers down, though.
ITH: You mentioned working out, do you still have the itch to play basketball? It's obviously something you have loved for your whole life. How does that factor in to any workouts that you're doing?
Hartman: I do what I can. Back in Indy before I moved, I was part owner in an AAU program up in Fishers. And so I got my basketball fix that way. I was doing two or three nights a week whether it was training or practice or games, I got my fix that way. I got to pay it forward to some to the kids. Somebody taught me and helped me along that process and I didn't come out of the womb a good basketball player. It took countless hours and guidance. I think what I learned from coaching and training those kids is that it is so much of a different mindset because not every kid is going to make it to the level that I was blessed to make it to, right? You can't push every kid to get there. Sometimes it's just not in their cards. You can work with them and work with them, but at the end of the day, what's going to matter the most? And I think I'm finding this out having not gone to the next level or played overseas, people are going to care about who you are as a person. People are going to care about who you are as a man. When the ball stops bouncing, your life still goes on, believe it or not. It's hard to see as a kid. It was hard for me to see when I was growing up through it.
I think I've immersed myself into enough things in terms of work and hobbies and just working out overall that my fitness overall helps, but I'm not going to lie when I say, I definitely walk around the house and act like I'm shooting a ball every once in a while or I'll act like I'm putting the ball in between my legs or whatever. It'll always be a part of me. But I've kind of shied away from the men's leagues just because I'm injury prone, if you didn't know (laughs). And I don't want to be the guy that calls my boss and says, 'hey, I can't come to work for four to six weeks.' It would be more just getting up shots or playing casually. Nothing hyper competitive. Which, I don't know how to not be competitive. So I just kind of don't play a whole lot anymore. I wish I could. If I get into a situation where there are a bunch of guys who played the game at a high level and know how to control their bodies and stuff like that, then I'd feel more comfortable.
ITH: I want go to back to when you committed to Indiana. Your sophomore year. What do you remember about that. You and Devin Davis committed the same day. What do you remember about that time?
Hartman: I don't know if I've told you this or not, but just a couple of weeks prior to when I committed, we had gone on a visit to Purdue. They did a phenomenal job recruiting me. Coach (Matt) Painter did a great job. That's back when they had Robbie Hummel, Chris Kramer, all those dudes. E'Twaun Moore, all of those dudes were there. Coach Painter paired me with Robbie. He's an awesome dude. At that point before he got hurt, he was looking at being a lottery pick. So I sat my mom down in a room and said, 'I think I want to commit to Purdue.' And she was like, 'Oh, OK. Take some time to think about it and then we can make our decision. Don't make any rash decisions.' So I said, 'OK, that makes sense.'
Then a couple of weeks later, we went to an IU game. IU won, we went into the locker room and all of that. And we were driving up 37 to go home and I said 'Mom, I think I want to commit to IU.' And she said, 'Alright, let's go.' And she turned the car around and told me to call my uncle and my grandpa to let them know I was committing. She had no hesitation on that at all. There was no thinking on that when it came to IU.
ITH: So you get to IU in 2013 and I believe your first season was the season Noah Vonleh was at Indiana.
Hartman: Yeah, it was me, Stan (Robinson), Noah Vonleh, Devin Davis, Luke Fischer and Troy Williams.
ITH: Yeah, that year at the Derby Festival Basketball Classic, all of you were there besides Noah. I'm not sure if you've ever been asked this, but were you surprised that Fischer left like he did?
Hartman: The way that he did, kinda. But the fact that he left, I wasn't surprised.
ITH: It was in the middle of the season.
Hartman: It was. At the time, he knew he wanted to leave, clearly. He had a good career at Marquette. But I think the timing was right for him. If you know you want to go, you've got to go to maximize your time. I think the way that he communicated it and how abrupt it was … I think that was a little shock to everyone. I think the timing was right because he did what was right for him at that time. But the way that he conducted himself through that, I don't think I would have conducted myself that way.
ITH: That season in general …
Hartman: It sucked.
ITH: You look at the roster and the players that were on it and you think, how was this team not any good?What do you think happened that year? You had (Will) Sheehey, you had Yogi (Ferrell), Troy (Williams), Noah (Vonleh). That seems like a pretty good team.
Hartman: That was my least favorite team I've ever been on, I think. We were so divided as a team. There's a level of getting on somebody and making them better and there's a level of not putting somebody under your wing and putting them down. It was a very individualistic and cliquy team. Which, obviously those teams never win. And we didn't do a whole lot of that my freshman year.
It was a very divided team. We didn't hang out off the court. And if we did, it was in cliques. It wasn't as a team, if that makes sense. There was very low chemistry on the team and at that point, as an underclassmen, there's a responsibility to want to win for the upperclassmen, right? For the seniors, mainly. So the freshmen through juniors want to win for the seniors to have the seniors go out on a good year. And I think that's why in my junior year, Yogi's senior year, the year we won the Big Ten and went to the Sweet Sixteen and all of that, we loved our senior class. And we were all a cohesive unit top to bottom, senior to freshman, fifth year transfer, it didn't matter. We were really a tight knit group and we wanted to win for the seniors. I think that's really what pulled us together. We started out in Hawaii and it was atrocious. We went 1-2 and we lost to not great teams. After that, we went on a crazy winning streak and ended up winning the Big Ten outright by two games.
But we didn't have that my freshman year. The seniors didn't take us under their wings and try to teach us. They just got angry. I will be the first to tell you that I was a deer in headlights. I was not ready for that level my freshman year. Which I can obviously see as being frustrating to the seniors. But at the end of the day, you have what you have to work with. And it obviously wasn't just me … there were several of us … but it was just a very divided team. When you don't have people that want everyone to succeed and they just want to succeed themselves, you're not going to win a whole lot of games. That's how that went, really. That's my least favorite team I've been on.
ITH: The next season … (Nick) Zeisloft commits in the summer. There was the Montreal trip. (Hartman did not play as he was recovering from injury.) That was a better season. You lost to Wichita State in the NCAA tournament. What do you think the difference was?
Hartman: I think Yogi took the reins a lot more. I think Yogi's leadership is extremely underrated. That dude, he's one of my best friends in the whole world, but that dude doesn't get enough credit and doesn't get enough opportunities to lead like he's capable of. But the passing of the baton to him. After Cody (Zeller) and those guys left and Will (Sheehey) and all of the big stars that he came in with. He could kind of blend in and he didn't have to be a superstar, but he had to rise to the occasion and he did. And he had to bring people with him because sophomore year we got far, but he was still trying to figure out how to lead because he's always been a 'do it myself' kind of guy. And we were successful because he took a little bit of leadership but was still doing a lot of 'do it yourself.'
And then that following year, when he was a senior and we went super, super far, he had those big time moments of 'do it yourself' like at Iowa with the huge stepback 3-pointer from the wing, he had those moments, but he also had the assist record. So there's a balance there that he found and a sense of 'I'm going to take care of myself so that I can hold others accountable' type of thing that changed our team top to bottom.
ITH: One thing that Zeisloft mentioned to me was the relationship between Thomas (Bryant) and Yogi. There was a moment early in the season where they had a spirited back and forth. How do you think those guys learned, over the course of the season, how to play together. Was it a process?
Hartman: The thing is at the end of the day and you come into college and you play at the level of IU … you get recruited and you get offered a scholarship to IU, you are probably the man wherever you came from, right? And so there's an ego that is there from everybody. I had it. It got taken away from me real quick. But it was a process.
It ultimately came down to a lot of team meetings with just us guys and a lot of us hanging out off the court getting to know each other more. And really getting a genuine understanding that … this is one thing that coach (Tom) Crean always preached is, 'I don't care how good you are as an individual, if we don't win, you go nowhere.' And that's huge. If we don't have that year that we have Yogi's senior year, is he in the league? Probably not.
I think it took buy-in from every one of those guys. All of us. To play your role. Find your role. What is your role? Yogi's was to lead the team, score, do everything. Mine was to not turn it over, make open shots and play solid defense, box out and rebound and take charges. Do the dirty work. Everybody had their roles. It's hard when you come from being the number one scorer on your team in high school. And you've got to step into this support role and give up some of the limelight. But it takes everybody to understand that, if we win, it doesn't matter what you do, as long as you do it well. You'll get the support. You'll get the limelight. You'll get the reinforcement. You'll get whatever you want. But that comes with winning. So you have to learn to put everything else aside and understand that when we get on each other, it is because we want to win. It's not personal. The whole team really bought into that. That's my favorite team I've ever been a part of. Hands down.
Part two of our conversation with Hartman will appear later this week.
Filed to: Collin Hartman