De'Ron Davis reflects on abrupt ending to 2019-20 season, IU career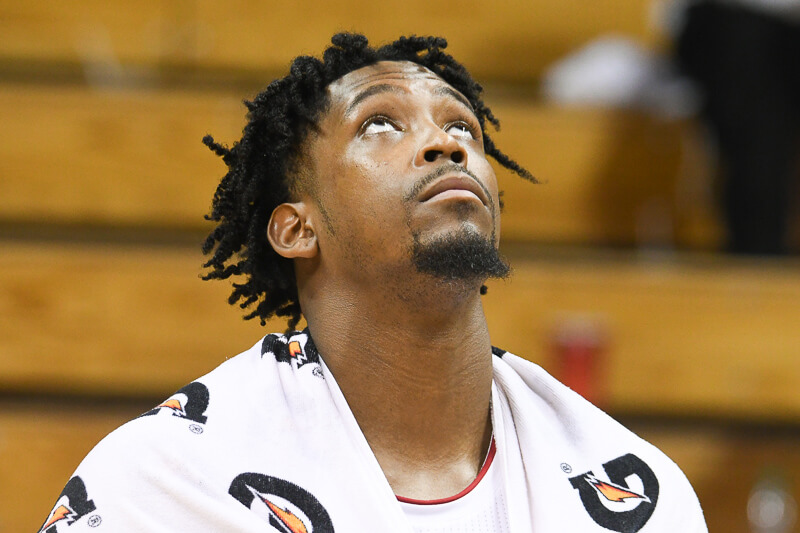 When the final horn sounded on Indiana's 89-64 win over Nebraska in the Big Ten tournament on March 11, De'Ron Davis had a suspicion it would be the team's final game that week in Indianapolis.
What he didn't realize, however, was that it would be the final time he would put on an IU uniform.
Davis, who scored six points in 13 minutes in the win over the Cornhuskers, said he learned at halftime that Nebraska coach Fred Hoiberg was sick from a team manager.
"And so we finished up and after the game, we didn't even shake their hands," Davis said Wednesday. "Everybody just waved. And afterwards, my boy Jervay Green (of Nebraska), he told me they were in quarantine after the game. After he told me about that, I knew the Big Ten tournament was over."
The win, Indiana's 20th of the season, likely solidified an NCAA tournament berth for the Hoosiers for the first time since the 2016.
And when Davis and the team departed Indianapolis for Bloomington on Thursday, there was still hope for March Madness to be played.
"When we got off the bus back in Bloomington, coach told us we were going to prepare like there's going to be a tournament," Davis recalled. "And we took Thursday off and then the next day it was like, 'it's been a great season.' It was just all kind of random."
For Davis, who is still in Bloomington but will depart soon for Colorado, it was a tough ending to a career that began under Tom Crean in the 2016-17.
His hope, however, is that IU's returning players can use it as a springboard and as motivation when college basketball does make its return.
"I feel like Devonte (Green) and I left it in a good spot with how hard we pushed the guys throughout the season and in practice," Davis said. "We showed them the level we had to play at to get to 20 wins and make the (NCAA) tournament. With us not being able to play in the tournament, I feel like it left an emptiness and they want to get back on the court and get back to it as soon as possible.
"Next season is going to be very interesting. I feel like this season left a lot of guys hungry."
Although Crean brought him to Bloomington as a member of Indiana's 2016 recruiting class that also included Green, Curtis Jones and Grant Gelon, Davis said he enjoyed playing his final three years under Archie Miller.
"The intensity level of practices and how he uses competition to make us better was good," Davis said. "Some coaches focus more on drills and skill development and stuff like that. That's not bad, but allowing the team to play a lot up and down, I feel it is the best way to condition a team and it's also a fun way to condition. Players like to play and get up and down. I also enjoyed how passionate he is on and off the court."
With his IU career officially over, Davis still has aspirations to continue playing basketball. He's in the process of picking an agency with the goal of playing overseas next season.
When he returns to Colorado, he will work on his internship with Young Life, which lists its mission as "introducing adolescents to Jesus Christ and helping them grow in their faith."
"With everything going on right now, it's hard to do too much," Davis explained. "I'll be a camp leader and help develop a new method to try to connect with kids during this COVID-19 time. And just continue to deliver the message of the organization."
Davis was able to work out some once the season ended, but said the players quickly lost access to the team facilities due to the pandemic. His focus recently has been on finishing up school and looking ahead to the next chapter in his life once he returns to Colorado.
"I'll probably just go home and chill, see family, work out, continue my internship and hopefully I'll have an agency picked by then," he said. "Time didn't really go by fast, if you think about it. Maybe it was just my mindset, but my freshman year was a long time ago. And I'm happy that it's over and I can focus on basketball and trying to get better."
Filed to: Deron Davis