2018-19 ITH Season Preview: Michigan State Spartans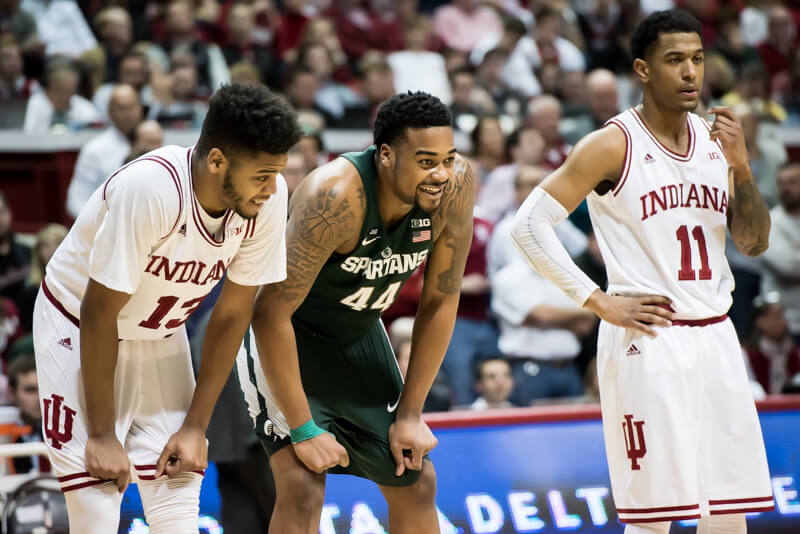 With the start of college basketball season on the horizon, we'll be taking a long look at the conference at large as well as Indiana's roster over the next month. Today, our Big Ten team previews conclude with a look at Michigan State. (Previously: Rutgers, Minnesota, Northwestern, Illinois, Penn State, Iowa, Maryland, Ohio State, Nebraska, Purdue, Wisconsin, Michigan)
The reigning Big Ten champions lost their two biggest stars from last season, Miles Bridges and Jaren Jackson Jr., to the NBA. It's a tall task to replace a unanimous first team All-Big Ten player who averaged 17.1 points per game, along with the Big Ten freshman and defensive player of the year whose three blocks per game ranked eighth in the country. Both players were lottery picks in the 2018 NBA draft.
But Michigan State has plenty of talent returning to spark a strong title defense. The Spartans return their top assist man, three double-digit per-game scorers, their leading rebounder, their steals leader, three of their top four 3-point shooters and their top free-throw shooter.
Most notably, third team All-Big Ten guard Cassius Winston is back for his junior year. Winston is among the top playmakers in the conference — he led the Big Ten in assists last year with 6.9, which was eighth in the country. He drained 49.7 percent of his 3-pointers, which also led the Big Ten and was sixth in the country. He scored 12.6 points per game, which was second on the team, and he led the team in steals per game with 0.7.
Despite already playing a big role for the Spartans last year, Winston will need to take on an even bigger role this year as the leader and the star of the team. Michigan State's season will closely parallel how much Winston is able to accomplish.
Another third team All-Big Ten selection – junior big man Nick Ward – will also play a key role for Tom Izzo this season. Ward led the Spartans in rebounding last year with 7.1 boards per game, and he was third on the team in scoring with 12.4 points per game. While he wasn't the double-double machine that, say, Jordan Murphy was, he still posted eight double-doubles last year. And that number could reasonably increase if he's able to play more than the 18.9 minutes per game he averaged last year.
Ward is also an important defensive piece for Michigan State in the middle. He swatted 1.3 shots per game last year — and while he can't sensibly be asked to replicate the defensive impact Jackson had, he'll need to continue to wreak havoc on opposing big men this year.
Junior guard Joshua Langford will also be asked to step up this season. Langford showed a lot of improvement from his freshman to his sophomore yeah, going from 6.9 points per game in 2016-17 to 11.7 in 2017-18. Izzo relied on him heavily last year, as he played the third-most minutes on the team behind Bridges and Winston. Langford and Winston should form one of the more dangerous backcourt tandems in the Big Ten this season.
Senior guard Matt McQuaid will contribute whether or not he starts. He shot 39.1 percent from 3-point range last year, and that bumped up to 41.3 percent during conference play. He's the type of player opponents must be careful to prevent from heating up. Sophomore Xavier Tillman, who averaged 2.8 points and 2.6 rebounds per game last season, could step into the starting lineup alongside Ward. Senior forward Kenny Goins (2.1 ppg, 2.8 rpg) should play a notable role for the Spartans as well.
Michigan State adds five freshman to the fold, including three 247Sports Composite four-stars and two top-100 players. 6-foot-10 forward Marcus Bingham Jr. was the No. 66 overall player in the class and the top player from Michigan, guard Foster Loyer was the No. 96 overall player in the class and forward Gabe Brown was the No. 101 player in the class. Those three, along with three-star forwards Aaron Henry and Thomas Kithier, could contribute down the road for the Spartans. But Izzo has enough experience and depth to ease his freshmen into the college game early in the season.
Bottom Line: Despite losing Bridges and Jackson, Michigan State has enough talent returning to contend for a second consecutive Big Ten title. A finish outside of the top four in the conference should be considered a big disappointment for Izzo's team. The biggest challenge for Michigan State this year will be overcoming last year's failure in the NCAA tournament.
Quotable: "You can get disappointed and figure that, 'I'm really half in and half out.' And I warned him about that just like I warned Miles (Bridges) last year. If you're thinking about it, once you decide not to go it can't be half in and half out. So what Nick did that I was really impressed with is right when he got done and decided to come back, he started to work out with two-a-days and dropped more weight. He spent more time on his shooting and his game. So, what Nick did on the court and then in classroom — he had his best (semester) and they kind of go hand-in-hand if you're focused in. I'd say the focus and the energy has been a lot better, and everyone in this room knows that Nick and I had our differences on how hard he played. But that's one thing I don't complain about now." –Tom Izzo on Nick Ward
Filed to: 2018-2019 Big Ten preview, Michigan State Spartans